You have /5 articles left.
Sign up for a free account or log in.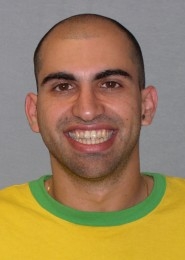 Steven Salaita's recent demands for a job at the University of Illinois at Urbana-Champaign apparently fell on deaf ears, with the Board of Trustees of the Illinois system rejecting his candidacy for a tenured faculty appointment to the American Indian studies program Thursday.
Salaita did not attend Thursday's board meeting, although he was in town this week for a rally at which he demanded a place at the university. In a statement following the vote, Salaita said he was "disappointed" in the trustees' action.
"Being at the school on Tuesday surrounded by so many supportive students and faculty was a professional high point for me and reinforced how rewarding it would be to work in that community," he said. "I have offered to meet with both the board and the administration, but not one of them has spoken with me or ever heard my side of the story."
Only one trustee, James Montgomery, voted in favor of Salaita's appointment, making the final tally 8 to 1. Montgomery explained his position by saying that the university had made some "bad miscues" in recent years that were giving it a "bad name," the Chicago Tribune reported. The vote represented a change of heart for Montgomery, who did not respond to requests for an interview. Last month he signed on to a letter from his fellow trustees supporting Chancellor Phyllis Wise in her decision not to forward Salaita's name on to them for formal approval -- apparently because of objectionable remarks he made on Twitter about Israel and its military actions in Gaza.
The board in its letter said that it agreed with Wise's "philosophy of academic freedom and free speech tempered in respect for human rights," and her decision to withdraw Salaita's offer two weeks before classes started.
The notion of "tempered" free speech and academic freedom angered many faculty members on campus, even many who said they found some of Salaita's tweets offensive, and the university has become something of a battleground in recent weeks. Different faculty groups have formed "camps" in support of either Salaita or Wise. Some 400 faculty members signed a letter supporting the chancellor that ran in the local newspaper, The News-Gazette, while some 15 academic units have voted "no confidence" in her. Off-campus groups, such as the Modern Language Association and the American Association of University Professors, also have criticized Wise, and many outside academics have pledged to boycott lecturing at Illinois.
Both the MLA and AAUP condemned the board after Thursday's vote, saying that it violated the principles of shared governance and academic freedom. The AAUP in a statement said that aborting an appointment "without having demonstrated cause has consistently been seen by the AAUP as tantamount to summary dismissal, an action categorically inimical to academic freedom and due process," and that it would continue to "monitor" the situation. Via email, Rosemary Feal, executive director of the MLA, called the vote a "disappointment," considering that the MLA Council had called on the board to "redress what seems an unjustified situation."
Wise defended herself and her choices prior to the board's vote, saying her "goal has always been to make decisions that are in the best interest of the campus, and to further its vision, goals, objectives and reputation."
Wise said Salaita's appointment had gone through "many procedural steps, including my initial approval." But she said she still could not accept him as part of the faculty.
Robert Easter, president of the Illinois system, said at Thursday's meeting that he believed in free and open discussion, but backed Wise nonetheless.
"I have come to the conclusion that Professor Salaita's approach indicates that he would be incapable of fostering a classroom environment where conflicting opinions could be given equal consideration, regardless of the issue being discussed," Easter said. "I am also concerned that his irresponsible public statements would make it more difficult for the university and particularly the Urbana-Champaign campus to attract the best and brightest students, faculty and staff."
Christopher Kennedy, chairman of the board, expressed similar sentiments in public statements following the vote, which he called "a real balance between the competing interests of the university."
"We want a place where anyone can say anything, where there's this great exchange of ideas, where freedom of speech is at its most liberal," Kennedy said. On the other hand, he said, "there are comments that I think can be easily interpreted as basically anti-Semitic in [Salaita's] tweets."
Salaita said the university had no reason to doubt "the high standard I have always maintained in the classroom. As I said in a less-notorious tweet, 'I refuse to conceptualize #Israel/#Palestine as Jewish-Arab acrimony. I am in solidarity with many Jews and in disagreement with many Arabs.' If they had cared to learn, they would have seen this and other tweets reflecting a similar sentiment."
Many of Salaita's tweets related to Israel and Gaza are solemn expressions of concern about world events, such as: "I take my son to the playground with no expectation that he will be murdered by a warplane. The parents of #Gaza have no such security." But many others are more controversial, and have led Jewish students and supporters of Israel to tell the university they would be concerned about bias in working with Salaita. Some examples: "Next time a Zionist asks you to 'dialogue,' remind him that you heard everything he had to say when #Israel was murdering children in #Gaza." And: "You may be too refined to say it, but I'm not: I wish all the fucking West Bank settlers would go missing."
In an interview Tuesday, Salaita did not apologize for any of his tweets, but said they were passionate expressions of his personal opinions, made in 140 characters. He said his professional demeanor was different, and pointed to a strong teaching record at Virginia Tech, from which he resigned to take the Illinois job, as evidence.
Salaita, who has obtained legal counsel, including from the Center for Constitutional Rights, said he was "speaking with my attorneys about my options." Earlier this week, attorneys for Salaita said he was focused on getting his offer back, and was willing to go to court if necessary, seeking legal reinstatement.
Campus reaction to the Salaita vote was mixed Thursday. Many student supporters held signs and shouted calls for Salaita's reinstatement. Faculty members, including Robert Warrior, director of the American Indian studies program, criticized the decision as an infringement on academic freedom and faculty governance that could make recruiting top faculty difficult going forward. In an interview, Warrior said Wise notified him of her decision to pull Salaita's offer only after she'd already done it. She'd previously expressed concern about his tweets, he said, but never hinted that the appointment was in jeopardy. Now his program is down a full-time position, he said.
Beyond immediate concerns about his program, Warrior said the university must continue to oppose what he called an "embargo of ideas" by "keeping this issue alive." That means asking hard questions about the university's commitment to academic freedom, he said.
Kirk Sanders is chair of the philosophy department at Illinois, which voted no confidence in Wise earlier this year. Sanders said he expected the board to vote as it did but was still "disappointed and, frankly, shaken" by the outcome and by the "shameful speeches" from Wise and Easter, the president. Sanders, speaking for himself and not his department, said he'd hoped that the administrators would recognize the "harm" they'd done to the university and its reputation, rather than "double down" on expectations of civility that the AAUP rejects and a "tendentious" reading of Salaita's tweets.
Others scholars, including those who signed a letter in The News-Gazette, approved of the vote -- as did some students. During the board meeting, Josh Cooper, a senior at Illinois, said he'd collected signatures from 1,300 students who supported the university's decision in just 48 hours, and planned to get more. Cooper said Wise's decision reflected her commitment to "tolerance, decency and high standards," which the student signatories hoped to reflect in their support.
Cary Nelson, a professor of English who attracted a host of criticism earlier this year by defending Wise's decision on the grounds that a professor's entire professional package -- not just his scholarly work and teaching -- can be considered in hiring decisions, approved of the board's official vote Thursday.
He said it was an opportunity for both parties to move forward and reach a financial settlement reflective of the difficult spot Salaita has been put in by how late in the process the university pulled his offer. Nelson said he thought $1 million "would not be unreasonable."
It seems the board agrees. Kennedy told reporters the university wants to "do the right thing."
He continued: "I think there's a lot of case law about what you should do when this sort of thing occurs. So we'll try to be consistent with best practices in the university environment and the corporate world as well."
Beyond the Salaita affair, he said, "I think the board has already gone to the university administration and asked that the process be revamped so decisions like this come to us long before we expect the professors to show up and teach."