Photograph of U.Va. student leader, after encounter with state police, renews debate about race and law enforcement.
A black student group at the University of Virginia on Wednesday released a photograph of one of its members, bloodied by state police.
The incident has renewed the debate about how law enforcement treats black people and, more specifically, about the experience of black students with campus and local police.
By the end of Wednesday, Virginia's governor was calling for a full investigation of what happened, but many at U.Va. are not sure that's enough.
The Black Student Alliance at Virginia posted the photograph on Facebook and elsewhere, with a statement that said Martese Johnson, the student, had received 10 stitches after he was "brutalized" by officers with Virginia's Alcoholic Beverage Control (ABC) division, which works extensively on student drinking. The incident took place after Johnson was turned away from an off-campus bar.
"Outside of the doors of Trinity Irish Pub, a mass of university students bore witness to the officer's animalistic, insensitive and brute handling of Martese. He was left with his blood splattered on the pavement of University Avenue. Today, we are reminded of the gruesome reality that we are not immune to injustice; as university students, we are not impervious to the brutality that has reeled on news cycles around the country. We have marched and shouted that we are Trayvon Martin and Michael Brown, but the proximity of this morning's brutality to a member of our community has deepened that wound. It is no longer happening only on national television -- it is a reality here and now at the University of Virginia that we must face as a collective."
The statement went on: "After Martese was denied entry to the bar, he found himself suddenly flung to the ground. The brutish force used resulted in his head and bodily injuries. His treatment was unprovoked as he did not resist questioning or arrest. In confusion, with blood painting his face and creating a pool on the bricks of the corner, he yelled out for mercy. Though he lay bleeding and crying out, officers continued to hold him to the pavement, pinning him down, twisting his arm, with knees to his back until he was handcuffed."
The student was arrested and charged with obstruction of justice and public intoxication and released early Wednesday. While students say that ABC agents do try to prevent underage drinking (Johnson is 20), they argue that authorities do not typically interact with white students in this way.
The Cavalier Daily, the student newspaper at Virginia, ran this video of the incident (please be warned it contains strong language and images):
Teresa Sullivan, the university's president, on Wednesday sent out an e-mail to the campus in which she said that she had met with the university police chief and the Charlottesville police chief. And because ABC is a state agency, she wrote, she contacted the governor's office, adding that Governor Terry McAuliffe, a Democrat, had ordered an investigation by the Virginia State Police.
"The safety and security of our students will always be my primary concern, and every member of our community should feel safe from the threat of bodily harm and other forms of violence," Sullivan wrote. "Today, as U.Va. students, faculty and staff who share a set of deeply held values, we stand unified in our commitment to seeking the truth about this incident. And we stand united in our belief that equal treatment and equal justice are among our fundamental rights under the law."
The ABC released a statement in which it offered this explanation for the incident: "The uniformed ABC agents observed and approached the individual after he was refused entry to a licensed establishment. A determination was made by the agents to further detain the individual based on their observations and further questioning. In the course of an arrest being made, the arrested individual sustained injuries. The individual received treatment for his injuries at a local hospital and was released."
The statement added that ABC was cooperating with the investigation ordered by the governor, and that "ABC is restricting the special agents involved in the incident to administrative duties while the investigation is underway."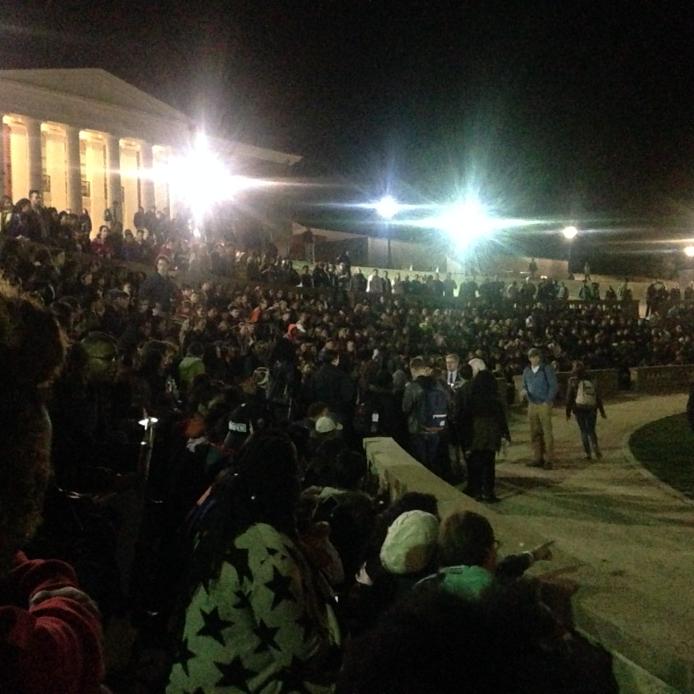 On Wednesday night, hundreds rallied at the University of Virginia (photo at right) to protest what happened to Johnson. And at U.Va. and elsewhere, the hashtag #JusticeforMartese emerged as a means to share outrage. One comment from Twitter: "Despite being well educated and extremely talented, Martese Johnson was attacked because before everything, he is black."
Incidents and Debates at Other Campuses
The anger over what happened in Charlottesville is but the latest debate over how black students are treated by law enforcement. In January, a black male undergraduate was detained and held briefly at gunpoint by Yale University police who said he matched the description of a suspect (someone else was later charged). In part because the undergraduate was the son of a New York Times columnist, the incident drew considerable attention. Yale subsequently said that the officer did not do anything wrong.
Other campuses with discussion of this issue:
In December, essays by two Vassar College professors that, among other things, discussed how they were treated by local police attracted wide attention. The headline on one of the essays -- "My Vassar College Faculty ID Makes Everything O.K." -- highlighted the author's assertion that black people are treated as suspect until they can demonstrate a connection to the college.
Last June, a black professor at Arizona State University was arrested by campus police in an incident prompted by jaywalking, which the professor's supporters said would never have led to the questioning of white faculty member. Video showing the campus police body-slamming the professor attracted widespread anger and concern. The professor is now suing Arizona State, which is moving to fire the police officer involved in the incident.
In July, the University of California at Los Angeles agreed to pay $500,000 to settle complaints of use of excessive force and racial profiling by its police force against a black judge during a traffic stop. The UCLA Black Alumni Association will receive $350,000 of the payment, to be used for scholarships. UCLA also agreed to hold a one-day forum on police-community relations. The case was detailed in an article in The Los Angeles Times.
The University of Minnesota announced last month that it would limit when its crime alerts include references to a suspect's race. Instead of routinely including such information in crime alerts, it will be used only "when there is sufficient detail that would help identify a specific individual or group."
Also in February, students at Louisiana State University at Baton Rouge held a protest of police reports that are vague (except for race). The rally -- which featured demands to drop the use of racial identifications -- was prompted by a crime alert that identified a suspect as a "black male wearing dark hoodie." Protesters said that all black men were being turned into targets.
Read more by
You may also be interested in...
Today's News from Inside Higher Ed
Inside Higher Ed's Quick Takes