You have /5 articles left.
Sign up for a free account or log in.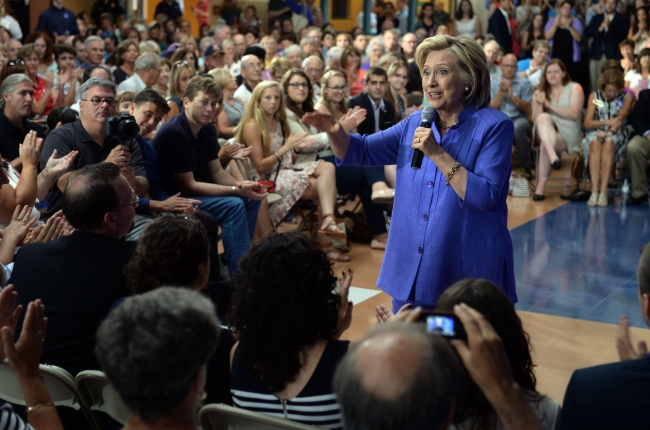 Hillary Clinton's higher education plan announced Monday highlights the growing consensus among Democrats on how to tackle rising tuition: send federal money to states that agree, in return, to lower or eliminate tuition at their public colleges -- and enact other reforms.
Clinton's proposal to provide grants to states that promise to create no-loan tuition plans for students at public, four-year institutions follows similar plans by fellow candidates Vermont Senator Bernie Sanders and former Maryland Governor Martin O'Malley, as well as the progressive hero (and current noncandidate) Senator Elizabeth Warren. It also comes after the Obama administration has proposed a similar approach to making community college tuition-free, which Clinton has adopted as part of her plan.
Aside from the price tags -- Clinton's would cost $350 billion over the next decade, her campaign said -- these proposals would also significantly expand the federal government's role in financing higher education.
Proponents see that as a welcome, needed expansion of federal support to combat what they view as states' failing in their responsibility to fund higher education. Many conservatives, though, object to the approach, saying they don't like the idea of the federal government expanding its reach into higher education.
"It looks like it's moving toward cutting out students as the main way that federal dollars are delivered to colleges, especially public colleges," said Neal McCluskey, director of the Cato Institute's Center for Educational Freedom. "This goes back decades: Is it the federal government's job to allow students to pick schools or to make schools cheap?"
McCluskey, who has argued that federal student loans and grants are driving up college tuition, said he was encouraged that the campaign said it wants to avoid having federal dollars subsidize things like athletic facilities. The plan doesn't describe how that would happen, and McCluskey was skeptical about how and whether such a mechanism might work.
"Even if this does a better job of controlling college costs, there are big costs to giving the federal government the power to do those things," he said. "It will apply uniform rules and regulations, and if you have a single payer of higher education making all the controls, there goes competition. There goes innovation."
Jeb Bush, the former Florida governor who is seeking the Republican nomination, blasted Clinton's higher education plan as not only "fiscally irresponsible" but also a heavy-handed approach from the federal government.
"We don't need more top-down Washington solutions that will raise the cost of college even further and shift the burden to hardworking taxpayers," he said in a statement.
Senator Marco Rubio of Florida, another Republican presidential hopeful, said on Fox News Monday that Clinton's plan would "pour a bunch of money into a 20th-century outdated model" of higher education.
Meanwhile, some liberal groups that had been pressing Clinton to put debt-free college on her higher education agenda praised her announcement Monday.
Mark Huelsman, a senior policy analyst at Demos, said Clinton's plan "is consistent with what we've been designing from a policy perspective."
Adam Green, co-founder of the Progressive Change Campaign Committee, said that debt-free college enjoys "stratospheric popularity" in the group's polling and he thinks the proposal would motivate young voters.
U.S. Senator Brian Schatz, a Democrat from Hawaii, who has pushed for debt-free college, told reporters Monday that voters expect federal candidates to have a solution to college affordability.
"If you don't think the federal government has a role, then that's your prerogative," he said. But, he added, the vast majority of voters are going to want their candidates for federal office "to have a solution set here."
Given the political opposition to greater federal spending, the Clinton campaign has said it has contemplated the possibility that some states might opt out of the plan.
"If a state refuses to participate, we would work with the Department of Education so public universities could apply directly for the grant aid," a Clinton campaign adviser, who declined to be named, told Inside Higher Ed Sunday.
Dangling federal dollars over states to promote certain action, of course, isn't a new political strategy. It's been used in higher education before, too, perhaps most directly with a short-lived federal requirement that states accepting federal stimulus money maintain their spending levels on higher education.
And, on a smaller scale, the Obama administration has chastised states it believed weren't taking seriously enough their role in overseeing colleges and universities or holding colleges' teacher preparation programs to sufficiently high standards.
In both those cases, the administration has pushed regulations that essentially cut off some federal aid to colleges in states that don't agree to improve their authorization processes or overhaul their criteria for evaluating teacher preparation programs.
But the plans to reduce or eliminate some college tuition, including Clinton's, would put far more federal dollars on the line -- mostly for public colleges.
"Philosophically, it dramatically expands the nature of federal aid away from being mainly, if not near exclusively, based on a system of vouchers to something that supports states and institutions more directly," said Michael Dannenberg, a former senior adviser in the Obama administration's Education Department, who also advised the Clinton campaign. "That's the right path. If we want to bend the college cost curve in a significant way, we have to direct resources and policy at the states and institutions."
Dannenberg said that he was encouraged that the Clinton plan not only embraced more federal resources for higher education but coupled that increased spending with accountability measures to make sure the new money is directed toward colleges with better student outcomes.