You have /5 articles left.
Sign up for a free account or log in.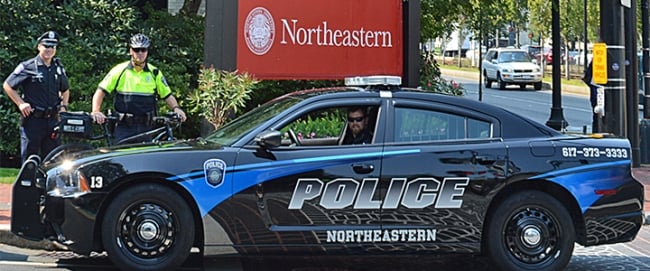 Northeastern University is arming some members of its police force with semiautomatic rifles, despite the apprehensions of the nearby Boston Police Department and critics who worry about an increasing militarization of campus law enforcement.
The decision -- motivated by a string of recent shootings on campuses and elsewhere -- has proven to be controversial, and drawn sharp condemnation from Boston's police commissioner. But in adding tactical rifles to its arsenal, the Northeastern University Police Department joins dozens of other campus forces that already carry military-style weapons.
"There is no higher priority than the safety and well-being of our campus community," the university said in a statement Wednesday. "Like other universities with police departments, our officers are trained to employ a number of capabilities to protect the campus community, including the use of tactical rifles if necessary."
Several Boston-area institutions -- including Boston University and the Massachusetts Institute of Technology -- have used tactical rifles for years. So have Iowa State University, the University of Maine and the University of Delaware. The University of California at Berkeley Police Department acquired 14 M-16 rifles in 2006, according to state records, and Purdue University obtained 25 rifles in 2009. Arizona State University's police department has 70 of the weapons.
More than 60 campus police departments are now known to possess military-style tactical rifles. Many of these rifles were obtained using the U.S. Department of Defense's 1033 program, which circulates excess military equipment to local police departments. That includes departments at more than 100 colleges and universities, according to data obtained by MuckRock, an online organization that assists in filing Freedom of Information Act requests.
The 1033 program is not limited to M-16 rifles. It has also distributed flash-bang grenades, grenade launchers and mine-resistant ambush-protected (MRAP) trucks to campus police departments.
The program came under increased scrutiny last year following the unrest in Ferguson, Mo., where the local police department's response to protests and riots over the police killing of an unarmed black man was criticized as being too militaristic. Representative Hank Johnson, a Democrat from Georgia, introduced a bipartisan bill last year -- and reintroduced it in March -- that would place "restrictions and transparency measures" on the program. Johnson cited the program giving weapons to college police departments as especially concerning.
"Apparently, college kids are getting too rowdy," he said when introducing the proposed legislation.
Aside from the 1033 program, some campus police departments have found other ways to obtain the military-grade weapons, often for free. Indiana University at Bloomington received its six M-16 rifles from the Indiana Department of Administration. Institutions can also apply for Homeland Security grants to buy the rifles.
In the past decade, campus police officers have become increasingly powerful and increasingly armed. According to a report released in January by the Bureau of Justice Statistics, nearly 70 percent of colleges and universities in 2012 operated full law-enforcement agencies with sworn police officers. About 94 percent of those officers were authorized to use a firearm. In total, 75 percent of campuses said they used armed officers in 2012, compared to the 68 percent of colleges when the survey was last conducted in 2005.
At the same time, college campuses are among the safest locations in the country, and were so even prior to the increase in armed officers. The same Bureau of Justice Statistics report found that campus agencies recorded 45 violent crimes per 100,000 students in 2012. A separate report found that, between 1995 and 2002, adults between the ages of 18 and 24 experienced 24 percent more violence than college students.
"I can remember having a dialogue not long ago about whether [college police officers] should be carrying handguns," Bill Evans, Boston's police commissioner, told local radio station WGBH. "Now we're talking about a dialogue on whether they should have patrol rifles. Obviously I don't think they're necessary. We can be on those campuses within five or six minutes. We're highly trained."
Northeastern argues that its officers are also highly trained, however, and that in active shooter situations, "five or six minutes" is too long a wait.
"According to the FBI, the vast majority of active shooter situations are over in less than five minutes," Matthew McDonald, a Northeastern spokesman, said. "A quarter of them in less than two minutes. Proximity -- with our department and officers being located on campus -- is critical to response time."
Northeastern will keep 20 semiautomatic rifles on hand for such situations starting in mid-December, the university said, and will specially train 20 of its 60 officers to use the weapons. The department possessed some of the rifles already, but lacked a formal policy for their use. A university spokesman declined to specify what type of tactical rifles the officers will use or how the department obtained them.
The university pointed to recent mass shootings -- such as those in San Bernardino, Calif., and at Oregon's Umpqua Community College -- as prompting the change. At Umpqua, the gunman was armed with six guns and a steel-plated flak jacket. He killed nine people.
William Taylor, president of the International Association of Campus Law Enforcement Administrators and chief of police at San Jacinto College, said that, for many colleges, the decision to start equipping officers with military-style rifles came in 2007, after the massacre at Virginia Tech. In that campus shooting, the killer used two semiautomatic pistols to kill 32 people and injure 17 others.
"Campus officers have reasons for carrying these weapons," Taylor said. "What they are responding to a lot in these kinds of situations are guys who are already carrying these kinds of rifles and wearing body armor. This is just about matching that firepower."