You have /5 articles left.
Sign up for a free account or log in.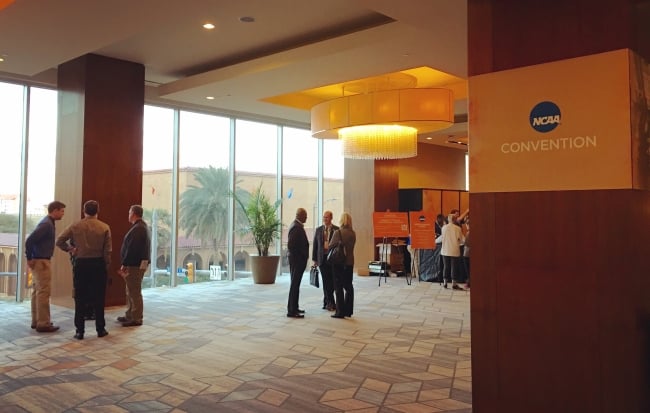 SAN ANTONIO -- Concussions may currently be the most-talked-about safety issue in college sports, but it's the mental health of athletes that really keeps the National Collegiate Athletic Association's chief medical officer awake at night, he said here Wednesday.
Speaking to a small crowd at the NCAA's annual meeting, Brian Hainline, the association's medical chief, said mental health remains a top concern for the association and its members. This week, the NCAA's Sport Science Institute released a new set of guidelines directing institutions on how to manage the mental health issues surrounding college athletics -- issues like hyperaggressive behavior off the field and increased anxiety and stress from time commitments and high expectations related to sports.
"Concussions may be the elephant in the room, but mental health is really, I think, going to be a game changer for the NCAA," he said. "My hope is that mental health is going to become as accessible to every student-athlete as an ankle sprain, and the NCAA is going to take a leadership role in telling the rest of the United States of America how to move away from the pathetic way it handles mental health. And it is pathetic."
The new guidelines, released Tuesday ahead of the NCAA convention, outline four best practices for mental health care for college athletes. Much like the concussion protocols the NCAA released in 2014, the guidelines are not hard rules, and Hainline frequently referred to the list as "interassociation best practices," rather than NCAA edicts.
He noted that 24 different mental health organizations -- including the American College Health Association, the Association of Black Psychologists and the American Psychiatric Association -- helped create and endorse the strategies.
The guidelines suggest that athletes should be evaluated and treated by licensed practitioners and that institutions should establish "clearly communicated procedures for referring athletes to qualified practitioners," as well as create clear emergency action plans for when an athlete is feeling suicidal or experiencing psychosis. Athletic programs should include mental health screenings as part of a team's annual preparticipation exams, the guidelines state, and require mental health education that teach the athletes about self-care, stress management, sleep, peer intervention and how to identify and recognize symptoms of mental health disorders.
"It is really critically important to think of mental health not apart from but rather as a part of athlete health," said Dawn Buth, associate director of strategic communication and education for the NCAA's Sport Science Institute. "Establishing these protocols means more equitable care across sports and institutions. The way we look at it, the implementation of these best practices is an important step in ensuring a real quality of care."
According to the American College Health Association's National College Health Assessment, athletes are more likely to demonstrate unusually aggressive behavior than are nonathletes. Nearly 20 percent of male athletes reported being in a physical fight in the past 12 months, compared to 12 percent of nonathletes.
Drinking and drug use is also a common issue, Hainline said. In 2013, more than 30 percent of female Division I athletes reported consuming more than four alcoholic beverages in one sitting, and 40 percent of male athletes consumed more than five. Nearly 16 percent of Division I male athletes reported consuming more than 10 drinks in one sitting. Eighteen percent of athletes reported regularly using painkillers like Vicodin, Oxycontin and Percocet. "These are high numbers," Hainline said.
That same study also found that 21 percent of male college athletes and 27 percent of female athletes reported that, in the past 12 months, they felt "so depressed that it was difficult to function." More than 32 percent of male athletes reported feeling "overwhelming anxiety," as did nearly half of female athletes. Between 2004 and 2009, suicide accounted for 9 percent of all college athlete deaths. It's the third leading cause of athlete deaths, just behind cardiac conditions.
Exacerbating athletes' feelings of anxiety and depression, Hainline said, are the time commitments required of them. While the NCAA only allows for 20 hours of required athletically related activities per week, the association's own research indicates that athletes typically spend about 40 hours a week on their sport. Those time commitments, frequently cited by athletes as one of their primary concerns with playing college sports, are the subject of several proposals slotted for the legislative sessions at this week's NCAA meeting.
"You need time to recover," Hainline said. "And when you don't recover mentally, spiritually, emotionally and physically, you can't function as well. And when you're constantly stressed and you're sleep deprived, suicidal thoughts increase. We know that for a fact."