You have /5 articles left.
Sign up for a free account or log in.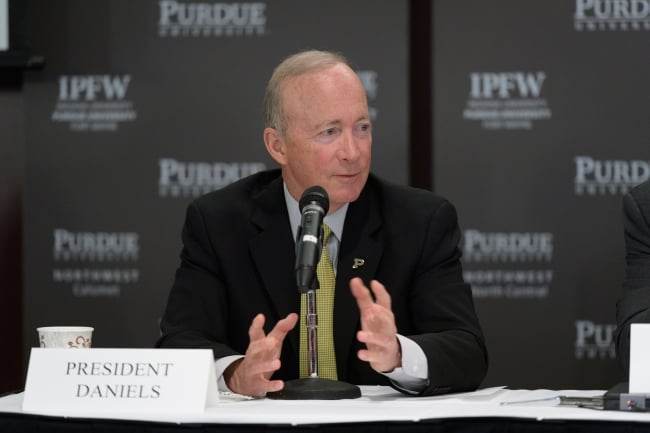 Purdue University's acquisition of Kaplan University is an unexpected tectonic shift in American higher education, revealing both the changing roles of public universities and the dwindling fortunes of for-profit colleges.
The deal announced Thursday has the Indiana-based public research university acquiring nearly all of the credential-issuing side of Kaplan's higher education business -- seven schools and colleges that make up Kaplan University, but not its School of Professional and Continuing Education.
Roughly 32,000 Kaplan students, 15 campus locations and 3,000 employees are slated to join Purdue under a newly created nonprofit university that will carry some version of Purdue's name. About 85 percent of Kaplan's current students are enrolled in fully online programs, with the rest in hybrid ones.
The public university will be responsible for virtually no up-front costs in the deal, which is described in a Kaplan corporate filing. It will pay $1 to Graham Holdings, the for-profit chain's parent company, for more than 100 academic programs, ranging from certificates to doctoral degrees.
The acquisition drew praise from some experts, who called it bold and exciting. Others, however, were worried about Purdue taking on the baggage of a for-profit chain that has in the past been criticized for student recruiting and the value of its credentials.
"From Purdue's perspective, it positions the university to promote greater access, particularly for that adult student population which is not a key part of who Purdue serves now," said Jamie Merisotis, president and CEO of the Lumina Foundation, an Indianapolis-based group that works to expand education beyond high school.
"There's a bunch of questions that I don't know the answers to right now," Merisotis said. "I think the accreditors are going to be challenged to figure out how to manage this."
Purdue said it plans for the new university to be financially self-sufficient, and that it will not receive state funds. The university's governing board will include five members of Purdue's Board of Trustees and one from the current Kaplan University board.
Kaplan's higher education division earned more $600 million of the $1.6 billion in revenue brought in last year by Kaplan Inc., with almost all the rest coming from large test preparation and international operations, which will stay with the parent company. Kaplan currently does a large volume of business with traditional nonprofit colleges, providing services that often are technology related.
Like most large for-profits, Kaplan University has lost students and revenue in recent years. The sector faces rising competition from nonprofits and a stigma due to high-profile investigations and lawsuits over some companies' misleading of students.
However, Andrew Rosen, Kaplan Inc.'s chairman and CEO, said his diversified company overall is in good financial shape.
"It's a natural fit," Rosen said of the acquisition by Purdue, citing the public university's focus on student access and economic development. "As we looked at the next 30 years or so, we felt this was the best home for Kaplan University."
For its side of the deal, the remaining Kaplan businesses will operate the bulk of the nonacademic side of the new university, including student admissions support, marketing and advertising, financial aid administration, facilities management, tech support, and other administrative functions. As a result, Kaplan will serve as a form of online program management provider (OPM) to its former university, in some ways resembling the booming "enabler" business.
The 30-year contract limits Purdue's financial downside while also serving as a revenue-sharing agreement if the former Kaplan University generates a profit. Purdue also has a buyout option after six years.
Rosen described Kaplan's role with the Purdue-acquired university as being mostly about providing transitional support services as the public institution takes over. "We're handing over control," he said.
'An Aggressive Move'
The acquisition's supporters predict it will allow Purdue to reach a population of adult students it had not been previously serving in large numbers. The basic purpose of a public university is to provide students with access to education and degrees, said Peter McPherson, president of the Association of Public and Land-grant Universities.
"We need to continue to work to ensure that we provide those for nontraditional students whose schedules and life responsibilities really aren't suited for a traditional full-time student," he said. "I think what Mitch Daniels and Purdue have done is a very creative effort to respond to those needs. I don't know if there's any single answer to how to do this. But this is clearly a major effort to, in a public university model, try to respond."
Daniels, a Republican former governor of Indiana, has drawn praise and some controversy during his four years as Purdue's president. His pugnacious takes on higher education's shortcomings have at times rankled academics. But Daniels also has earned fans with his push to experiment with income-sharing agreements and competency-based education.
Daniels's experimentation in higher education dates back to his time as Indiana governor. In 2010 he brought in Western Governors University, subcontracting the job of boosting online education and creating what he at the time called the state's "eighth state university."
Yet this move is Daniels's boldest one yet in higher education, said a broad range of observers, mostly because it could make Purdue an immediate online force, pending the deal's approval by the U.S. Department of Education and Purdue's regional accreditor, the Higher Learning Commission.
"Purdue has made an aggressive move to say we're here and a major player in online higher education," said Phil Hill, an education technology consultant.
Hill and other experts said the deal is somewhat unique, given the distinctiveness of both Purdue and Kaplan. But they called it further proof of the growing influence of online degree programs.
"This certainly reinforces how strategically important online higher education is across all sectors," said Hill.
Purdue has several branch and affiliate campuses, including Purdue University Northwest, Indiana University-Purdue University Fort Wayne and Indiana University-Purdue University Indianapolis. Some of the branch campuses have relatively open admissions. But the university is best known for its selective flagship campus, located in West Lafayette, which has a long-held reputation for strength in engineering and sciences.
The acquisition will bring more working adult students to the Purdue system. The flagship has an average student age of 20, and Purdue's branch campuses have average ages ranging from 22 to 24. But the online university being acquired from Kaplan has an average age of 34.
In addition, just 1 percent of Purdue's 30,000 undergraduates are enrolled in online-only programs, according to federal data, with another 14 percent taking some distance education courses. Even assuming that the former Kaplan University's enrollment will continue to decline in the short term, the deal means Purdue's total enrollment could grow to more than 70,000, with 30,000 enrolling online.
To explain why the university was acquiring an online for-profit chain, Daniels cited the 36 million working adults in America who are over the age of 25 with some college credits but no degree, 750,000 of whom are in Indiana. Another 56 million Americans over 25 have no college under their belt.
"Our modern, complex economy is stacked against these men and women," he said in a written statement. "If they are to advance professionally, they must largely balance the demands of school with the obligations of careers, family and other burdens of adult life. Increasingly, these Americans are finding hope in high-quality, online programs tailored to their unique needs."
Another driver for the deal, Daniels said in an interview with reporters, is that Purdue could not have made a large move online without acquiring an established provider. Purdue would have to spend millions of dollars chasing more nimble players if it wanted to build a formidable slate of online offerings, because it is "too slow, too process-oriented and too far behind," he said.
"We have decided, frankly, that we did not have the wherewithal to do so, at least on our own," he told Purdue's board.
Mixed Reaction
Some national and state higher education experts applauded the deal, while others were hostile to the idea of a land-grant university buying a for-profit chain.
Faculty leaders at Purdue voiced reservations, saying they should have been informed earlier and worrying that the poor reputation of for-profit education could dilute the perceived value of a Purdue education.
Professors at Purdue learned about the acquisition in a meeting with Daniels Thursday, about an hour before it was made public, said David Sanders, an associate professor in the university's department of biological sciences who is the chair of the University Senate. Many are concerned about how the new university will fit into Purdue's existing faculty and academic structures, he said.
Faculty members also are concerned that bringing a for-profit institution under the Purdue umbrella could hurt the university's brand and public image. Sanders stressed that he is reserving judgment on Kaplan University, as he is not familiar with it. But he is worried about its past.
"The people who can evaluate those things best are the faculty," he said. "The faculty understand that, yet the faculty were not brought into this evaluation process."
Faculty members could also see the upside of the deal, however.
"I think there are lot of kinks that, you can imagine, need to be worked out," said Levon Esters, an associate professor of youth development and agricultural education who chairs the University Senate Faculty Affairs Committee. "Over time those things will be addressed, but right now, I think my first reaction is it's a good thing. It's probably going to allow students and other individuals an opportunity to get a Purdue degree."
Barmak Nassirian, director of federal relations and policy analysis at the American Association of State Colleges and Universities, was direct in his criticism of the for-profit sector and how the model will translate at Purdue.
"This is nothing but a re-skinning of the garbage that Kaplan was doling out under its own brand under new management," Nassirian said. "I have no reason to believe that you could somehow take those components and make something stunningly different with them than Kaplan was making."
Bob Shireman, a senior fellow at the Century Foundation, was an Education Department official during the Obama administration. He played a leading role in the department's crackdown on for-profits, particularly through its gainful-employment rule -- which five discontinued or inactive Kaplan University academic programs fail.
"There are some dangerous aspects of this agreement because of the continued involvement of a company that had recruiting issues," he said.
For example, he said Purdue will reimburse Kaplan's costs for running its part of the operation, but the public university won't be in control of those costs. Without appropriate oversight by Purdue, he said the arrangement could create the "same old incentives to expand enrollment as much as possible."
Shireman has been fiercely critical of some for-profits' attempts to convert to nonprofits, arguing that they merely shift tax status and escape some regulation while continuing to enrich executives and offer questionable credentials. That critique does not apply to Purdue's acquisition, he said, given that the public university will wholly own the subsidiary and that most of Kaplan's brass won't be coming over to Purdue.
"It looks like this deal does not have that problem," he said, but adding that "they need to be willing to shut it down if it's not serving students."
Several observers said the acquisition makes good business sense.
Purdue has reasons to be interested in new sources of students and the tuition revenue they bring. The university has frozen tuition in recent years and will hold at 2012 levels through the 2018-19 academic year. As the freeze wore on, the university enrolled more out-of-state students at its West Lafayette flagship, with a majority of total headcount at the campus now from out of the state and country and paying higher tuition. State appropriations also have fluctuated in recent years.
The goal of generating revenue comes after the more important goals of reaching students and preparing for the online future, Daniels said in an interview. But the acquired university could turn into a revenue stream in the future.
"There's a very good chance it could happen," Daniels said. "It would be a great by-product."
The university said the deal is expected to close in six to seven months, assuming the feds, state regulators and the Higher Learning Commission sign off on it.
On the state side, Indiana Commissioner for Higher Education Teresa Lubbers has already offered early thoughts on Purdue's move.
"The Indiana Commission for Higher Education looks forward to working with Purdue University to develop the procedures required for authorization of this new state education-affiliated institution," she said in a statement. "As higher education evolves to serve more students in innovative ways, we will seek to ensure that new models enhance access, affordability and academic quality for students."
Graham Holdings chairman Donald E. Graham, whose family owned The Washington Post for decades and who was a high-profile lobbyist for Kaplan, acknowledged criticism of for-profits Thursday but said it is not germane to the discussion about Kaplan.
"There's been a lot of criticism of the sector, and we've tried to respond by proving what we've always believed, which is we've been doing a good job for our particular students," Graham said in a call with reporters. "This is a transaction between us at Kaplan and Purdue. It doesn't have anything to do with the sector as a whole."
While Kaplan has drawn criticism over the years, a voluminous 2012 report from the staff of then U.S. Senator Tom Harkin, the Iowa Democrat who led the Senate's education committee, said the company had made the most positive changes among all those studied. Yet its enrollment has been tumbling for a while. And the company two years ago sold all 38 of its Kaplan College campuses to Education Corporation of America, a privately held chain. Those campuses enrolled 12,500 students at the time.
The Purdue acquisition comes after several difficult years for large, publicly traded for-profits, including the collapse of the controversial ITT Technical Institute and Corinthian Colleges, the sale of the University of Phoenix to private investors, and the so-far unsuccessful attempt by Grand Canyon University to go nonprofit.
Likewise, Education Management Corporation, a major for-profit chain, last month sold to the Dream Center Foundation, a religious missionary group that plans to run the former EDMC as a secular, nonprofit institution. And the ECMC Group, a student loan guarantee agency, about three years ago bought a large chunk of Corinthian's operation. It created the Zenith Education Group as a new nonprofit career college chain, spending hundreds of millions of dollars on Zenith while its enrollment continues to decline.
"A big part of the enrollment decline at these for-profit universities is that, over the last decade, real, traditional academic brands have grown" in online education, said Ryan Craig, managing director of University Ventures, an investment firm focused on higher education.
Purdue joins several other nonprofit institutions with large online programs, which are growing the sector's overall share of the online market, including Arizona State University, Liberty University, Southern New Hampshire University and the University of Maryland's University College.
The Purdue brand could give a big boost to the former Kaplan Universities, said Craig, who added some caveats.
"Are the degrees going to be Purdue degrees?" said Craig. "Enrollment will fall. The question is how far it falls."
Several observers said the new institution's success could hinge on how well Purdue can tap what Kaplan brings to the table in marketing, back-office support and online prowess, while also maintaining high standards of quality control.
"To what extent can they keep Kaplan's machinery operating?" said Paul LeBlanc, president of Southern New Hampshire University, which has one of the nation's largest online programs.
He said the question is one of integration, which could pay off big-time if Purdue handles the acquisition right.
"Will the university be able to leverage the Purdue brand? If they can, it will be incredibly legitimizing," said LeBlanc.
More from Digital Teaching & Learning