You have /5 articles left.
Sign up for a free account or log in.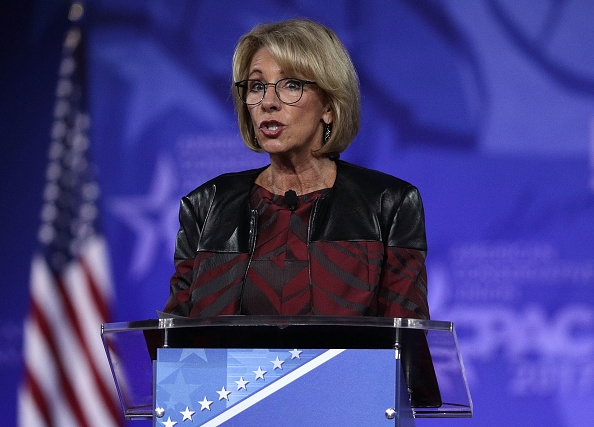 WASHINGTON -- Education Secretary Betsy DeVos told lawmakers Wednesday that her department will follow through on promises to provide loan forgiveness to borrowers who attended for-profit colleges found to have defrauded students.
"Those to whom we've made commitments, we are going to make good on that commitment and that is in process," DeVos said at a House of Representatives appropriations subcommittee hearing on the department's budget proposal.
In a hearing in which members of Congress mostly quizzed the secretary about large proposed cuts to programs for students across the department in the White House budget, Massachusetts Democrat Katherine Clark pressed DeVos to affirm that the department would move forward with promised loan forgiveness.
Over the last week, a number of Democratic elected officials have asked for updates regarding the processing of borrower-defense claims filed by students who were defrauded by their colleges as well as on the progress of granting relief to students already promised loan forgiveness. But those requests had gone unanswered by DeVos before Wednesday.
The assurances from DeVos did not come with any commitments about a timeline for promised discharges or resolution of pending claims. She did, however, hint that the department will have more to say in the near future on its approach to borrower-defense regulations, which were finalized last fall.
"We will have something further to say on that within the next few weeks," she said.
Student debt activists and some progressive Democrats lobbied hard in the final months of the Obama administration for the department to provide automatic group discharge to the former students of failed for-profit chains Corinthian Colleges and ITT Tech. Activists argued that the department had statutory authority to grant group discharges to students who attended fraudulent institutions and that Obama officials should act to provide loan forgiveness to those students as a group because the incoming Trump administration would be unlikely to provide debt relief.
Department officials insisted they did not have the authority to provide that broad relief to all students who attended the biggest for-profit chains, saying it was not clear that fraud had occurred at every campus operated by the for-profit chains.
But in January, the department announced it would grant borrower-defense relief to all student loan borrowers who attended American Career Institute in Massachusetts. In that announcement, officials also said they had approved 28,000 additional borrower-defense claims for former Corinthian students and 6,300 closed-school discharge claims for former ITT students.
Tens of thousands of borrower-defense claims from students who attended those and other institutions were still pending review at the time.
Closed-school discharge is a pathway under federal law by which a student borrower can seek to have their loan debt forgiven if an institution shuts down. A successful borrower-defense claim would lead to debt forgiveness if students affirmatively demonstrate that they were defrauded by their institution. ACI was the first institution where the department granted a group discharge to all former students.
The department said in a January email to about 23,000 borrowers who had received notice of approval, but not yet a discharge, that they could expect loan forgiveness within 90 to 120 days. As that time frame ticked to a close, Democrats have sought answers from DeVos and her staff on the status of loan discharge for those students.
"Although the maximum 120-day timeline has already passed or will soon for these borrowers, it appears many of these students have still not received the discharges they were promised by the department, and many are still in repayment or collections. These borrowers are thus being billed for unnecessary principal, interest and even collection fees," said a May 17 letter from five Democratic senators to the secretary. "In short, they continue to face significant financial burden without the debt relief they are entitled to and have been told to expect."
The letter cited news reports that indicated processing of borrower-defense claims has ground to a halt under the Trump administration, and it sought answers to detailed questions about the number of claims pending review or approved, institutions with qualifying former students, and ongoing reporting by department staff on the issue.
Liz Hill, an Education Department spokeswoman, said Wednesday that the 120-day timeline was a general window provided to borrowers and not a formal deadline the department was bound to.
"We are working with servicers on the discharges, and some borrowers could receive discharge as soon as this week," she said. "Some claims are more complex and will take longer."
While slowing action on borrower-defense claims has been reported, the office that handles those claims has experienced turnover at the top under the new administration. Robert Kaye, the head of the Federal Student Aid Enforcement Office that included the borrower-defense unit, has moved on from the department. Kaye was appointed to lead the newly formed Enforcement Office in February 2016 after coming over from the Federal Trade Commission.
Days after the letter from the Senate Democrats, Massachusetts Attorney General Maura Healey wrote to Acting Under Secretary of Education James Manning that her office has heard from hundreds of student borrowers who attended ACI institutions. Those communications showed that none of those former students had yet received debt relief. That was only the latest attempt by Healey's office to contact the department about the issue.
Ben Miller, a senior director for postsecondary education at the Center for American Progress, said with its slow action on promised debt forgiveness so far, the administration hasn't built up a lot of trust.
"They need to act in order to earn the benefit of the doubt," he said. "The easiest way to clear up the confusion about what they're going to do is to actually discharge the loans."