You have /5 articles left.
Sign up for a free account or log in.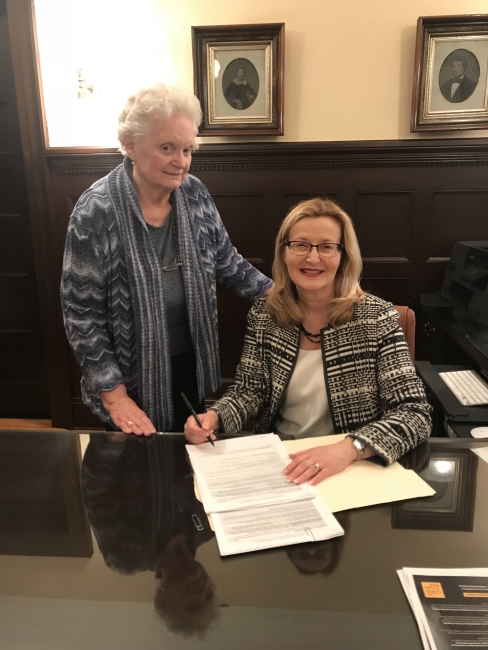 A leadership struggle at the top of the College of Saint Rose, in Albany, N.Y., has been thrust into the spotlight after several members of the small private college's Board of Trustees, including its board chair, resigned in recent weeks.
Boiling tensions between some trustees and the college's embattled president, Carolyn J. Stefanco, are laid bare in trustees' resignation letters made public this week. Resigning trustees found fault with Stefanco's leadership style, strained relationship with the board, repeated clashes with faculty members, requests for additional compensation and management of the college, which they said has left it in a perilous financial situation. They called the president secretive and occupied with personal interests, and the former board chair alleged that she was targeted after she asked the president to avoid additional external commitments in order to focus on the college.
The college's administration responded Thursday by saying applications are up for next year and that Saint Rose has developed from a regional institution into one that can draw students nationally and internationally. But such a transition takes time, and the college's enrollment was hurt when New York State started a program offering free tuition to many students attending public college this year, administrators argued. They are working to reduce the college's deficit, and Saint Rose has increased its fund-raising, they said.
Saint Rose also released a statement from the new chair of its Board of Trustees, Sister Mary Anne Heenan.
"Many of the challenges existed before President Stefanco arrived in 2014," she said in the statement. "In the last three years, she has implemented changes we, the trustees, directed. She has worked diligently with us to address emerging financial, enrollment and personnel challenges. We have a board of 28 extremely talented trustees, all of whom care deeply about the mission of the college and are focused on making progress."
Stefanco has been a controversial figure at Saint Rose for several years after rounds of layoffs and budget cuts. In May 2015, Saint Rose announced the elimination of 40 administrative and staff positions, only 17 of which were vacant. Then in August of that year, college leaders said more cuts would be coming because of a $9.3 million structural deficit. The college would go on to announce the elimination of 23 faculty positions and 27 academic programs in December 2015. Many of the faculty members whose jobs were cut were tenured.
The American Association of University Professors later issued a report finding that the cuts rendered tenure "virtually meaningless" and that faculty members had been repeatedly left out of deliberations or had been ignored. The AAUP voted in June 2016 to censure the college. Faculty members voted no confidence in Stefanco in February 2016 and voted to ask that the president be removed last April.
After the April vote, trustees announced "unwavering support" for Stefanco. But that support waned among at least a handful of trustees.
Their concerns were brought to light by the Albany Times-Union, which on Thursday published excerpts from several trustees' resignation letters.
Trustee Gregory Serio wrote that he wanted to support the president and the college but that Stefanco no longer enjoyed his confidence.
"Her secretive management style, closed-circle communication methods, obvious preoccupation with personal interests and apparent disdain for the board and its critical role in the governance of this institution are serious and, probably, irreparable shortcomings for any executive, within or without higher education," he wrote, according to the Times-Union.
The newspaper also quoted from the resignation letter of the college's now former board chair, Judith Calogero. She wrote that trustees had committed enormous amounts of time and effort to improving the effectiveness of the college's leadership and management, but that they had not been successful. Trustees were divided over the prospect of taking corrective action, she wrote.
Calogero did not send the letter to the newspaper, she said in an interview with Inside Higher Ed Thursday. She sent the document to the Board of Trustees and did not intend for it to be released publicly, she said.
"I hope my former colleagues on the board will be able to turn this around," she said. "It's my alma mater. I love the place. A lot of people in my family have attended the college, and I have nothing but best wishes for them going forward."
Calogero provided a copy of her resignation letter because it had already been quoted from extensively in the press.
Most faculty members have no confidence in the college's administrative team, but the team has no plan to improve the relationship with faculty members, Calogero wrote in the letter. She called turnover in the college's academic leadership unprecedented, writing that four provosts have served in the last two years, that the current interim provost doubles as a dean and that the college's remaining three dean positions are all filled on an interim basis because their predecessors left.
More than 130 employees left Saint Rose between 2015 and 2016, Calogero wrote. Many of those departing had been administrative appointees. No information was shared with the Board of Trustees about their departures, and the board asked that exit interviews be conducted with a trustee present, Calogero wrote. That proposal was rejected.
Calogero also wrote that thousands of dollars have been spent planning what would be the second administrative building renovation in 10 years, even as other college-owned buildings fell into disrepair. The college will be burdened by deferred maintenance for years to come, she predicted.
She also pointed to a $3.6 million deficit for the last fiscal year and a $12.1 million deficit estimated for the current fiscal year.
"Enrollment is down, student retention is down, the discount rate is at a historical high, student housing occupancy is down, new programs that were expected to bring new students have failed or stalled, and the strategic plan is failing," Calogero wrote. "All occurring within the last three years under the current leadership team."
Calogero asked the president to temporarily not take on additional external commitments like board appointments, she wrote. That would allow Stefanco to dedicate her professional time and energy toward Saint Rose, where they were needed. But the request was disregarded, Calogero wrote.
"A campaign was initiated to have me change my position, with repeated requests by phone and email," she wrote. "When that didn't work, my authority as chair of the Board of Trustees was further undermined by lobbying other trustees, causing much disruption and divisiveness. The chair-elect joined the campaign, who together with the president brought the topic forward to the full board, to attempt to overturn my decision and further undermine my authority to act. This resulted in the most unprofessional display I've ever witnessed at our October board meeting."
Calogero's letter also references the president asking for additional compensation when faculty and staff were being laid off. The board opposed the requests in the past, but that may be reversed now, Calogero wrote.
The president is not requesting additional compensation, a Saint Rose spokeswoman said in an email. Stefanco has not received a raise since starting at the college in 2014 and has experienced reductions in benefits, as have other administrators, she said. The spokeswoman declined to comment on specific communications between the administration and trustees, calling such communications confidential. But she did share the college's overall undergraduate tuition discount rate, which is 52 percent.
The Times Union reported that at least six trustees have resigned in recent weeks, but Saint Rose says the number of resignations is five since Nov. 1.
A statement from the college also said the $12.1 million deficit is a forecast made three months into the current fiscal year. The college is working to increase revenue and cut expenses to reduce the deficit, and it raised more than $7 million in gifts last year, its highest level in 15 years, it said.
The college has almost 2,500 full-time undergraduate students and students enrolled in nearly 6,000 graduate credits, it said. It also said first-year applications for the fall of 2018 are up over last year and that it enrolled a record first-year class in the fall of 2016 before being hit by New York's free college tuition program for public institutions.
"Our finances remain a very significant challenge as we seek to keep tuition affordable, compete with the SUNY and CUNY systems' offer of free tuition, and find the money to invest in our programs and facilities," the statement said. "Our faculty, staff and administration deliver an amazing, life-transforming education despite the financial challenges."
The college's full-time undergraduate enrollment has been slipping for years, according to statistics available from the Integrated Postsecondary Education Data System. Saint Rose had more than 2,800 full-time undergraduate students in 2010, more than 2,700 in 2012 and 2,540 in 2015, the most recent year for which data are available.
Faculty members expressed surprise and concern at the trustee resignations, saying they reflect serious issues with Stefanco's performance.
"I think everybody is still rather in shock," said Kathleen Crowley, a professor of psychology who is president of the Saint Rose chapter of the AAUP. "I think the sentiment is that a change in presidential leadership at this point would be beneficial. But to be honest with you, I think for the situation to improve, it would probably best if the president acknowledged the growing lack of support that she has and would leave and give us a year of transition so we could mount a search for a new president."
About 10 years ago, the college had 212 full-time faculty members, Crowley said. Now it has 173. Faculty benefits were cut in 2015, and many often teach overload courses now. The number of adjuncts has risen and is now over 200.
"Probably the greatest difficulty right now is the sense of, I'd have to say, doom and fear on campus," Crowley said.