You have /5 articles left.
Sign up for a free account or log in.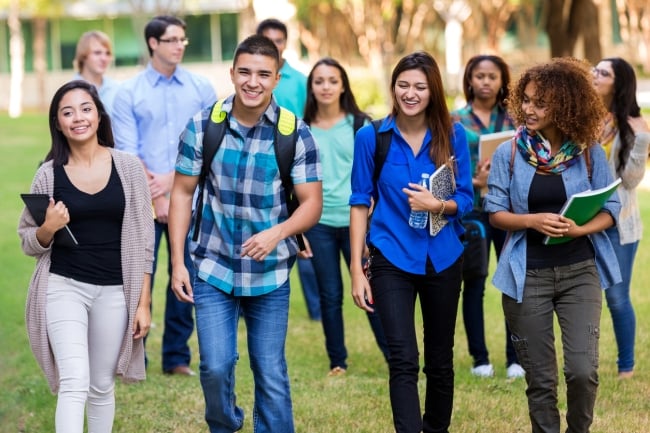 For many two-year institutions, it didn't take a racist incident, protest or controversial guest speaker to jump-start efforts to promote more diverse and inclusive campus environments.
Many community colleges are heralded for having diverse student populations. But that perception hasn't made them complacent, especially as many go beyond their campuses and see cultural clashes happening in their communities.
Quietly, more two-year colleges are investing in cultivating an on-campus culture focused on inclusion, equity and diversity, and some are demanding that their employees fall in line.
"If you have a core set of beliefs, you simply state your core set of beliefs and live by them," said Michael Carter, chief diversity officer at Sinclair Community College in Ohio. "You can believe what you want to believe, but here at Sinclair, this is what we believe."
Those who have a problem with Sinclair's focus on inclusion and diversity don't have to work there, said Carter.
One way community colleges are becoming more proactive about diversity is with the increasing emergence of the chief diversity officer role. And a growing number of diversity officers in the sector serve as more than a federally mandated Title IX coordinator or a director in human resources who focuses on equity. These administrators, at colleges like LaGuardia Community College in New York and Portland Community College in Oregon, have a direct line to the president as cabinet-level administrators and are holding academic departments on campus accountable for being inclusive.
Carter and Sinclair are focusing more on equity and inclusion by carrying out the college's first diversity audit, which was organized by an independent consultant. They're hoping the audit will measure how well Sinclair is doing when it comes to promoting diversity in everything from recruiting faculty members and administrators to student supports and community relations.
The audit also will inform the college on where it needs to improve and how to be truly equitable, although the administrators have already begun to examine areas where Sinclair can improve.
"Working with [the vice president of human resources], we've talked about and really want to make movement on redacting names from employee applications so that it's not a barrier if your name doesn't fit certain mental criteria for hiring," Carter said.
When it comes to its employees, Carter said on a surface level, Sinclair is a very diverse institution and comparable to its student body. But the challenges appear once you disaggregate the numbers.
For instance, 61 percent of Sinclair students identify as white and 14 percent identify as black, according to 2016 data from the National Center for Education Statistics. Among Sinclair's employees, 78 percent identified as white and 14 percent identified as black in 2015, according to the institution's payroll data.
But those numbers shift when the college examines demographics of its faculty members -- both full-time and part-time. Among instructors, 85 percent identify as white, 10 percent are black and 1 percent are Hispanic. However, the administrative staff is comparable to the student body, with 34 out of 44 of Sinclair's administrators identified as white, with eight black administrators, one Asian and one Hispanic.
The audit asks:
"Is there at least 25 percent representation by women on all of the institution's committees?"
"Are mentorship programs available specifically for students from underrepresented groups?"
"Are suppliers and vendors asked to provide proof of their commitment to diversity and a diverse work force?"
"Does the school have a flexible working policy?" or "Does the school have an equal pay policy?"
"It's asking the questions we need to ask in a lot of different areas," Carter said. "And there's nothing asked that's unreasonable."
This level of introspection isn't unique to Sinclair.
"Community colleges serve the majority of minorities in higher education and deeply value diversity as a tenet of their mission," Martha Parham, a spokesperson for the American Association of Community Colleges, said in an email.
Parham said she isn't certain whether there is a growth in the ranks of diversity officers or "if we are seeing more awareness of diversity issues and working toward finding solutions that serve the campus and community."
Recognizing a Problem
Two years ago, John Sygielski, president of Harrisburg Area Community College, realized the importance of having a chief diversity officer in his cabinet at the college, which is located in central Pennsylvania.
"Dr. Ski is the most social media president you'll ever want to meet," said Warren Anderson, chief inclusion and diversity officer for the college. "He would post something in support of Black Lives Matter, and the reaction and response in the comments he'd get back showed we have a lot of work to do with this. Central Pennsylvania is not the most progressive place in Pennsylvania, so the reaction we get even from internal folks shows us society still has some significant challenges."
Anderson said it was the reaction to news coverage of cultural and racial issues by people who worked, studied or interacted with the college that encouraged Harrisburg to buckle down on diversity initiatives.
"Going back to the beginning of the Obama years, a lot of people thought because we elected a black president we were in a postracial society," Anderson said, adding that people felt emboldened to say what they wanted, whether it was good or bad, and that led to more people recognizing the country isn't postracial.
And if Harrisburg was going to get serious about diversity and inclusion, Anderson said it couldn't be just surface level, but instead had to be embedded in the college's policies. The college, for instance, rewrote its strategic plan to include diversity as a priority.
"We know not every space in the community and not every space in the workplace you go into as a student is 100 percent ideal," Anderson said. "But we want to do our best to minimize and mitigate any environment [where] someone feels they're not being treated equally."
Unlike four-year university campuses, which have seen protest after protest, often on racial issues, along with a host of controversial speakers and guests, in recent years, community colleges tend to avoid these sort of high-profile flashpoints. Anderson pointed to the residential nature of some universities as a reason why community colleges seem to have been spared from those issues.
Kim Baker-Flowers, the chief diversity officer at Portland Community College, agrees with him. She previously worked as the diversity officer at a four-year university before moving to her current two-year institution and said the demographic differences between most universities and community colleges play a role: two-year colleges tend to serve more older adults, low-income and first-generation students and to not have residence halls.
Anderson said community college students are a part of their communities, so if they're active in social-justice issues, their activism isn't limited to the college campus.
"We're starting to see now that regardless of institution, people are becoming more advocates for change," he said.
But Harrisburg faced resistance to having a chief diversity officer, Anderson said, adding that he may be the only chief diversity officer with a cabinet-level position among the state's 14 community colleges.
"I can't worry about if people like me," he said. "People say, 'Is this necessary?' They say we could've hired more faculty members instead. The fact that you don't think we need a diversity officer is proof we do."
Anderson said Harrisburg does try to provide a platform for those who disagree with the college, but college administrators don't allow those disagreements to deter the institution from its goal.
"It's been made pretty clear that diversity is the cornerstone of what we're doing," he said. "If you want new funding, a new position, you want to augment something, you have to talk about diversity and how it impacts what we're doing."
Harrisburg is the oldest and largest community college in Pennsylvania, which means other colleges pay attention to the moves it makes. And Anderson has been approached by other institutions about the diversity work Harrisburg is doing.
"We hope that everyone is on board with this, but if you're not, we want to make sure that island you're on is increasingly lonely. And it is," Anderson said. "A lot of people are feeling targeted now because they don't agree with diversity. Our goal is to make sure you operate within the values of the college. Independently you can believe what you want."
Need for Diversity in a Liberal Haven
Across the country, in the blue state of Oregon, officials at Portland saw a need to step up efforts to increase diversity and to provide an equitable education to all students.
Baker-Flowers, the chief diversity officer, said when she started in the role in 2014, there was pushback to her efforts to create forums to allow people to discuss diversity on campus.
"Portland advertises itself as this liberal, sustainably focused mecca, and I think a lot of people that live here buy that marketing … so when I first got here, there was a lot of that rhetoric," she said. "But in terms of action, I think there was a lot of unconscious biases."
Baker-Flowers said it took the Ferguson, Mo., protests for people in Portland to realize that the country wasn't as postracial as many thought.
"We started trying to roll out things and do self-awareness-based things around 'Who am I, how do I walk through this world, what are my power and privileges and let's try to understand that,'" she said.
Portland also revamped its strategic plan and included critical race theory as a method of setting expectations and priorities at the college. The college also is building a faculty diversity internship program to broaden its full-time faculty ranks, and it now offers an inclusion advocates program that trains faculty and staff members to sit on hiring committees and ensure they're hiring applicants from diverse backgrounds while recognizing any biases in the process. College-sponsored training also helps employees recognize their biases and triggers.
"I'm seeing a cultural shift," Baker-Flowers said. "Even when running programming … I don't see crossed arms, people leaning back or people who don't want to be there. It feels like people are more open and they understand. We're slowly but surely getting to a shared understanding."