You have /5 articles left.
Sign up for a free account or log in.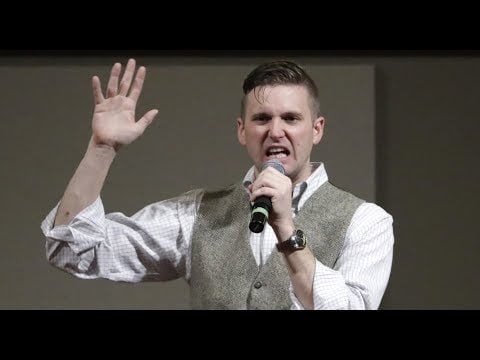 The University of California, Los Angeles, will cover only $100,000 in total security costs each academic year for speakers who are not invited by a student group, a spending cap on certain events that appears to be the first of its kind among high-profile colleges and universities.
This policy -- which legal experts say was carefully crafted to balance the First Amendment obligations of a public institution with the potentially high costs of hosting controversial speakers -- took effect on an interim basis this month.
It comes after nearly two years of hot-button individuals testing the boundaries of college free speech practices. Most notably, the white supremacist Richard Spencer toured universities nationwide last year in a deliberate attempt to rattle the campuses, but institutions have also faced protests inspired by visits from the ex-Breitbart editor Milo Yiannopoulos and the conservative commentator Ann Coulter (though in her case, she didn't end up showing up at UC Berkeley as she publicly stated she would).
Administrators have struggled with how to accommodate these instigators while not taxing their budgets to cover hundreds of thousands of dollars in security. Spencer's trip to the University of Florida in October cost it upwards of $600,000 in security, university officials said at the time. A spending cap for certain events has been oft-debated in higher education, but never materialized until now.
The UCLA policy ensures that the university will pay, without any limits, for security for speakers invited by student groups associated with the institution, as long as they follow certain procedures, such as registering the event at least three weeks before it occurs, and meeting with campus police at least two weeks before.
These rules don't apply to all events – just the ones the university deems "major," meaning more than 350 people are anticipated to attend and there may be a security risk or a chance it would interfere with campus day-to-day activities.
For campus outsiders not brought in by a student group, the university has set aside $100,000 for the same type of events per academic year. Once that money is used up, generally a speaker would be denied. Outdoor events are still allowed, meaning Spencer could still shout on the UCLA grounds with a megaphone if he wanted to, but he probably couldn't rent a space if the $100,000 budget had been exceeded.
A UCLA spokesman told Inside Higher Ed an administrator was unavailable for an interview.
Civil liberties advocates and experts expect that the UCLA rule will be both tested in court and replicated in some form at other institutions, given the likelihood that provocative speakers won't disappear anytime soon.
The Foundation for Individual Rights in Education, a watchdog group that normally rails on institutional attempts to limit free expression, gave a much more measured response after learning about the policy.
FIRE's lawyers debated the constitutionality of the policy, but ultimately, they found it had been so smartly written that it's unclear whether it would fail under legal scrutiny, said Will Creeley, senior vice president of legal and public advocacy. Had the university applied the $100,000 maximum to student group-organized events, or also extended it to outdoor spaces, it would likely clash with free speech principles, he said.
"The law does not provide great clarity here in terms of what the obligation is," Creeley said, noting that universities are allowed to impose restrictions on free expression that don't discriminate based on viewpoints or content.
Peter Lake, director of the Center for Excellence in Higher Education Law and Policy at Stetson University, likened the potential legal challenges to the policy to the arguments in a Supreme Court case on charging student fees, the Board of Regents of the University of Wisconsin System v. Southworth, decided in 2000.
The court ruled that universities could impose a mandatory student activities fee and use it to fund groups that individual students found offensive -- as long as that money was distributed in a viewpoint neutral way.
"It has the same texture," Lake said, referring to the Supreme Court case. "But I would worry if I were a speaker, if my great idea pops up in April, that I would be disadvantaged if someone else had a great in September. Without some system to plan ahead for the year, I have a feeling you'll see some kind of balancing process."
Colleges and universities will likely be adopting some form of this policy, said Kevin Kruger, president of NASPA: Student Affairs Administrators in Higher Education.
He said it does not clash with the traditional mission of universities serving as open forums.
"Philosophically, it makes sense, with the disruptive new world order of what speech can look like on campus, this is a reasonable way to reduce the negative consequences," Kruger said. 
More from Academic Freedom