You have /5 articles left.
Sign up for a free account or log in.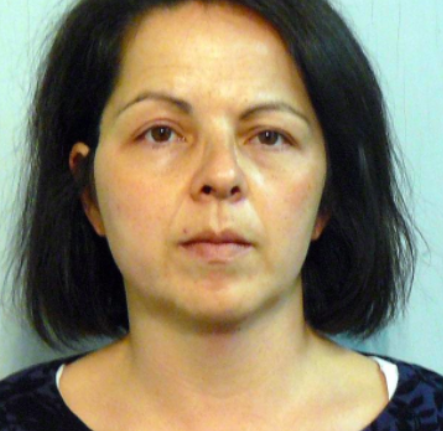 Courtesy of Exeter Police Department
Plymouth State University is looking into several faculty members' public support for a convicted sex offender prior to her sentencing, a spokesperson confirmed Saturday.
The news follows President Donald Birx's public denunciation of Kristie Torbick, an alumna of Plymouth State's graduate program in school counseling who recently pleaded guilty to sexually assaulting a 14-year-old student while she was his high school guidance counselor.
"I want to make the position of the university clear: Plymouth State condemns in the strongest terms the actions of Ms. Torbick and supports the victim in this case," Birx said in a statement. "We take seriously the sacred trust between educators, students and families and, in the case of Ms. Torbick, that trust was broken.
Torbick, a former guidance counselor at Exeter High School in New Hampshire, was sentenced to two and a half to five years in prison earlier this month for sexually assaulting a high school student on multiple occasions, including at her home, in 2016-17. Prosecutors said Torbick also sent partially nude photos of herself to the student and that they exchanged 23,000 text messages. Torbick has said she was overwhelmed with her new job at Exeter and only wanted to help the student in question. That student has since said he was taken advantage of and that he suffers from post-traumatic stress disorder due to the abuse.
Some 23 of Torbick's colleagues and acquaintances wrote letters to the court on her behalf prior to sentencing. Those letters, all of which speak to Torbick's dedication to counseling and children, and many of which ask for leniency for her, are now public. They've become controversial locally, with some, including one from another high school's dean, prompting the resignation of Torbick's previous school district's superintendent.
Plymouth State is facing questions, too, about why three professors of counseling -- one current and two retired -- would praise Torbick, and in one case cast doubt upon her victim, despite her admitting to felonious sexual assault.
"Kristie takes full responsibility for her actions with her 'victim.' I put this in [quotes] because I am aware that her 'victim' was truly the pursuer in this case," Nancy Strapko, an associate professor emeritus and former graduate school health education coordinator at Plymouth State, wrote in her letter, according to the Union Leader.
Michael L. Fischler, professor emeritus of counselor education and school psychology at Plymouth State, for whom Torbick worked as a graduate assistant, reportedly wrote that "Kristie, through her performance as a student and trusted partner in the delivery of two academic courses, earned my unequivocal support. She performed said 'roles' exceptionally well, consistently demonstrating behavior that reflected selflessness, compassion, reliability, self-effacing humor, mindfulness and wisdom."
Torbick's "commitment to facilitating the intellectual and emotional growth of others was exemplary. Thus, she has earned and receives my unconditional support," Fischler wrote.
Gary Goodnough, a current professor of counselor education who was Torbick's adviser, also wrote that "no benefit to society would be served by incarcerating her."
Referencing these letters in his statement, Birx, the president, said the university was not aware of them before they were submitted. The university has pointed out that the letters were not submitted on Plymouth State letterhead. But the faculty members identified themselves with their university credentials. And the professors, as critics have noted, are responsible for training professionals who will work in schools and who need to protect children against sexual abuse.
"The personal opinions of faculty, staff and students are completely separate from the opinions of Plymouth State," Birx added, saying that what Torbick did as a "former member of this community and a graduate of [the university] is a violation of what Plymouth State as an institution and as a community stands for and the values we teach to students every day."
In an earlier published statement, Marlin Collingwood, university spokesperson, said that Plymouth State "respects the First Amendment rights of students, faculty and staff to express their opinions" but that those personal opinions "are not official positions of the university."
But Collingwood said this weekend that Birx has "started investigating the letters to see what the possible ramifications might be." He had no additional information.
Some have attributed the support for Torbick to her being female. "If a male guidance counselor in his 30s had sexually assaulted a 14-year-old student, would his former colleagues beg the court to show leniency?" reads an editorial in the Union Leader, for example.
Of course, the charges against Torbick differ from most Me Too-era sexual misconduct cases in academe -- most significantly that Torbick was convicted in a court of law of grave crimes against a minor. But some in academe have levied remotely parallel, gender-based criticisms against academics' support for Avital Ronell, a professor of German and comparative literature at New York University who this year faced a still-confidential complaint under Title IX of the Education Amendments of 1972, which prohibits gender-based harassment.
In May, a group of professors wrote to the university, urging it to consider Ronell's scholarly record in its investigation. "We testify to the grace, the keen wit, and the intellectual commitment of Prof. Ronell and ask that she be accorded the dignity rightly deserved by someone of her international standing and reputation," reads the version of the letter that was posted online. "If she were to be terminated or relieved of her duties, the injustice would be widely recognized and opposed." Ronell's accuser has "waged this malicious campaign against her," the letter also says.
Brian Leiter, Karl N. Llewellyn Professor of Jurisprudence at the University of Chicago, responded to the letter with a post on his blog, Leiter Reports, called, "Blaming the victim is apparently OK when the accused in a Title IX proceeding is a feminist literary theorist." (Ronell has not commented publicly on her case and did not respond to a request for comment over the weekend. Judith Butler, Maxine Elliot Professor in the Department of Comparative Literature and the Program of Critical Theory at the University of California, Berkeley, and the letter's first signatory, also did not immediately respond to a request for comment.)
But other professors, elsewhere, have spoken up for male colleagues accused of misconduct in the Me Too era. Those include feminist academics who have supported the author Junot Díaz in light of unwanted kissing and bullying allegations by graduate students -- mostly women of color -- on some of the campuses he's visited. (Díaz remains on the faculty at Massachusetts Institute of Technology, where he teaches creative writing.)
Some faculty members also have publicly defended Francisco J. Ayala, a longtime professor of genetics at the University of California, Irvine, who resigned in June after a university investigation found he'd sexually harassed multiple women. The women's attorney said Ayala had touched them in ways that made them feel uncomfortable and made sexist comments.
In Ayala's case, colleagues objected to the fact that they didn't know the precise details about the allegations against him, or said they just couldn't believe he'd harass anyone.
"I have no facts, no information," Donald Saari, a professor of mathematics, told The New York Times, echoing comments from other professors. "I do not even know what are the charges. But all of this is upsetting because it runs counter to everything I know about Dr. Ayala."
In Díaz's case, the allegations against him are clearly defined, but supporters have argued that none rise to the level of a crime, and more peripherally and controversially, that he has otherwise supported historically oppressed groups in his career.
Survivor advocates are often critical of this kind of character vouching for those accused of harassment, saying that it can chill reporting and that it's essentially meaningless. That is, just because someone doesn't hurt nine people doesn't mean he or she won't hurt a 10th person.
At the same time, most academics enjoy some degree of academic freedom, meaning they may use their expertise to speak out on matters of public concern, even when their ideas are unpopular.
Again, though, the Plymouth State matter is very different from the aforementioned cases, in that professors of counseling or education are supporting someone who wasn't just accused of or found to have violated institutional policies, but someone convicted in a court of law of sexually assaulting an underage student in her charge.
None of the professors who wrote letters responded to requests for comment, nor did Plymouth State's chair of counselor education and school psychology.