You have /5 articles left.
Sign up for a free account or log in.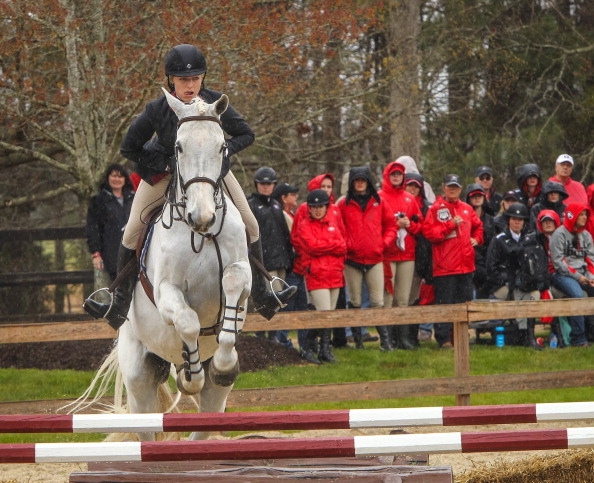 Tim Dominick/The State/MCT via Getty Images
Last month Randolph College broke the bad news to students: its longstanding equestrian program was headed for the proverbial pasture.
The program had met its enrollment goals just twice over the past 11 years, so the Lynchburg, Va., college, founded 127 years ago as Randolph-Macon Woman's College, would quietly fold it.
In an open letter to students, President Bradley W. Bateman said the riding program relies on a facility that needs "substantial renovations" and requires a subsidy of more than $350,000 annually. "It is an expensive program that has declined in popularity with prospective students," he said.
The move followed one by Smith College last year to "transition" its equestrian program from a team to a club sport and to move it off campus to a local prep school. Smith said the program's cost and "declining interest in riding among current and prospective students" factored into the decision. The move, Smith said, would allow the college to "focus its athletic resources" on NCAA varsity sports.
Competitive campus equestrian programs have traditionally been offered at elite women's colleges and institutions in regions like rural Virginia, with a strong tradition of riding. In some cases, they've grown from a tradition of fox hunting, as at Virginia's Sweet Briar College. But in an era of concern about economic inequality -- and about rising tuition -- what is happening to these programs? And what of the current generation of college students, raised largely indoors, online, peanut-free and far from fear of bodily injury -- do they still have a taste for the thrill and danger of such a sport?
The evidence suggests that, a few examples notwithstanding, campus equestrian programs remain firmly in the saddle.
The Intercollegiate Horse Shows Association, which broadly represents colleges and universities with competitive equestrian programs, lists more than 400 member institutions -- by one estimate, about 7,500 collegiate riders take part in events.
Tom O'Mara, co-chair of the national advisory board for the National Collegiate Equestrian Association, said the sport is actually growing on many campuses. Colleges, he said, must weigh expenses with students' interests. "It's just like a lab or a theater or whatever [a president] wants to build."
At Randolph, Bateman said in his July 2 letter that current riders will have the opportunity to -- no pun intended -- "ride out" the program for one more year, until it closes in June 2019. He said the college would find "suitable, proper new homes" for the program's horses.
O'Mara, whose organization represents colleges with competitive programs aspiring to NCAA championship status, said, "At the end of the day, that program was not helping his school."
Just a few miles up U.S. 29 from Lynchburg, Merrilee Wroten coaches Sweet Briar College's equestrian team, which boasts 49 returning riders this fall. Sweet Briar also hosts a recreational equestrian program for about 35 students from nearby Lynchburg College.
Though it is probably an outlier, each fall about 40 percent of Sweet Briar's incoming first-year students express an interest in riding -- and about 35 percent of these are absolute beginners, Wroten said. "They get a little hooked."
Sweet Briar students can earn five of 120 credit hours required for graduation by taking riding courses, though riding is not a graduation requirement, she said. The college also offers a handful of classes that can earn students an equestrian certificate.
"We'll have students that have never touched a horse before" and want to learn about them, Wroten said. Most years, Sweet Briar keeps 45 to 50 horses, a few through donations.
The small private women's liberal arts college, which has struggled to bounce back from a near closure in 2015, has long maintained its equestrian program. It has actually evolved from seasonal fox hunts in the region, a tradition that continues -- though these days without a live fox. Organizers instead lay down a chemical scent for hounds to follow.
A 1993 Sweet Briar graduate who grew up in New Jersey, Wroten said she sees riding as a good way to help students relieve the stress of college. People have "emotional support animals of all types" these days, she said. Why not horses?
The program offers both top-level competitive riding and more recreation-based riding. It also offers "equine-facilitated" leadership classes that test students' relaxation and confidence skills. The idea comes from the work of Juli Lynch, a Wisconsin psychologist and executive coach.
"It's a good opportunity for people to learn what other people, as well as animals, are getting from them, what they're 'putting off,'" Wroten said. "Horses can read us."
The key to keeping a college equestrian program alive, she said, is to "nurture enough of a constituency to support" it.
In announcing its "transition" last year, Smith said moving the equestrian program from a team to a club sport put it in the same category as nearby institutions such as Amherst, Bates, Bowdoin, Middlebury, Wellesley and Williams Colleges, as well as the University of Massachusetts at Amherst, Colgate, Duke and Johns Hopkins Universities, all of which offer equestrian as a club sport, "with professional coaching and successful results." But the move generated protests from students, who said Smith didn't get input from students or the public. Students created an online petition that garnered 2,319 signatures, as well as a "Save Smith College Equestrian" Facebook group.
Smith's action effectively closed its on-campus facility, Fox Meadow Farm, and moved both riding and training to the nearby Stoneleigh-Burnham School, a private middle and high school for girls. Smith students are now coached by Stoneleigh-Burnham's staff. The prep school also boards students' horses.
Emi M. Smith, an assistant professor of biology at Earlham College who is faculty adviser to its equestrian program, said it is entirely run by students. It includes an equestrian team and a co-op -- students work at campus barns to earn the privilege of riding without any fees. "If you come and you put in the hours and you work at the barn, then you can ride the horses," she said.
Students teach equine studies and "barn management and leadership" courses each fall and spring, respectively. All students must pass the courses to get access to the barn. Earlham also offers riding lessons as part of a required wellness credit.
The program counts about 30 to 40 students most years -- "that's where we want to be," Smith said. Only about 1,000 students attend Earlham, and its team competes statewide in IHSA events. "There is a healthy competition aspect to it, if that's what you're into," she said, but the college is not ready to push for NCAA championship-level competition.
The NCAA has categorized certain types of competitive riding as an "emerging sport" -- not quite championship-level yet. At the moment, equestrian sports share "emerging" status with just two others: rugby and triathlon. For women's programs, emerging status is granted after at least 40 schools agree to field teams. Men's sports must field 50 teams.
Leah Fiorentino, the equestrian association's executive director, said each member college receives about 200 to 300 applications each year from high school students who want to ride in their competitive programs. There are "not enough saddles" for all the riders who want to enroll, she said.
Ironically, she said, budget woes don't constrain more competitive programs in the same way as less competitive ones, since colleges and universities striving for NCAA championship status often get their horses donated by alumni -- and they don't have to transport them to competitions, since riders on both teams compete on horses stabled by the home team.
Also, O'Mara said, several institutions control costs by using the existing facilities of veterinary and agricultural schools. "There's a way to leverage it where the cost per student athlete is actually very low," he said.
While costs vary widely, members of the Sarah Lawrence College equestrian program estimated in 2016 that the typical student spends $1,435 to participate, most of that spent on off-campus lessons. Students share equipment but need to buy their own boots and pants. Sarah Lawrence picks up show fees but doesn't subsidize equipment. One of the students, Rachel Lit, said this week by email that one of the reasons fees are so high is because of the off-campus lessons. She revised the earlier cost estimate, saying it's actually closer to $1,175 for a first-year student.
Whatever their cost, in an era of rapidly rising tuition and struggling middle-class families, equestrian programs risk making colleges seem tone-deaf, said Alissa Quart, author of the 2018 book Squeezed: Why Our Families Can't Afford America.
Quart, who is also executive editor of the Economic Hardship Reporting Project, said institutions should put greater focus on making college more affordable for all students.
"If we have enough extra money to have people riding horses in college, we can first, at least, be thinking about students who need resources to pay for college," she said.
As she toured the country recently reading from her book, Quart said, she met several adjunct college professors who confided to her that they rely on food banks set up for students. Meanwhile, she said, a few colleges now market themselves to wealthy families with luxury amenities like 500-thread-count sheets. "This seems to be part of this 'deluxification'" of higher education, she said.
Earlham's Smith said the college's co-op model pushes against what many would consider the snob appeal of equestrian sports. "Horseback riding ought to be accessible to everyone," she said. "Actually, training a 1,000-pound animal can be really empowering for people," she said, giving students a way to be in control that they can't encounter otherwise. "It's an experience that a lot of people don't have the opportunity to have in their daily life."
The program, she said, is funded in part by student life fees, but it balances the budget each year by offering private riding lessons and collecting rent from local horse owners who board their animals at the student-run barn.
"My sense is that the equestrian program is going to stay around as long as Earlham does," she said.
Lit, the Sarah Lawrence student, said riding "has strong emotional value to its members. Many of us see the sport as a safe haven, a place where we can forget about the everyday stresses of student life. When we all pile into the van to go to a lesson or a show, essay deadlines and roommate problems seem to matter less. When you get into the saddle, you have a job to do and need to be physically and mentally present to do it."
She also said riding is an "excellent exercise in learning to deal with emotions and differentiate when you have to deal with something immediately and when you can put it aside to focus on the task at hand. This transfers over to life as well. As a student, this has been a very valuable lesson. Riding has helped me learn how to temporarily set aside problems when I need to and to deal with one thing at a time. It's more than the world melting away while you ride -- it's riding changing how you see the shape of the world. No other sport can do that for me."