You have /5 articles left.
Sign up for a free account or log in.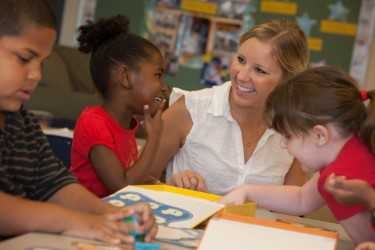 With a growing body of research showing the benefits of early-childhood education and increasing pressure on childcare centers to hire more educated and skilled workers, one of the largest childcare providers in the country is offering free college tuition assistance to its employees.
Bright Horizons Family Solutions announced last month that the company is launching a tuition assistance program for all full-time employees who want to pursue an associate or bachelor's degree in early-childhood education. The program will also cover fees and textbooks.
"We really see this as an investment in our people," Bright Horizons chief executive officer Stephen Kramer said. "Our view is that we're going to be driving higher quality to our programs."
The move by Bright Horizons follows the steps taken by other companies, such as Walmart, Starbucks, McDonald's and Fiat Chrysler, to offer employees free or low-cost tuition to help improve their skills and knowledge base, while also reducing turnover and fostering company loyalty. It's also an opportunity for employees to increase their wages.
Bright Horizons' tuition-free program is largely viewed as positive, but there are some strings attached to the deal. Employees who participate in the program are expected to stay employed with Bright Horizons for 18 months after they complete the program and receive their degrees. Employees who decide to leave the company during that period will be required to pay back Bright Horizons for a portion of the cost of their education.
Kramer would not say how much the free tuition program will cost the company, but he said he expects Bright Horizons will "invest millions of dollars each year" on it. "And we believe our teachers are worth it."
A representative for the company said Bright Horizons employees who complete the program would see a bump in salary.
Bright Horizons is partnering with Northampton Community College in Pennsylvania and three for-profit institutions, Walden University, Rasmussen College and Ashford University, to administer the program. Kramer said the universities met the company's criteria for teaching employees and helping them earn two- or four-year degrees in early-childhood education. All four colleges have early-childhood education programs accredited or recognized by the National Association for the Education of Young Children. The colleges also offer degrees online, meeting the company's need for flexible schedules. A significant number of Bright Horizons employees have attended the same institutions in the past to earn degrees in early education.
Bright Horizons officials were motivated to act after local lawmakers in cities such as Washington and New York took steps to increase education requirements for staff at childcare centers, Kramer said.
The District of Columbia last year became one of the first cities in the country to require lead teachers in childcare centers have at least an associates degree by the end of 2020. While it's common for childcare workers not to have college degrees, a 2015 report from the National Academy of Sciences found that the childcare workers' level of education and training have not kept pace with what research in children's learning and early development defines as ideal qualifications.
"Our goals have been to get out front and ensure our teachers certainly meet and, in most cases, exceed the expectations of whatever a municipality has," Kramer said. "The vast majority of the nation does not have these stringent requirements, but obviously in those places, we're still looking to push the boundaries on academic qualifications."
But some education analysts have criticized government-imposed education requirements as unnecessary and too costly for workers.
Kramer said there is a diminishing pool of academically qualified staff available to fill these positions, but that hasn't stopped the company from hiring workers for its day-care centers.
"We believe that we hire for aptitude and train for skill," he said. "We felt it's our opportunity and responsibility to upskill our staff."
About 1,000 full-time Bright Horizons employees have signed up for the program so far, and more than half of them are over age 35, Kramer said. The company employs about 15,000 full-time workers in 750 childcare centers worldwide.
Returning to College
One of those teachers is Sara Vanderhoof, of Flanders, N.J., who has been teaching children under age 5 for about 30 years, 22 of them at Bright Horizons. Vanderhoof, who got an associate degree in applied sciences in early-childhood education in 1989, had always wanted to continue her studies and earn a bachelor's degree.
But after getting married, paying off college loans and starting her own family, Vanderhoof said going back to college would have created a financial hardship for her.
"With Bright Horizons offering this, it's so amazing that I'm kind of giddy about going back to school," she said. "I'm looking at Walden University, because they would allow me to be in my classroom and do all of my teaching, but also go to college on my own time."
Vanderhoof said it's easy to think that with all her classroom experience there is no need to go back to college, but a lot has changed in early education in the last three decades. For instance, when Vanderhoof first started teaching prekindergartners, they typically just learned the alphabet. But now she's the lead teacher in a Handwriting Without Tears program for the preschoolers.
"If there is anything that can help me be a better teacher and help them learn and grow more, I'm ready for it," Vanderhoof said. "Things are changing in the public school systems so fast and so much. The group I teach is a kindergarten prep class going into the school system. I want to make it so they're prepared when they go into that kindergarten class."
Kramer said the company was pleasantly surprised to learn that many of the 1,000 teachers who signed up for the tuition-free program were older and had years of classroom experience, like Vanderhoof.
"When people think of education, they think of people early in their careers," Kramer said. "What we're finding is many of our experienced people have recognized the value of going back to school. The challenge for them has been financial and getting into an appropriate program."
The Bright Horizons program was designed to eliminate the financial barrier for employees and the roadblocks many adult students encounter when juggling work, family responsibilities and college, Kramer said.
The company is also training directors at each center to help employees participating in the program manage work and college, Kramer said.
The company will also assign each employee an educational adviser to help them understand academic requirements, counsel them about course credits and degree paths, and help them navigate college. The adviser will be provided to employees through EdAssist, a tuition assistance management company owned by Bright Horizons.
"We recognize that each employee has to balance their work and their life," Kramer said. "We want people to take it at a pace that works for them, so we tried to put as few restrictions on the program as possible."
More Education, More Wages
Despite the research pointing to the need for more early-education teachers with at least an associate degree, part of the problem of achieving that goal is the market structure built around the childcare sector.
"The National Academy of Sciences clearly state that the incumbent work force should be supported and work toward higher education and that the cost burden shouldn't fall upon them," said Lea Austin, co-director of the Center for the Study of Child Care Employment at the University of California, Berkeley. "It speaks to this need to think about and finance our system differently. Where is higher compensation going to come from unless you're raising parent fees, and parents, for the most part, can't afford more than what they're paying."
Austin said families that rely on childcare centers shouldn't have to pay for upskilling the centers' workers, especially when the cost of childcare already takes up 20 percent or more of the budgets of low-income families. Instead, Austin said early education should be publicly funded, much like K-12 education.
Regardless of education level, early-education teachers in public preschools make more money than those in private childcare centers. The average wage for an early-education teacher with a bachelor's degree in a public school-sponsored program is about $22 an hour, compared to $15 an hour in a private preschool program, according to CSCCE. Over all, college students who major in early-childhood education have the lowest lifetime earnings projection of all college majors, according to the Hamilton Project at the Brookings Institution.
Austin said supporting early education means supporting the education and service that preschool teachers provide.
"I don't want to lose the importance of supporting teachers to earn college degrees," she said. "We should find ways to do that and we should ensure they're adequately compensated in a way that doesn't displace families."