You have /5 articles left.
Sign up for a free account or log in.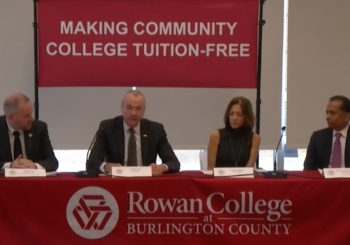 New Jersey Community College Consortium
New Jersey governor Phil Murphy ran for office last year on the promise of providing tuition-free community college in the state.
The decision was a no-brainer: tuition-free programs are popular with voters, and a growing number of state legislatures have either proposed or enacted initiatives to drive down the cost of college. Additionally, long-standing free-college programs have already shown success in increasing access to college and improving retention and completion rates.
Murphy assumed office last January, but a political roadblock has kept him from fully fulfilling his campaign promise. The state Legislature would not provide all the money he needed to completely fund the program. Instead, New Jersey's new tuition-free program will run as a pilot initiative next spring and start with just a few yet-to-be-announced colleges.
"We pretty much didn't have the money to do it everywhere," said Zakiya Smith-Ellis, New Jersey's secretary of higher education. "The governor wants free community college as a universal program across the state, but [the pilot] will allow us to learn how to best operate and help us to understand more precisely how to reach out to students and how they respond to our message."
Despite the appeal of model programs such as the widely praised tuition-free Tennessee Promise, politics and state finances play a role in shaping these programs.
Scott Jenkins, strategy director at the Lumina Foundation, said what is occurring in New Jersey is not unusual and is often what it takes to get tuition-free programs started.
"It may be more difficult to right out of the box do a full-on program, and some states will try and attempt that," Jenkins said. The more logical approach is to incrementally expand the programs and extend eligibility to adult and returning students.
In New Jersey, for example, Murphy wanted about $50 million to run a completely tuition-free community college program, but lawmakers would only approve $25 million for the initiative. As a result, the state will operate a pilot program this spring with a few selected colleges. Later this month state officials will announce which of the 19 community colleges will be able to participate. The pilot program will be offered to part- and full-time students, as well as returning adults.
In 2018, eight sitting governors mentioned free college in their state of the state addresses, according to Sarah Pingel, a senior policy analyst at the Education Commission of the States, an education policy think tank. Recognizing that free college could help their local economies, the governors focused on extending tuition-free scholarships to four-year institutions or working with regional industries and businesses to increase the number of students entering high-demand fields, she said.
"Eighty percent of Americans think state government ought to make college tuition-free," said Morley Winograd, president of the Campaign for Free College Tuition.
The issue isn't a partisan one, but the political nuances of each state factor in how their individual programs are crafted, he said.
Still, New York's Excelsior Scholarship program is in a league of its own. The program covers tuition at the state's two- and four-year institutions, but it also includes income eligibility caps and work and residency requirements that convert the scholarship into a loan if they are not fulfilled. Most researchers and tuition-free advocates are opposed to converting the scholarships into loans, Winograd said.
"No one is doing New York's program," he said.
That could change, however, if Maryland moves forward on a plan proposed by the incumbent Republican governor, Larry Hogan. He wants to expand the state's new College Promise program and become the second state after New York to guarantee free tuition for bachelor's degrees for eligible students. Maryland's new tuition-free program will begin next year. It provides scholarships of up to $5,000 to students whose families earn less than $150,000 a year and adults earning less than $100,000 to attend the state's community colleges.
Hogan's Democratic challenger, Ben Jealous, would guarantee free tuition to the state's two-year institutions for all Maryland high school graduates. He also has proposed a work-study program that would pay students at four-year colleges the equivalent of their tuition. President Trump recently attacked Jealous's plan to offer free tuition to undocumented immigrants who were brought to the U.S. as children and are known as Dreamers.
The Tennessee Promise program is often the model used by other states because it's a last-dollar scholarship, which means it covers the remaining tuition after other forms of financial aid have been used, Winograd said.
"Most of them are using that approach because it allows the state to spend the least amount of money to introduce the program because they're using federal money for the cost of the program," further lowering the costs to the states, Winograd said.
Despite the popularity of tuition-free programs with voters, finding the money to fund them -- even for last-dollar programs -- is not easy. Tennessee, for instance, uses revenue from the state's lottery reserves, which were placed in an endowment, to cover the costs of tuition-free programs.
"If we had unlimited funds, we would do a first-dollar program for everyone in the state and give low-income students the money to cover the total cost of attendance," said Smith-Ellis, the education secretary of New Jersey.
Instead, the best way to stretch tax dollars and make sure low-income families benefited from the program was to cap at $45,000 the amount of income a family can earn for a student to receive a tuition-free scholarship. The median family income in New Jersey is $75,000, Smith-Ellis said.
Another unique election-year proposal is a debt-free program pitched by Gretchen Whitmer, the Democratic candidate for governor of Michigan. Her plan is similar to one proposed by Hillary Clinton during her run for the presidency, Winograd said.
Whitmer's plan would emulate Tennessee's by requiring qualified students to complete eight hours of community service and participate in a mentoring program.
Jenkins, of the Lumina Foundation, said discussions about tuition-free programs, whether among current or aspiring lawmakers, too often center on affordability and not on the impact of mentors or volunteer requirements. He noted Michigan doesn't have a strong history of funding need-based or merit-based student aid and because the colleges and universities are decentralized, a debt-free program like the one Whitmer has proposed will need support.
"Michigan does need a need-based aid [program] to support low-income students and colleges and universities," he said. "But this is an example where you need broad public, community, employer and political support to keep those programs intact."
And that support could come from the community connections the debt-free scholarship would make between students and the public, he said.
Pingel said she has not seen many other states add mentoring or community service components to their tuition-free programs.
"Maybe states don't know how important that piece is or they don't pay attention to how important that piece is," she said.
There also may not be the infrastructure need for mentors and community service opportunities in place for these students. Tennessee, for example, built its tuition-free program on an already established mentoring initiative.
Jenkins said programs that do have built-in mentoring and community service opportunities give volunteers and counselors the chance to promote the importance of going to college and doing so affordably.
"If ever there was a time in this country to have programs with residents of the state saying yes to higher education and convincing working adults or young people to go to college and get a degree or credential, now is the time," Jenkins said. "We should not think of these things as transactional programs serving particular students, but as transformational to the state."
During a recent panel discussion on free college at the Brookings Institute, Smith-Ellis said she's confident that tuition-free programs will be an even more central campaign issue in future governors' races and that the public will continue to demand such programs. In some political races, free-college proposals have already become a sort of litmus test of candidates' knowledge of and commitment to college-affordability issues.
"This was a huge topic in the last election," she said, of the 2016 presidential election. "In the next five years, I don't think people's concern about this will go away, and it is up to us to determine what [free college] looks like."