You have /5 articles left.
Sign up for a free account or log in.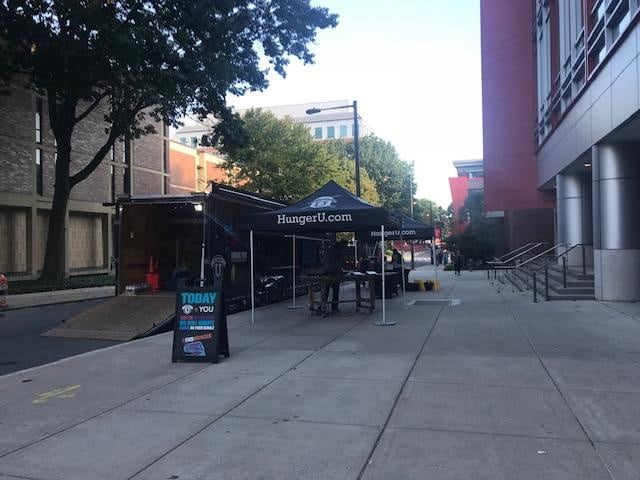 PHILADELPHIA -- Amarillo College president Russell Lowery-Hart and his staff frequently talk about a young woman called Maria.
Maria is a first-generation student at the Texas community college. She is a racial minority who attends Amarillo part-time, receives financial aid and is focused on eventually transferring to a university. But she struggles to make ends meet and, without intervention, her financial challenges may derail those plans.
She also is not a real person.
Maria is representative of many of the students at Amarillo College. Those students are at the heart of a policy adopted by Lowery-Hart to combat the negative effects of poverty on students and their academic outcomes. So far, the "No Excuses" policy, which he started in 2014 when he became president of the college, is helping improve completion rates.
"Our job is not to fix students, it's to fix ourselves," he said. "At Amarillo, we've adopted a no-excuses philosophy. No matter what is causing our students to taste failure, they are not responsible for it. We are."
By "failure," he means the thousands of Amarillo students who don't graduate or move on to four-year institutions because they're tripped up by need --- not having enough food to eat, not having adequate housing, not having enough money or financial support from family to pay the costs associated with college that are not covered by financial aid. Some 72 percent of Amarillo students have at least one basic need -- 59 percent are housing insecure, 54 percent are food insecure and 11 percent have experienced homelessness in the past year, according to a survey.
Amarillo established an Advocacy and Resource Center on its campus last year to centralize the college's efforts to tackle poverty. The center is a one-stop shop for students to access emergency aid and social services and find resources for their childcare needs. It also has a free food pantry and clothing bank.
"If a student is failing, it's because we didn't have the right process and policy or person in place," Lowery-Hart said.
Amarillo is not the only college attempting to help students meet their basic needs. Lowery-Hart was joined by more than 550 faculty members, college presidents, foundations and students in Philadelphia last weekend at the second annual Real College conference at Temple University, where they discussed ways to address student poverty on campuses across the country.
The conference is the brainchild of Sara Goldrick-Rab, a professor of higher education policy and sociology at Temple University and founder of the Hope Center for College, Community and Justice, which also launched during the conference. The Hope Center will continue the research originally started by Goldrick-Rab at the University of Wisconsin Madison to study poverty among college students and find solutions to help them.
"I hope we don't need a Real College in 10 years, because we will have solved hunger and homelessness on our campuses," she said.
Goldrick-Rab said by addressing food and housing insecurity among college students, educators can focus more on the academic barriers that prevent students from graduating.
Karen Stout, president and chief executive officer of Achieving the Dream, a student success organization, said there is still debate in academic circles over whether colleges should even be responsible for helping students meet basic needs. But she said that viewpoint is changing as more people become aware of the extent of housing and food insecurity among college students. A study released last year by the Urban Institute found about 13 percent of community college students experienced food insecurity in 2015, although other studies indicated the rate may be much higher.
There is growing national awareness of the issue, including among policy makers. A group of Democratic senators has asked the Government Accountability Office to conduct a study on the scope of hunger and poverty on college campuses. That study is still ongoing. And a couple of documentary film crews also attended the conference as part of upcoming special reports about college students living in poverty.
Jee Hang Lee, vice president for public policy and external relations at the Association of Community College Trustees, said college administrators should advocate for Congress to increase funding to various existing federal programs that can help alleviate student poverty.
He noted that Congress approved an increase in appropriations in March for a federal program that provides grants to college students with children for childcare services on campus. More funding for the federal work-study program would also help low-income students, he said.
Stout said tackling student poverty to help students graduate has important long-term implications.
"It's about creating economic mobility," she said. "Colleges should be thinking more of completion as an upward mobility from poverty effort as much as it is an educational attainment effort."
Stout said much of the discussion on meeting the basic and social needs of students is new territory for many college leaders more familiar with discussing academia or talking to employers about the work-force needs in their communities than about students not having enough to eat.
"We're not used to talking to community-based organizations or going to local government agencies that deal with public benefits," she said. "It's a whole new world and a whole new vocabulary."
Colleges are used to asking students about their personal demographic information such as race, age or gender. But college administrators now need to dig deeper and find out if a person is a first-generation college student, a single mother, a part-time worker or an ex-convict if they truly want to help them complete college, Stout said.
And college leaders can't ignore the effects of race, ethnicity and gender identity on students' social and financial status, said DeRionne Pollard, president of Montgomery College in Maryland.
"We have to be particularly aware of what our students present to us and what they bring forward when they come to us in our classrooms and organizations," Pollard said. "Students will not thrive and learn from an organization that ignores the complexities of intersections."
Once Amarillo started connecting students to the services they needed -- childcare, legal services, housing, transportation, emergency aid to pay for utilities -- they found those students were more likely to continue their education at the college instead of dropping out.
Of the 86 percent of Amarillo students who received services through the college's Advocacy and Resource Center, 69 percent continued their education at the college. Only 33 percent of the students who did not receive services through the center remained at the college, according to the college's data.
The three-year completion rate at the college has also increased from 26 percent in 2012 to 45 percent in 2017, according to the Hope Lab.
Cara Crowley, vice president of strategic initiatives at Amarillo, said the college targets students early by looking at their financial aid information and sending emails to those who have an annual income below $19,000 to let them know about available social services.
The college also relies on social workers to provide case management services and connect students to resources that already exist in the community.
"Our social workers help move them through that system and keep them in school," Crowley said, adding that since 2012 the college has spent about $300,000 from its charitable foundation to help students meet basic needs, which are predominantly housing.
"If you provide that assistance and keep them in school, there is a financial benefit for the college in overwhelmingly higher rates in retention and persistence."
More from Community Colleges