You have /5 articles left.
Sign up for a free account or log in.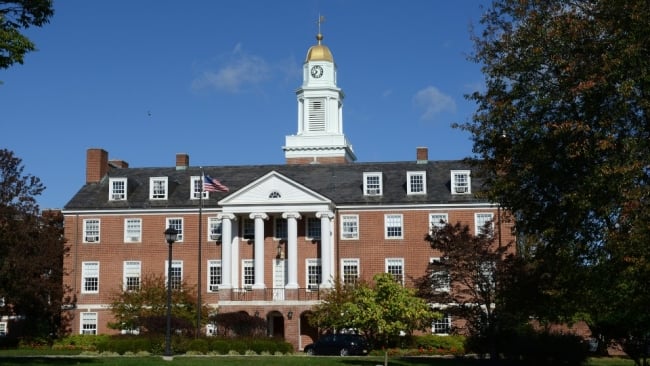 A Chinese company that until January went by the name Jiangsu Zhongtai Bridge Steel Structure Company plans to purchase a nonprofit American music college. What could go wrong?
Plenty, argue faculty members, donors and alumni who oppose Rider University's plans to sell the Westminster Choir College in Princeton, N.J., to the company now known as Beijing Kaiwen Education Technology Company.
The most recent of several suits seeking to block the sale was filed last month on behalf of members of the Westminster Foundation, a group of alumni, donors and faculty. It argues that Rider is violating the terms of the original bequest of land for the college and the intent of the donors who have sustained the institution by selling it to Kaiwen for $40 million.
They argue that Rider has chosen an inappropriate buyer in Kaiwen, a for-profit corporation that owns two K-12 schools in China but has no experience in higher education and whose controlling shareholder, according to documents filed with the Shenzhen Stock Exchange, is a Chinese state-owned entity. A semiannual report filed by Kaiwen in August says that the company's controlling shareholder is Badachu Holding Group, which is described on its website as a "large-scale state-owned holding corporate group." The filing with the stock exchange further says that Kaiwen's "actual controlling party" is the Haidian People's Government State-Owned Assets Supervision and Administration Commission.
Bruce Afran, a lawyer for the plaintiffs in the latest lawsuit, described the planned sale as unprecedented.
"This American college will be taken over by a corporation that is owned and controlled by the government of China, which does not recognize any degree of academic freedom and which has a state policy subordinating colleges to governmental and Communist Party principles. It is diametrically contrary to the understanding of an American institution of higher education," Afran said.
Westminster is primarily focused on music. Perhaps to counteract claims that political questions might be remote from the musical mission, the legal complaint argues that "much of the academic music world is concerned with deeply political issues, particularly as to human rights and religious concerns, many touching upon Chinese-American relations." It discusses research done by a Westminster scholar on Falun Gong -- a spiritual movement that is banned by the government of China -- as an example of the kind of academic activity that could be chilled if the purchase goes through. It also says that Westminster's choral director, Joe Miller, was informed that he had to seek Chinese government approval of the choir's repertoire in advance of an upcoming tour in China in what the suit describes as "an unprecedented academic and cultural intrusion and interference, and this is before Westminster changes hands." (An email to Miller seeking comment was returned instead by the dean of Westminster, Marshall Onofrio, who said it is typical of the choir to provide program copy and notes in advance of an off-campus performance, as it had in this case, and that it would perform all the work listed in its materials. He did not respond to a follow-up question asking directly if Westminster had been required to obtain the approval of a Chinese government entity or Kaiwen as a condition of going on its upcoming China tour.)
"China has thus far tried to influence American schools by funding some programs through Confucius Institutes," Afran said, referring to the controversial Chinese government-funded centers for Chinese language and cultural education hosted by many U.S. campuses. "Now, through Westminster, they're trying to actually gain full control of an American college."
Afran also described the sale as having national security implications. "Princeton itself is a very sensitive center for defense and intelligence research," he said. "There are several institutions that are engaged in very sensitive work. It's no accident that the Chinese government is seeking a base here, and I think the U.S. government is alerted to that."
Larry Livingston, the interim president of the Westminster Choir College Acquisition Corporation, a registered New Jersey nonprofit established by Kaiwen to operate the choir college after the purchase is completed, dismissed such claims.
"It's laughable to think academic freedom will be threatened," Livingston said in a written statement provided through a public relations representative. "That claim, along with the assertion that this is a 'national security threat,' are just scare tactics by opponents of the plan to save Westminster. The nonprofit corporation that will run Westminster will do so in accordance with all applicable U.S. laws and regulations; that includes maintaining academic freedom."
The Proposed Westminster Sale
The formerly independent Westminster Choir College merged with Rider University in 1992. In 2017, Rider announced plans to sell the college, saying that the board had determined it was not in Rider's strategic interest to hold on to the Westminster Choir College campus in Princeton or to consolidate it onto its main campus about a 15-minute drive away in Lawrenceville.
Rider announced in June that it had completed a purchase sale agreement for the campus, subject to what the university described as "a series of required internal, governmental and regulatory approvals which Rider and the buyer will coordinate over the next year." Although Rider framed the sale as being about finding a partner that will better preserve Westminster's legacy and position it for future growth, the announcement of the sale agreement says that Kaiwen had only committed to continue "operating Westminster at the current campus for no less than 10 years" and to "substantially maintain the current academic offerings for no less than five years."
In the proposed sale of Westminster, there are a variety of issues at play. Some deal with donor intent and questions of encumbrances on the land on which the choir college sits.
Princeton Theological Seminary has sued to block the sale, arguing that the terms of the 1935 gift of 28 acres of land make clear that the land would revert to the seminary's control if it ceased to be used "for the purpose of training ministers of music of evangelical churches."
The seminary's suit argues that the provisions of the 1992 merger agreement with Rider "explicitly require Rider to continue to operate Westminster for the stated purposes" and that nothing in the agreement allows Rider to unilaterally sell the campus. (Rider said in a statement at the time the lawsuit was filed by the seminary in February that it had been focused on finding a buyer to continue operating Westminster but that it had always been its intention after achieving that goal "to return to discussions with the seminary to address its demand for a share of the net proceeds, to the extent there are any." The university added that "Rider has supported and sustained Westminster Choir College since 1991, when the seminary declined to do so.")
Also at issue are questions related to nonprofit law and plans to transfer Westminster's approximately $20 million endowment as part of the sale. The lawsuit alleges that "the transaction conveys Westminster's endowment to the use and account of a commercial entity" and that "to the extent that Kaiwen says it will use the endowment for Westminster's purposes such claims are contrary to its stated intent to place the endowment on the books and account of Kaiwen and demonstrates that after the five year period Kaiwen will be enabled to use such endowment for its own purposes."
According to Rider's announcement, the purchase agreement is with three separate entities: the nonprofit entity charged with operating the campus after the sale, the Westminster Choir College Acquisition Corporation, and two Kaiwen subsidiaries. But opponents of the planned sale argue that the nonprofit is not independent of the for-profit company: the lawsuit filed last month by alumni and donors argues that Kaiwen has created a "sham non-profit" -- "a captive entity fully controlled by Kaiwen."
The lawsuit alleges that of the three trustees on the nonprofit board, all three are appointed by Kaiwen and two are current Kaiwen executives. Inside Higher Ed determined that two of the three names of trustees listed on the nonprofit's registration filing with the state of New Jersey match the names of Kaiwen executives listed by the business news publication Reuters. The address listed for those two individuals also matches Kaiwen's published business address.
Asked about the issue of the nonprofit's independence, Livingston, the Westminster Choir College Acquisition Corporation interim president, said in a written reply that each of the trustees "is selected, based upon his/her passion, commitment, dedication, professional achievement, understanding of complex business and availability, and is well qualified to serve. The operation of WCCAC and the formation and functioning of its board are subject to all applicable U.S. rules and regulations."
As for Kaiwen, Livingston said in his written statement that it is a publicly traded company with "transparent corporate governance and adequately disclosed business and financial information. The Haidian District government in Beijing has about a 16 percent indirect ownership interest in Kaiwen Education."
"I have spent my life as a musician, much of it running major music schools, both independent and within universities," Livingston said. "I am excited about the opportunities this new relationship will create. There is no back story here. Kaiwen Education deeply respects Westminster Choir College and is willing to help the school become even better, and more financially secure. It is in Kaiwen Education's interest for Westminster to remain the high-quality institution that it has been throughout its vaunted history, and for it to succeed."
Livingston also disputed that there is any threat to Westminster's approximately $20 million endowment, which he said "will stay with the college after the transfer from Rider University. That fund must and will follow and respect the donors' intent. The transfer of the endowment fund is subject to regulatory review and approval, and all requirements under that process will be met," he said.
"Given the legal requirements, any suggestion that the Westminster endowment fund could or would be spent by any for-profit organization is unfounded."
Kristine Brown, a Rider spokeswoman, said that while the university does not comment on specific points related to lawsuits, "we believe this transaction is in the best interest of preserving and enhancing Westminster Choir College. Kaiwen's commitment is real, and we are working hard to ensure this transition to WCCAC moves forward."
Not everyone thinks it should. The Rider chapter of the American Association of University Professors has an arbitration hearing scheduled in December to dispute the college's plans to lay off Westminster faculty in order to proceed with the transaction. In its June announcement of the purchase and sale agreement, Rider said "key terms in the PSA intended to help achieve the goal of preserving Westminster include offering employment and comparable benefits to existing Westminster full-time faculty and priority adjuncts, as well as full and part-time Westminster staff." But Jeffrey Halpern, the AAUP's contract administrator, said that the relevant portion of the purchase and sale agreement states that Westminster faculty and staff will receive employment offers for a period of just two years, effectively annulling tenure.
"We don't see any legitimacy of the sale," said Halpern, an associate professor in the sociology and criminology department.
"Fundamentally, nobody owns a not-for-profit. We're not talking about selling a couple of acres of unutilized land, which schools do all the time. We're talking about selling the fundamental core of what make a university a university -- that is, its academic programs."
Chinese Interest in U.S. Campuses
The Westminster deal is unusual in that it involves the acquisition of a functioning nonprofit college, but more broadly there appears to be substantial interest on the part of Chinese companies in purchasing U.S. campuses or other educational properties. Chinese students make up the largest group of international students in the U.S., both at the university and K-12 levels.
Douglas Halliday, the president and founder of Halliday Acquisition Group, a company that consults on mergers and acquisitions involving K-12 schools and postsecondary colleges in the U.S. and Canada, said the majority of interest he sees from buyers in mainland China or Hong Kong is in either acquiring K-12 boarding schools or career-focused colleges that focus on higher-trained, technician-type programs such as in health care or information technology.
Halliday that that some Chinese education companies are looking for a flagship institution in the U.S. that will provide another pathway for their students, "both as a revenue channel as well as for a lack of a better word, a halo factor, a prestige factor: 'we have a U.S. school as well. You have the option of going over there to graduate.'"
"I think that there's some caution now just because of the current political situation between the U.S. and China. Tariffs, restrictions on visas, that creates some caution -- but there's still considerable interest," he said.
Unlike in the Westminster case, many of the transactions involving Chinese or Hong Kong-based buyers are for former campuses of U.S. institutions that had to shut their doors due to financial or accreditation problems. Companies with ties to China or Hong Kong have purchased a number of different shuttered campuses in recent years. One of these companies is the Xinhua Education Consulting Services Corporation, which last year purchased the former Daniel Webster College campus in New Hampshire. A similarly named Xinhua Education Investment Corporation purchased the former campus of Saint Paul's College, a historically black college in Virginia.
The same lawyer with the same business address is listed on both the Virginia business license for the latter company and on court documents relating to the Daniel Webster sale. That lawyer did not respond to multiple emails and calls requesting comment. It is not clear what the plans are for the former Daniel Webster campus, which was part of the now defunct for-profit chain ITT Technical Institute.
New Hampshire's Higher Education Commission tabled a request from the new owner in February to register the names Daniel Webster College and Daniel Webster University as trade names with the state. Minutes from a subsequent meeting in May report that the owner of the campus "has yet to decide on a name and the U.S. representatives are waiting for clear direction regarding the naming and usage of the property." A spokesman for the Department of Education said that the department has not received any applications to operate a higher education institution at the site. The New Hampshire Union Leader reported in September that the site was unused and overgrown. The paper quoted a city official who described the purchaser of the campus as a high-net-worth individual from China who was looking to open a higher education institution in the U.S., and who had purchased other sites as well.
As for the campus of the former Saint Paul's College, which according to local media reports was sold to Xinhua Education Investment Corporation for $2.5 million late last year, it seems the buyers may be looking to resell the campus after initially taking steps to reopen it as a college. Millard D. Stith Jr., the final president of Saint Paul's, said he had been serving as a consultant to the buyers.
"The campus was sold to a Chinese group, and they reached out to me and asked me would I work with them to try to get the college reopened," Stith said. "We signed the contract, and then I went to Atlanta for two days on a training session for accreditation, and then after that I went to the State Council of Higher Ed and went through their daylong session on how you get licensure from the state to operate an educational institution. The Chinese have now decided that they no longer want Saint Paul's, so they are in the market now for selling it again."
Stith said he doesn't know why the buyer was potentially selling. "They have not said anything to me officially and I have not asked them. My assumption is that they bit off a lot more than they could chew on," he said.
Another campus in Virginia that was sold to a buyer with Chinese ties is that of the former Virginia Intermont College. A spokeswoman for the State Council for Higher Education of Virginia said that the owner of the college had filed an "intent to operate" request with the state in June under the proposed name of Virginia Business College. SCHEV approved their submission in July but has not yet received an application for certification.
The "intent to operate" request, obtained via an open-records request, gives some additional insight into the buyer of the Virginia Intermont campus, identified as Zhitang Zhang, and his company the U.S. Magis International Education Center. "Mr. Zhang is an educator and entrepreneur," the application states. "He operates Shenqui Ethnic Medical College in Guizhou Province in China and desires to expand his efforts in higher education in the United States to serve both American and foreign students." The application says the institution plans to apply for certification from the federal government to enroll international students in its first semester, and that a partnership with Shenqui Ethnic Medical College in China will be a part of the international recruitment strategy.
Inside Higher Ed did not receive responses to letters sent to U.S. Magis International Education Center's business addresses in New York and Virginia requesting comment for this article. The individual who is identified in the "intent to operate" request as the proposed institution's president, Randall Blevins, declined to speak about plans for the campus, saying he cannot comment until the process of receiving approval from state authorities is complete.
Other colleges that have been purchased by Chinese-based buyers include the former Dowling College, in New York, which according to court documents was bought by the Hong Kong-based NCF Capital. Requests to speak to representatives of a NCF Capital subsidiary made through lawyers for the company were not successful, but Newsday reported in late September that the owners were still researching how best to use the property.
Just down the road from Dowling, also in Oakdale, Long Island, is a campus that was purchased in 2016 by a buyer from elsewhere in Asia, India's Amity Education. The New York State Education Department said Amity has a pending application with the department requesting permission to offer an M.B.A. program in Oakdale. A department official clarified that this is not an application for New York State degree-granting authority but instead is an application for permission to operate a program as an out-of-state institution. Amity withdrew from plans to purchase former campuses of the for-profit Art Institutes in New York and Massachusetts after the purchases came under scrutiny from the Massachusetts attorney general.
Among other transactions involving foreign buyers, Whittier College in 2017 announced that it was closing its law school and selling the 14 acres of land on which it sits to a Chinese investment company for $35 million.
And in at least one case, a Chinese education company successfully purchased an operating U.S. college that still has its accreditation intact.
A​mbow Education, a Chinese education company with a troubled corporate history, purchased Bay State College, a for-profit, regionally accredited institution in Boston in late 2017. Ambow acquired the institution as part of a strategy to offer joint degree programs with U.S. colleges in which students with three-year diplomas from Chinese institutions will spend two more years in the U.S. to complete a bachelor's degree. Ambow plans to start by sending students to Bay State but from there will look to partner with other American colleges looking for a pipeline of international students.
"Starting next year we are doing a pilot at Bay State College," said Jin Huang, Ambow's CEO. "Once it is a success, starting in 2020, we are going to deploy this to other [U.S.] colleges and universities that need more international students and need more new programs."