You have /5 articles left.
Sign up for a free account or log in.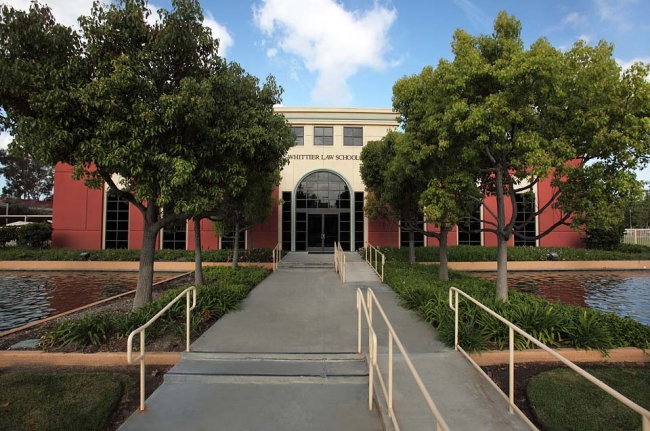 Whittier Law School's enrollment trends over the last five years reflect the pressures squeezing legal education across the country.
Total enrollment at the law school in Orange County, Calif., fell by more than 40 percent since 2011, from 700 students to fewer than 400 this year. Enrollment dropped as students' interest in studying law plunged across the country -- and as heightened scrutiny forced many law schools to pay more attention to their students' job-placement and bar-passage rates.
Administrators at Whittier were trying to cut the size of the law school in order to find a new balancing point, said Sharon Herzberger, the president of the law school's owner, Whittier College. They wanted to admit enough students to keep the law school financially sustainable, but also to increase selectivity so they were admitting students with a greater chance of succeeding. And they were working to do so even as the number of applications to law schools shrank.
"The enrollment has declined sometimes because of what's going on in the world and the choices of people to come to the school," Herzberger said. "And sometimes because of our desire to keep the enrollment down and make sure we're bringing in students that we feel have the capability of doing well."
That attempted balancing act ended last week, when Whittier College's Board of Trustees announced that the law school will not enroll any new students. Current law students will be able to complete their degrees, although the exact details of that process are not yet set. Whittier Law School will close.
The decision vaulted Whittier into the national spotlight. The law school will be the first with full American Bar Association accreditation to close in recent memory. Its accreditation dates to 1985, and it was founded in 1966, so it does not fit the profile of a new, unestablished institution that might be expected to shutter under normal circumstances.
Consequently, some experts believe other schools are likely to follow Whittier Law in closing. Critics of legal education argue that the country still has too many law schools that do not prepare their students for legal careers and instead leave them with high levels of debt they will be unable to repay. Others retort that the number of law schools truly in danger of closing is relatively small, with estimates ranging from 10 to 25 across the country.
Others worried that the closure of Whittier Law School takes away an important option from groups of minority and women students who are already underrepresented in the legal field. Those students often go on to practice law locally, so closing Whittier law school deprives nearby communities of important services, they said.
Whittier College tried to find ways to keep the law school open, according to Herzberger. Administrators offered faculty members voluntary separation agreements last year, the college president said. They discussed merging the law school with other institutions and talked with others that showed interest in operating it.
"Over the last couple of years, the board really looked at lots of different things," Herzberger said. "Nothing really came to fruition, and the board felt that we should not continue to invite students to enter the law school, that it really wasn't the fair thing to do."
Decisions were complicated by the fact that the law school's main campus has been separate from the college's main campus in Whittier since 1997. The two locations lie about 30 miles apart, making it harder to share services between them or govern them as a single institution.
Whittier College ultimately struck a deal to sell the 14 acres of land on which the law school sits for $35 million. The land is the largest parcel in the Costa Mesa area that was relatively undeveloped, Herzberger said. It was purchased by a Chinese investment group, she added, declining to share additional details because of nondisclosure agreements.
Law school faculty members sought to block the announcement of the closure, filing in court for a temporary restraining order, which a judge denied. They claimed in court filings that the college sold the law school land at a profit of $13 million and sought to "cut and run" with the money. They also argued in the filings that Whittier College leaders did not follow proper procedures for closing the law school because they had not taken faculty opinion at the law school and college into account.
Those characterizations are not accurate, Herzberger said. Whittier's administration asked faculty members whether the law program could be discontinued. Faculty members returned with reports that did not agree with the idea of closure, Herzberger said. But the Board of Trustees still was not convinced the law school should continue in the future.
The law school has not operated at a deficit in recent years, except for when it was buying out faculty contracts, the president said. However, projections showed it would run deficits after this year.
Leaders considered relocating the law school but decided against it. The law school draws many students from near its campus, Herzberger said. Whittier's main campus does not have any room, she added.
The college's decision-making process might have played out differently if the law school hadn't been on a separate campus, Herzberger said.
"It did not help," Herzberger said. "We could not take advantage of each other."
The faculty members who attempted to stop the closure from being announced are not backing down. They are considering further litigation, according to the lawyer representing them, Hanna Chandoo, an associate at the law firm Stris & Maher LLP and a 2015 Whittier Law School graduate.
"Now that the announcement happened and we were able to see the way it happened, it was irresponsible," she said. "It was sudden. There was no plan. It's been devastating for many stakeholders: admitted students, current students, alums, faculty, staff."
The National Landscape
Observers of legal education said the situation at Whittier Law School fits with the trends that have been sweeping the field. At a basic level, there is sharply less interest today in the education law schools are offering than there was a decade ago, said Christopher Chapman, president and chief executive officer of AccessLex Institute, a former student loan provider that is now a nonprofit organization conducting research on legal education issues.
Law schools also face new accreditation pressure. The American Bar Association has taken action against four law schools in the last year over issues including loose admissions policies and low bar-examination passage rates.
The pressures could push less prestigious law schools into a death spiral. Their applicant pools are declining, and their top students often transfer to better-known institutions. As a result, they can lose the students they admit who are most likely to pass the bar. That can make it harder for them to increase their bar-passage rates over time, which in turn cuts down on their applicant pools and drives their best students to transfer -- continuing the spiral.
Shocks like additional accreditation pressure could lead to more changes in the law school sector, Chapman said. But he stopped short of predicting a wave of closures.
"I think closing is fairly drastic," he said. "It's at one end of the spectrum. We've seen some mergers, some combinations. I think maybe you'll see more collaborations where schools don't close, but there might be sharing of facilities or faculty or something like that."
Other moves in the legal education sector of late include William Mitchell College of Law and Hamline University School of Law, in St. Paul, Minn., deciding to merge in 2015. Indiana Tech Law School in Fort Wayne this fall announced plans to close in June 2017. Administrators at that law school, which opened its doors in 2013 and had provisional ABA accreditation, said it had incurred an operating loss of nearly $20 million in its brief existence and they could see no way to attract enough students to be viable in the future.
Speculation also surrounds the future of the for-profit Charlotte School of Law in North Carolina after it lost access to federal financial aid over U.S. Department of Education concerns about accreditation problems and misrepresentations made to students.
Financial issues have played a role in strife at public law schools as well. The University of Cincinnati placed the dean of its College of Law on administrative leave last month after she said her efforts to close a deficit had upset faculty members. The dean, Jennifer Bard, sued the university Friday, with her lawyers alleging a breach of contract and violations of her constitutional rights.
It should be pointed out that a college or university could consider closing its law school for reasons beyond finances or accreditation.
Operating a successful law school can add to a college or university's standing, giving it access to a new set of wealthy donors and helping it build a powerful alumni base. But struggling law schools can hurt a college or university's prestige.
"It's a reputation thing," said William Henderson, a professor of law at Indiana University's Maurer School of Law. "Bad employment outcomes, high debt and low bar-passage rates -- that affects the university and how it's perceived in a marketplace."
Yet the national trends are one thing. How they play out locally is another.
Whittier students, faculty members and alumni have resisted the closure of the school. The law school has posted notes from unhappy alumni on its website. Students protested the pending shutdown Friday. They were devastated to hear Whittier College's president and board announce the closure of the law school with finals fast approaching, said Radha Pathak, an associate professor of law and the associate dean of student and alumni engagement at Whittier Law School.
Pathak does not believe the decision to close the law school is being driven by large trends sweeping legal education, she said in an interview. She thinks it is a way for the college to redirect its financial resources.
"We are a school that has almost always generated a surplus," she said. "Next year, however, we were going to be incurring a deficit. And so instead of giving a new administration time to improve outcomes, they decided to discontinue us, and I think it's very difficult to avoid the conclusion that it was done to be able to use those resources for different purposes."
Pathak recognizes the national skepticism about the value of law schools. But she contends that Whittier Law School is serving students who would otherwise not have access to a legal education.
Minority students make up almost 60 percent of Whittier Law School's enrollment. Its student body is also 60 percent women.
"We are providing a high-quality legal education to our students, and some of our students wouldn't have the opportunity to attend another ABA-accredited law school," Pathak said. "And those students are doing amazing things when they move on."
Still, it should be noted that Whittier's bar-passage rate has significantly lagged that of other California law schools. Just 22 percent of its students taking the California bar examination for the first time in July 2016 passed. That was almost 40 percentage points below the passage rate across all of the state's ABA-accredited institutions.
Pathak acknowledged that many of Whittier Law School's students need multiple chances to pass the bar. But she said that does not detract from their accomplishments or legal education.
Critics argue such a low passage rate means the law school is not, in fact, helping most of its students. Kyle McEntee is the executive director of the nonprofit group Law School Transparency. He acknowledged that a school like Whittier can offer access to students.
"But does the school serve them?" McEntee said. "There's good they do, and there's bad they do, and you hope the good outweighs the bad. But I don't see the argument holding weight with Whittier, and it seems the Board of Trustees agrees."
McEntee predicts more law schools will close. But he said it's difficult to say for sure because local factors can have a major effect on college and university leaders' decisions.
Another Southern California institution stands as a contrast to the decision to close Whittier Law School. The University of La Verne College of Law is not producing a surplus. It's been losing money for about five years. But university leaders say they are on their way to changing that after they overhauled tuition practices in 2014.
The La Verne College of Law broke with the norm of offering deep tuition discounts to attract top students. Instead, it decided to charge students a flat price and lock in their tuition for three years.
Leaders put that model in place because of swirling questions about the cost-benefit analysis students make when deciding to attend law school. Many thought a lack of transparency in law school prices and outcomes was leading to rising and unpredictable student debt levels. The new idea at La Verne is that a student can count on a set price over three years and project their debt upon graduation.
The law school is moving toward becoming revenue positive, said La Verne's president, Devorah Lieberman. She acknowledged that the closure of the Whittier Law School could affect La Verne.
"I just think it means that the rest of us who have law schools in the region need to continue to focus on serving those students," she said.
It's hard to say exactly how, though. Law school closures have been so rare that the effects of this one will be unpredictable, according to the La Verne College of Law's dean, Gilbert Holmes.
"That might enable us to be a little more selective in our admissions," he said. "But the primary thing we need to think about is the communities that may find themselves not served as well, because they have potentially fewer lawyers to serve them."
Across the country, the law schools that are mostly likely in danger of closing tend to produce graduates who go on to work as solo practitioners or in small firms, said Michael Olivas, the chair of law at the University of Houston Law Center, who served as president of the Association of American Law Schools in 2011. That means low- and middle-income residents in the area will have fewer lawyers available than they otherwise would.
What is up for debate is whether or not that's a good thing. As with many of the issues swirling around law schools, the answers to the debate depend on how you weigh different factors. Closing a law school hurts some students, faculty members and area residents. It could theoretically help some students who would not have been served well by the institution. Closing a law school can help a college or university if that law school had been a drag on its operations.
"If it means schools that have no chance of meeting their obligations are dying or being put to death, then I would say the system is working," Olivas said. "Notwithstanding the pain and struggle the faculty and staff and students at the institution are encountering."
Even many optimistic law school admissions officers appear receptive to the idea of closings. A fall 2016 survey from Kaplan Test Prep of officers at 111 of the 205 ABA-accredited law schools in the country found that 92 percent said they were feeling more optimistic about the state of legal education than they had been a year ago.
Even so, 65 percent agreed with the statement that "it would be a good idea if at least a few law schools closed."