You have /5 articles left.
Sign up for a free account or log in.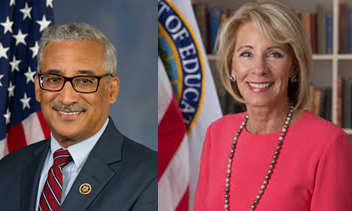 Democrats have taken control of the U.S. House of Representatives for the first time in eight years. And one of the biggest losers of the midterm elections may be Education Secretary Betsy DeVos.
With a Democrat running the House education committee, DeVos likely faces the most scrutiny since her confirmation hearings nearly two years ago.
The party has frequently complained about being shut out of legislative efforts by Republicans and ignored by the Education Department.
Now Representative Bobby Scott, a Virginia Democrat and the committee's ranking member, will have the chance to call department officials for questioning on key regulations and student loan programs.
"We should expect that Democrats won't hesitate to use the committee's subpoena authority to look at the rationale for decisions at the department -- or at the organizations the department has been coordinating with," said Craig Lindwarm, assistant vice president for congressional and governmental affairs at the Association of Public and Land-grant Universities.
Among the Democrats elected Tuesday was Donna Shalala, a Democrat who won a formerly Republican seat in Florida. Shalala is a three-time college president/chancellor: at the University of Miami, the University of Wisconsin at Madison and Hunter College of the City University of New York. She is expected to speak out about higher education issues.
Republicans on Tuesday night appeared to hold onto a narrow majority in the Senate. But the House results will energize an opposition that's been eager to hold the Trump administration publicly accountable for its expansive deregulation push on everything from student loans and civil rights to the environment.
Democrats will focus on decisions by DeVos on two major higher education rules. She's proposed a more restrictive overhaul of the borrower-defense rule, which allows defrauded students to seek loan forgiveness, and a repeal of the gainful-employment rule, which holds higher ed programs accountable for graduating students with debt they can't repay.
They also are likely to question the department's handling of the Public Service Loan Forgiveness program. The vast majority of applicants for PSLF have been rejected so far. Many likely haven't met minimum qualifications for loan forgiveness. But a GAO report released this fall found that the department has not provided enough guidance to borrowers or the loan servicers that run the program.
"I really think that Democrats will feel like this is an opportunity to finally have a say and push back against the DeVos agenda," said Tamara Hiler, deputy director of education at the center-left think tank Third Way.
The Democratic victory also puts another nail in the coffin for the PROSPER Act, the controversial GOP proposal to reauthorize the Higher Education Act. PROSPER would reshape accountability for colleges by eliminating gainful employment and the 90-10 rule, which prohibits colleges from generating more than 90 percent of their revenue from federal aid, while putting all colleges on the hook for student loan repayment rates. It would also streamline the federal student aid system and curtail many current benefits for graduate students. After its introduction last year, the bill has been opposed by nearly every higher ed lobby group as well as most student and veteran organizations.
Scott, if he ends up chairing the education committee, likely will look to pass a Democratic bid to update the Higher Education Act. A reauthorization of the law is overdue. Congress last updated it in 2008, and advocates have clamored for years for simplifying the application process for federal student aid. Lawmakers from both parties, meanwhile, are dissatisfied with an accountability system that has few consequences for most poorly performing colleges.
House Democrats' HEA proposal likely would look a lot like the Aim Higher Act, which Scott introduced in July.
Aim Higher, in many ways a rejection of the PROSPER Act, would make two-year community colleges free for all students while modestly increasing grant aid for low-income students and preserving current rules like gainful employment. It would also close the so-called 90-10 loophole, which exempts education benefits for veterans and active-duty members of the U.S. military from being counted toward the 90 percent threshold for federal aid revenue. Some veterans' groups argue that the exemption makes current and former service members attractive targets for bad-actor colleges, especially in the for-profit sector. The bill would explicitly recognize a role for state regulators in overseeing the federal student loan system as well, while DeVos has argued only federal agencies have authority to police student loans.
The Trump administration has courted historically black colleges for much of its first two years. With Scott serving as the leader of the education committee, those institutions would have a supportive Democrat in a key leadership position. The United Negro College Fund this summer praised Aim Higher for promising additional institutional aid for member schools.
Aim Higher was received by many as largely a messaging bill introduced just ahead of the midterm election season with no chance of passage in the Senate. Yet Hiler of Third Way said even with a divided Congress, there is a possibility the HEA law is reauthorized -- if the process is led by the upper chamber. That's because the next two years could be the last opportunity for Senator Lamar Alexander, a Tennessee Republican, to lead a rewrite of the law as chairman of the Senate education committee. The 2020 election cycle is widely seen as being more favorable for Democrats' hopes of retaking the Senate. And Alexander is term limited as committee chairman as well. 
"There really is extra incentive for him to try to get a bill across the finish line," Hiler said.
Robert Kelchen, assistant professor of higher education at Seton Hall University, agreed that Alexander likely wants to take advantage of the next two years to pass a law. But after a series of higher ed hearings earlier this year, Alexander and his Democratic counterpart, Senator Patty Murray of Washington, appeared as far apart as ever on a bill.
"I think it's going to be difficult given the polarization happening over the last few years," Kelchen said.
Preston Cooper, an education research analyst at the American Enterprise Institute, a conservative think tank, said the House bills introduced by both parties in the last Congress have shown just how far apart their visions are for higher education.
"I hope there might be some room for the parties to cooperate on shared priorities -- such as expanding income-share agreements -- but I'm not holding my breath," he said.
Absent serious progress on a bipartisan agreement in the Senate, a new higher ed law is unlikely. But House Democrats could signal what the party would seek to accomplish if it controlled Congress.
"It will very likely be a kind of dress rehearsal for 2020 in terms of substantive policy proposals," said Barmak Nassirian, director of federal relations and policy analysis at the American Association of State Colleges and Universities.