You have /5 articles left.
Sign up for a free account or log in.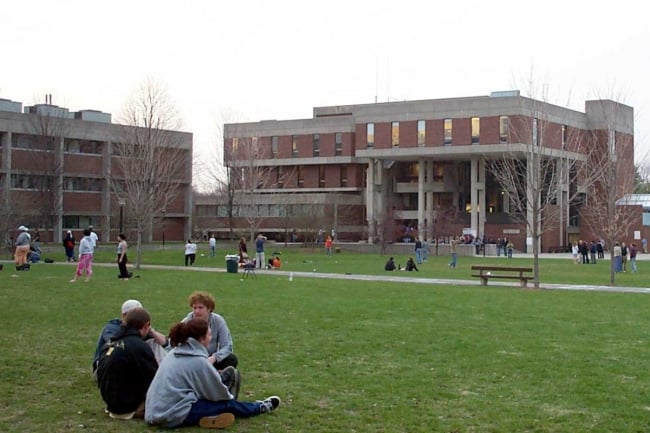 Hampshire College's president, Miriam E. Nelson, announced Friday that she was leaving her position, effective immediately.
In a letter to the campus, she defended her analysis that the college needed substantial changes in its structure and financing to remain viable. She also, however, said that opposition to her leadership "would be a distraction from the necessary work" of placing the college on sound footing.
The college also announced that its board had voted to start a fund-raising campaign to remain independent. While the board has not in recent months ruled out that possibility, it has been pursuing partnerships -- a strategy opposed by many students, alumni and faculty members who believe that it would be impossible to find a partnership that would not erode Hampshire's values.
Nelson's announcement comes the same week that the board chair left her position, also saying that the intense criticism she had received was making it difficult for the college to consider options.
Hampshire announced in January that its financial struggles were so severe that it was considering not admitting a new freshman class this fall. In February, it announced that it was admitting as new students for the fall only those who were admitted early decision or were admitted last year and deferred enrollment for a year. By not admitting a full class of students, the college said it hoped to buy some time and keep expenses low -- layoffs followed -- while searching for a partner. Many students, faculty members and alumni criticized the move, saying that further decreasing enrollment would make it more difficult to survive, especially as an independent institution. For nearly 50 years, Hampshire has operated as a college where students could lead their own educations, without the constraints of traditional departments.
According to data released by the college, in 2014, enrollment was 1,390, but it fell to 1,120 this year. In 2018, the college projected that it would receive deposits from 397 first-year students. The actual total was 320.
In her letter to the campus, Nelson outlined her analysis of the college's situation (she arrived only last year) and also why she felt it would not be wise to continue in office.
A phrase used to describe Hampshire -- "perennially strapped for cash" -- "is not a desirable description, even if accurate," she wrote. "Last May, when I learned from Jonathan Lash [the prior president] that our entering class was again going to be significantly smaller than expected, it was clear this would trigger a chain of negative events threatening our long-term viability. So, in coming to Hampshire, I knew I needed to embrace the challenge of finding a path to the long-term financial stability that has always eluded the college. As I dug into our fiscal reality, I learned we had stark choices. It was clear to me, and soon after to the board, that we would need to find a partner that could help us preserve what our community has always valued in Hampshire."
Nelson added that she "anticipated that the January 15 announcement that stated we were seeking a strategic partner, and the subsequent decision to admit only a fraction of our fall 2019 class, would create anxiety, sorrow and anger. That has surely come to pass. For many, this entire situation came as too much of a shock and felt too much like a betrayal. Together with our Board of Trustees, I have had to make a number of very tough decisions without putting them up for a collective debate. To some, this is an inexcusably top-down, un-Hampshire way of doing things."
The now former president noted in her letter that Hampshire, while historically known for a commitment to shared governance, has also designated ultimate responsibility for key decisions to the president and board. "In Hampshire's 1970 catalogue, it was clear that decision-making authority would accrue to the college's president and trustees: 'The Hampshire governance arrangements will not be egalitarian; they will be hierarchical. To be involved, informed and participating will be the responsibility and right of every member of the community; but experience, past performance and a definition of role will determine the decision-making arrangements.' This language was prescient, since throughout Hampshire's tenure, leadership has had to make tough and unpopular decisions."
Her letter went on to say, however, that she realized others wanted to focus on fund-raising to remain independent, rather than seeking a partner.
Ken Rosenthal has been named interim president. He was one of the college's founders and its fifth employee. He started work there in 1966, served as the college's first treasurer and left the college in 1976.
On social media, critics of Nelson and the board's prior strategy said that they were excited by the prospect of raising money to stay independent.
Hampshire's woes have come at a time when small private colleges have been struggling. Three small private colleges in March announced plans to close: Hiwassee College, in Tennessee, and two in Vermont, the College of St. Joseph and Southern Vermont College.
Green Mountain College, also in Vermont, announced in January that it will close at the end of the spring semester. Newbury College in Brookline, Mass., announced in December that it would close at the end of this academic year.
Hampshire's financial challenges remain serious, but there is a precedent for the sort of rebellion the college is seeing. In 2015, the board of Sweet Briar College announced it would close, citing an eroding financial and enrollment base. Alumnae objected and mobilized. A few months later, following harsh attacks on the leaders who proposed shuttering the college, the board agreed to give up control to a new group that has kept Sweet Briar going. While the college remains alive, it has continued to face financial difficulties as it has attempted to make enrollment changes and to attract more students, and in 2017 it eliminated the jobs of about 10 percent of its faculty.
Also last week, students at Hiwassee College protested that institution's decision to close.