Topics
Grad Enrollment: Gains at Home, Losses Abroad
New graduate school enrollments continue to fall among international students, but underrepresented U.S. minority enrollments are way up.
Graduate school applications were up 2.2 percent year over year in 2018, and first-time enrollments increased 2.1 percent across institution types, according to a new report by the Council of Graduate Schools and the Educational Testing Service.
The groups were especially pleased to see higher increases in first-time enrollments among people of color, including Latinx (6.8 percent), black (3.5 percent), Asian (6.2 percent) and Native American students (8.3 percent). Over all, 24.1 percent of all first-time enrollees who were U.S. citizens and permanent residents in fall 2018 were underrepresented minorities.
Hironao Okahana, associate vice president, research and policy analysis, at the council, attributed those gains to increased attention to diversity on many campuses. "Graduate schools are prioritizing recruitment of traditionally underrepresented students and are eager to diversify their programs," he said Monday. And while the increases "are a good start," he added, "we must work to further support [underrepresented] students in their path to graduate school and beyond."
Those sentiments echo scholars and advocates who say that keeping underrepresented minority students in graduate school and academic jobs depends not so much on recruiting as on attention to inclusion and climate thereafter. And the council's report notes that Native American, black and Latinx graduate students remain underrepresented in the natural sciences, technology, engineering and math, in particular.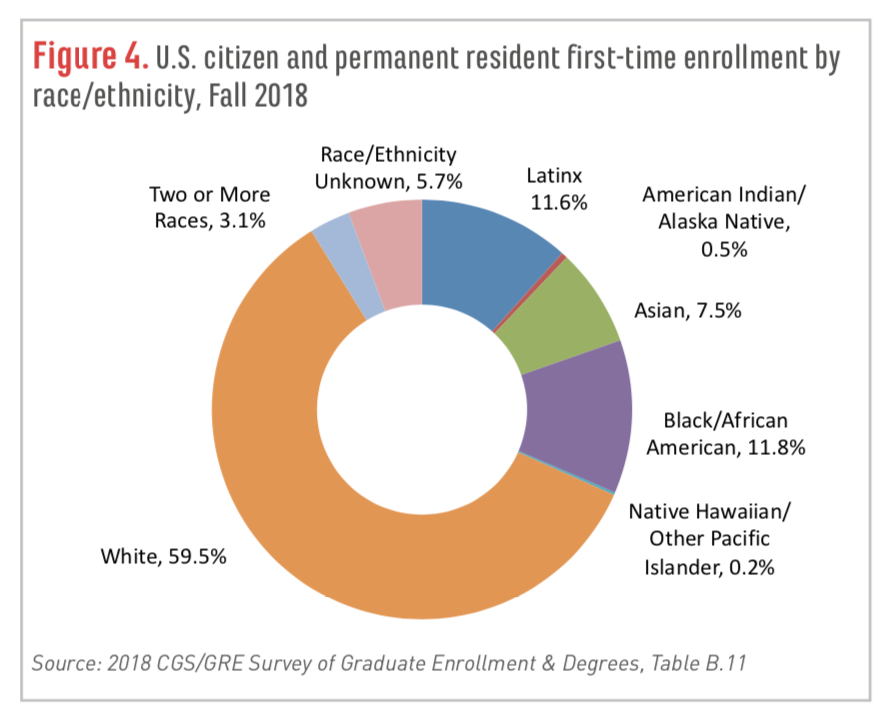 First-time enrollments among international graduate students continued to fall in 2018, by 1.3 percent. International enrollments have fallen each year for the last three years, after a period of significant growth.
Suzanne Ortega, council president, said that drop hurts even domestic students, who benefit from training alongside international students, "as we move to an increasingly globalized economy and workforce." International students also make "important contributions to graduate education and research and the U.S. economy," she added in a news release.
Asked if the Trump administration's stance on immigration is playing a role, Okahana said that global student mobility "is a complex phenomenon." Many factors, such as the economy, workforce needs and availability of graduate education options at home and abroad influence international students' decisions about where to study. But U.S. "policies and politics are certainly a part of the equation," and the council continues to monitor both closely.
By field, engineering seems to be most affected by the drop in international students. Applications and first-time graduate enrollments in that broad discipline declined 6.9 percent and 4.6 percent last year, respectively. Most of what the report calls "volatility" was at the master's degree level.
Still, engineering programs received the most applications for any field in 2018, at 284,512.
The biggest increases in first-time enrollments otherwise seem to reflect long-term trends and industry needs, as projected by the Bureau of Labor Statistics. Math and computer science enrollments jumped 4.3 percent year over year, and health sciences enrollments increased by 3.3 percent. Over the last decade, according the report, first-time enrollments in math and computer science increased by 11 percent and the health sciences by 6 percent.
Enrollments in education also increased 3.2 percent year over year.
In good news for the arts and humanities, there was virtually no year-over-year change in first-time enrollments, either at the master's or doctoral level. In contrast, the last five years saw average annual decreases of 2.3 percent and 1.2 percent, respectively.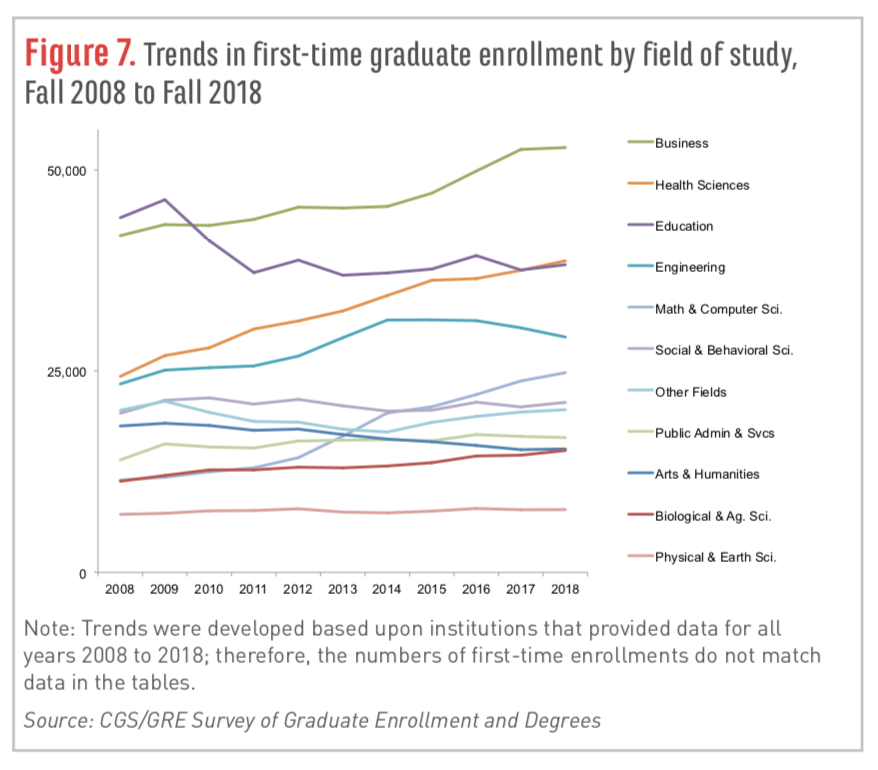 Asked about this, Okahana was cautiously optimistic. While year-to-year changes alone don't constitute a trend, he said, it's "possible that we're seeing a flattening in the decline." The council -- and, most likely, various professional organizations -- will continue to watch these numbers in future admissions cycles.
More than 1.8 million graduate students enrolled in degree programs in 2018. As always, the majority (74 percent in 2018), joined master's programs. Nearly 60 percent of first-time master's degree enrollees were women, as were about 54 percent of doctoral program enrollees.
Business, education and health sciences -- the biggest broad fields of study -- had the biggest share of part-time students.
The largest one-year increases in applications to doctoral programs were in math and computer science (18.6 percent) and public administration and services (12.9 percent). Applications to master's degree programs saw the biggest jumps in the social and behavioral sciences (9.3 percent) and math and computer sciences (5.4 percent).
Of the gradate degrees and certificates awarded in 2017-18, 62 percent were from public institutions, 34 percent from private institutions and about 4 percent from for-profits.
This year's report includes data from 589 institutions.
You may also be interested in...
Today's News from Inside Higher Ed
Inside Higher Ed's Quick Takes