You have /5 articles left.
Sign up for a free account or log in.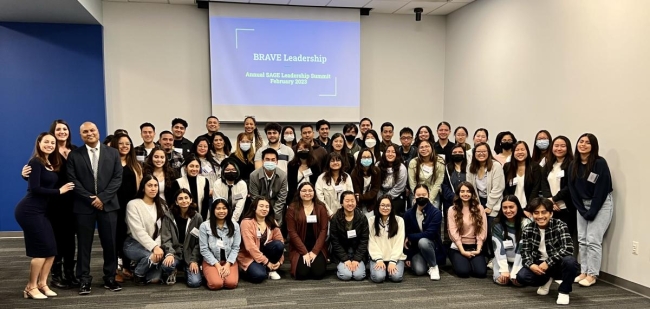 A program at the University of California, Irvine, ensures first-generation or underprivileged students are prepared for their lives after college, with a 100 percent graduation rate among its 630 scholars in the program's 24-year history.
The Student Achievement Guided by Experience (SAGE) program provides scholars with tools for success, scholarship money and a supportive community to reach their goals during college and after.
What it is: SAGE started in 1999 as an initiative from the University of California Office of the President to provide opportunities for talented and diverse students entering the workforce. Irvine's is the longest running and only remaining SAGE program of the UC system.
SAGE is a two-year leadership development program for high-potential, low-income students starting in their junior year, director Neda Moayedi explains.
The program is open to students of all majors, and the primary eligibility requirement is financial need and grade point average: students' expected family contribution should be equal to or less than $10,000 and their GPA around 3.0.
The program hosts about 40 students in each cohort, with a total of 80 to 90 SAGE scholars per year, and around 90 percent of program participants are first-generation students. The 2022–23 cohort has 83 students, 46 seniors and 37 juniors or super sophomores.
SAGE also offers scholarships and other financial aid to students to alleviate outside responsibilities or burdens so they can focus on school.
How it works: During the program, scholars receive training on leadership, take financial literacy courses and have access to career or graduate school planning and to internships and scholarships, Moayedi says.
"We're able to elevate our scholars, connect them to opportunities and then just truly help them succeed as they transition out of UCI," Moayedi says.
Students begin as SAGE scholars in the winter quarter of their junior year following a fall recruitment. During winter term, scholars participate in the winter workshop series including a half-day business acumen training, which covers résumé building, LinkedIn profile creation, interviewing skills and professional body language.
In the spring quarter, scholars enroll in a two-credit course before taking on a summer internship or research program.
SAGE partners with corporations and nonprofits to offer paid internship opportunities for many of its scholars, and Moayedi and her team work with Career Services to place the remaining students in other internships. Many of the corporate and nonprofit partners offer full-time roles following that summer internship, Moayedi says.
The next fall quarter, at the start of senior year, SAGE students take another four-credit course. In the winter of their senior year, scholars participate in a full-day leadership summit.
Each quarter, students also complete at least 10 hours of community service, "and that really allows them to give back to their community as well as really understand civic engagement and being community-minded," Moayedi says.
Another required piece is one-on-one meetings with SAGE staff, either Moayedi or her assistant director, Cecilia Leyva, each quarter. These meetings help dial in how a student's overall skills and experience fit their desired postgraduate outcomes.
Funding the program: The program received its first gift endowment of $450,000 from UCI alumnus Christopher Wilson and his wife, Sherryl Wilson, in October 2022 for scholarship funding. Students receive scholarships of up to $8,000, which eliminates the need for many of them to work multiple jobs, Moayedi says.
The program's funding has changed over the years, but SAGE alumni continue to give constant stream of support, along with local corporate and foundations.
Program evolution: The program goes through regular modification and innovation as it responds to evolving student needs, which program staff gauge based on a quarterly student survey.
SAGE historically was focused on career readiness but has evolved for a more holistic perspective of the scholar, including mindfulness and emotional intelligence along with professional skills.
"We're designed to be a high-touch, highly supportive system. And I think that's what sets us apart," Moayedi says.
UCI's SAGE program relies on student and alumni feedback to make changes to its program, as well.
The impact: Every SAGE scholar has graduated with their degree from UCI, Moayedi says. "Since the inception of the program in 1999, we've had a 100 percent matriculation rate."
While SAGE wasn't conceived as a retention program, it has become one. "You have no choice but to cross that finish line," says Moayedi.
SAGE also helps place its scholars onto their first success stepping-stone after graduation, whether that's a full-time job, a graduate program or an intentional gap year, Moayedi says. "We didn't just hand you the tools … That next step beyond UCI is already taken care of."
All of UCI's current graduating SAGE scholars either have a job, are awaiting acceptance into a graduate program or will have a job secured by graduation in June, Moayedi says.
Seeking stories from campus leaders, faculty members and staff for our new Student Success focus. Share here.
More from Life After College