You have /5 articles left.
Sign up for a free account or log in.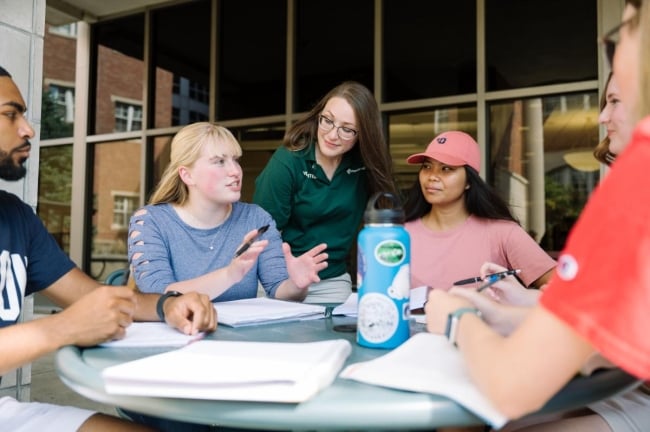 Setting community college students up for success can result in institutional partnerships, as demonstrated by the University of Dayton's work with Sinclair Community College in Ohio.
In 2016, University of Dayton and Sinclair established the UD Sinclair Academy —an agreement between the two colleges to allow undergraduates at Sinclair to transfer directly to Dayton.
What it is: UD Sinclair Academy was started to address barriers in transferability of credits and affordability of higher education, says Julia Thompson, director of student success for community college partnerships at UD. The initiative also increases the number of graduates who remain in the Dayton area and contribute to its local workforce.
As a part of UD Sinclair Academy, students pay Sinclair tuition but get the full campus experience at Dayton two miles away: participating in clubs, using student facilities and more. Sinclair tuition and fees total around $5,574 for the 2023 academic year for local students, compared to UD's tuition of $46,170 for the same year.
To be eligible for the program, students must be new to Sinclair and UD or currently enrolled at Sinclair with at least one semester left at the college.
Once enrolled and admitted into UD Sinclair Academy, students select an academic pathway from over 100 major or degree programs. They finish at Sinclair with their associate degree, or equivalent, and to stay in the program they must earn at least a 2.0 cumulative GPA.
Around 150 to 200 students enroll in the UD Sinclair Academy each year, with 156 students enrolled and attending Sinclair Community College during the spring 2023 semester and another 97 at UD, having transitioned to the university after completing their associate degrees.
A direct line: During their time at Sinclair, students meet with an academic adviser at UD each semester "to ensure they are on track for a successful academic transition," Thompson says.
"UD Sinclair Academy students have access to co-curricular experiences at both institutions, including access to student organizations, employment, career services, campus recreation and intramurals, and much more at UD," Thompson adds.
As students progress, Dayton's team conducts surveys and student check-ins, in addition to the advising and other appointments, to track experiences and students' needs to determine program effectiveness. Of UD Sinclair Academy's 2020 and 2021 cohorts, 96 percent received their bachelor's degrees.
Funding the program: In April 2022, the University of Dayton received two gifts totaling $2.25 million to support the UD Sinclair Academy. Prior, funding came primarily from the two institutions and some donor-funded scholarships to support academy students and a graduate assistant for the program.
One grant of $1 million came from the Bloomberg Philanthropies and the Judy and Fred Wilpon Family Foundation, establishing the university as part of the Kessler Scholars Collaborative and forming a new group of UD Sinclair Academy students called the Kessler Scholars.
Kessler Scholars, on top of the academy's benefits, will also receive financial aid, personalized services, support network orientation and stipends for academic expenses. The first cohort will begin in fall 2023 with a total of 20 students.
Additionally, UD received $1.25 million from an anonymous donor couple to support the academy's services and fund scholarships.
Smoothing out the creases: Working across institutions has created challenges in data sharing, Thompson says. As the academy's enrollment has grown, the colleges have collaborated to automate the sharing of student information for academic advising, enrollment and student success.
The Student Development Division at Sinclair—including university partnerships, registration and student records, financial aid, the provost's office, and admissions—works with Dayton's office of strategic enrollment management, office of the provost and academic advising to support students.
If your student success program has a unique feature or twist that you believe is worth modeling, we'd like to know about it. Click here to submit.
More from The College Experience