You have /5 articles left.
Sign up for a free account or log in.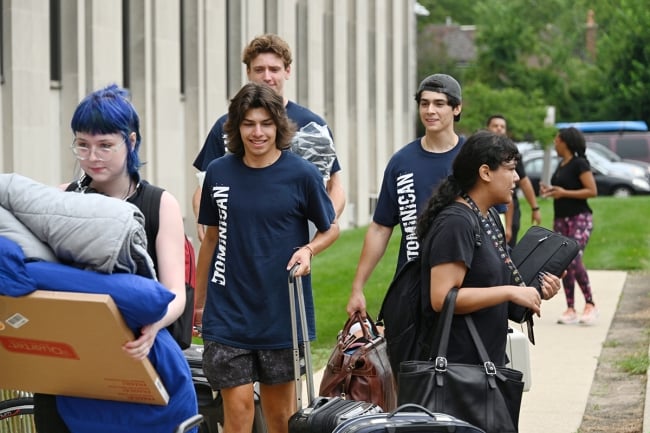 On paper, Dominican University fits the mold of higher ed's most endangered species: a small religious institution in the demographically challenged heart of the Midwest.
In reality, not only is the college in good shape—it's never been better. The Catholic institution welcomed 650 new students this fall, the largest incoming class in its 122-year history and an 8 percent increase over last year's then record-setting class.
Those numbers make Dominican stand out among its regional peers. Last April another small Illinois college, the predominantly Black Lincoln University, closed its doors for good, citing a significant enrollment shortfall, along with a bevy of other issues. Cardinal Stritch University, a small Catholic college located less than 100 miles north over the Wisconsin border, shuttered this spring after a decade-long enrollment plunge from 5,000 to just over 1,200 students. MacMurray College, a liberal arts institution in Jacksonville, Ill., closed in the spring of 2020 for similar reasons.
Genaro Balcazar, Dominican's senior vice president for enrollment management and strategy, chalked up the college's unlikely success story to a heightened focus on its Hispanic-serving mission—the student body is 54 percent Latino and 40 percent first generation—and to its relationship with the area's heavily Catholic Hispanic community, a population that is growing nationwide while other demographic groups taper off.
"We've been putting in this work for years, and it's paying off," he said. "There's a difference between a Hispanic-enrolling institution and a Hispanic-serving institution, and colleges that hop on the bandwagon now to solve demographic problems are going to stand out."
But he also noted that the answer to shoring up enrollment is often simpler than institutions assume.
"A lot of it is just blocking and tackling. Are we doing the baseline stuff right when it comes to recruitment and retention?" he said. "Schools tend to think that a new partnership or a new vice president or program is what they need. And what I have found is that it's usually the basics that make the biggest impact in the long term."
In recent years, as the COVID-19 pandemic converged with fears about a looming demographic cliff, conversations about college enrollment's general decline have often taken on a fatalistic tone, blaming the slide on uncontrollable forces majeures like falling birth rates and changing economic incentives. But Nate Johnson, founder and principal director of the higher education research firm Postsecondary Analytics, said there are plenty of other factors to blame—including institutions' failure to adapt to the evolving challenges in front of them.
"There's a declining base of prospective students for everybody, but a lot of the enrollment decline in the last 10 years has really been related to other things," he said. "I don't think it's inevitable. The environment is more challenging and it's likely to get even more so, but there will be places that figure out a good strategy and those that don't."
In From the Cold
Jamie Caridi, president of Bethany College, said that threats like the demographic cliff and pandemic disruption can be easy excuses for institutions that aren't reflecting on their own roles in enrollment nosedives.
"Frankly, it's not COVID or falling birth rates that are to blame at most places. It's mission drift," he said. "Many institutions, especially small liberal arts colleges, have lost sight of the needs of the people they serve and where the marketplace is at."
Bethany, like Dominican, does not fit the typical profile of a growing institution. It's nestled in West Virginia's panhandle, and its applicant base is largely spread out across three states plagued by demographic woes: Pennsylvania and Ohio, in addition to West Virginia, where enrollment declines have led to five-alarm fires even at the state's flagship university.
And yet, after nearly a decade of decline, Bethany's enrollment grew by almost 60 percent from 2021 to 2023, recovering from the pandemic and then some. Caridi credits a willingness to challenge norms that he says many of Bethany's peers won't touch.
"There are so many orthodoxies at small private colleges; some are load-bearing and important, and some honestly just weigh down the institution," he said. "You don't know which is which until you start taking a hard look at things."
Even institutions in as remote a region as Alaska have been able to make swift recoveries in recent years. The University of Alaska system went through five years of steep enrollment declines, averaging a loss of 8 percent between 2018 and 2022. That led to dire financial straits, which two years ago forced the system to make massive program and staffing cuts.
But this fall, the University of Alaska saw a nearly 5 percent systemwide increase in enrollment, a welcome burst of life for its three major four-year campuses in Anchorage, Fairbanks and Juneau.
System president Pat Pitney, who has been on the job for about a year and a half, said organizational restructuring—rather than addressing larger, external issues—drove the recovery.
"COVID was the least of our problems. It was the turmoil, organizationally and financially," she said. "Getting to a place of stability was my main goal coming in."
That renewal is also linked inextricably to a fiscal surge: last year, Alaska's Republican Legislature voted to increase public higher ed funding by $47 million, helping it crawl back from the devastating effects of $55 million in cuts from 2019 to 2022.
"It would have been impossible to do this without state support," Pitney said.
For public institutions struggling to stay afloat—or at least avoid the kinds of far-reaching cuts and intrasystem mergers that are becoming increasingly common—Johnson said the deciding factor is almost always public funding.
"With public universities, to some extent it's not their choice; it's the state government's priorities," he said. "But there is a role institutions play in that. The Legislature is basically their biggest donor, so you need to make the right pitch to them."
Go Big or Go Home?
Solving declining enrollments often requires risk-taking, Johnson said—especially for small private institutions looking to elbow to the front of a crowded field of student-hungry competitors.
"It's better, if you kind of find yourself in a decline, to make a couple of big bets and narrow your focus rather than the usual institutional strategic plans with 20 objectives … you can't kind of do things on the margins or incrementally to get out of a real spiral like that," he said. "At the end of the day, you're trading a certain future of continued decline for a possible renaissance."
Caridi decided to make enrollment a central part of every Bethany employee's mission. He began hosting monthly enrollment workshops, which about half of all employees—from faculty chairs to marketing specialists—attended. He also gave them all enrollment-related benchmarks: for faculty, recruiting a certain number of students interested in their department, for instance; for marketing staff, targeting recruitment regions and securing new applicants.
But Bethany's newfound growth also comes with more expenses. The institution just completed $2 million in renovations to accommodate new students and improve facilities. Officials also face the challenge of retaining new students—a task that the college, which had a graduation rate of less than 50 percent last year, has not always been up to. And then there's the prospect of keeping enrollment from falling again.
"We've got a lot of work to do. I'm not going to sit here and pretend we're out of the woods," Caridi said. "But our future looks a hell of a lot more bright than it did a few years ago."
For every big bet or foundational readjustment that pays off, there are many that don't. And as the odds get harder and harder to beat, Johnson said, the likelihood of success gets slimmer.
"In an environment that's getting more challenging, those Hail Marys are going to get more common and harder to complete," he said. "But some of them will result in touchdowns."