You have /5 articles left.
Sign up for a free account or log in.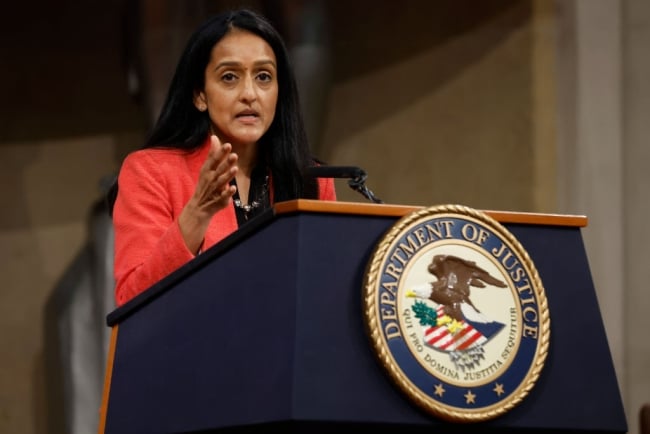 Chip Somodevilla/Getty Images
The federal government released long-awaited resources for colleges this morning on the implications of the Supreme Court's decision striking down affirmative action, offering legal guidance on a number of questions that have been the subject of interpretive debate since the June 29 ruling.
The Departments of Education and Justice, which released the guidance together, encouraged colleges to thoroughly review and update their admissions policies to ensure compliance with the Supreme Court's finding that considering race as a factor "in and of itself" was illegal.
But they also stressed what many legal experts have pointed out since the decision was handed down: that considerations of how an applicant's race has affected their individual experience could still be considered when making admissions decisions, and that the court did not deny the value of diverse student experiences on campus.
"Although this decision changes the landscape for admissions in higher education, it should not be used as an excuse to turn away from long-standing efforts to make those institutions more inclusive," associate attorney general Vanita Gupta said at a news conference this morning. "Race can be relevant to a person's life or a lived experience, and may impact one's development motivations, academic interests or personal or professional aspirations. That impact can still be considered."
Many colleges have indicated they will look to application essays as a place where applicants can talk about how race has affected their lives. Some have added or revised essay prompts in direct response to the Supreme Court decision.
Education Secretary Miguel Cardona said the Biden administration was "working relentlessly" to support legal diversity efforts.
"We know what has happened at colleges when individual states banned affirmative action in the past: fewer students of color applied, and fewer students of color were admitted," he said. "We cannot afford that kind of backsliding on a national scale."
On June 29, the day the ruling was handed down, the Biden administration promised guidance in 45 days. The guidance actually came 47 days later, after more than a month of anxious anticipation and apparent frustration from higher ed leaders.
A more thorough list of recommendations, including guidance on how to use measures of adversity in admissions to cultivate a diverse student body, will come in September.
Advice Beyond the Application
Beyond admissions, the departments' guidance says colleges can still legally work to diversify their student bodies through targeted recruitment efforts, including using race, and by redoubling retention efforts aimed at supporting students of color once they arrive on campus. Officials also said that bridge and pathway programs for high schoolers aimed at diversifying applicant pools are still legal, a view many questioned in the ruling's immediate aftermath.
"The Court's decision does not require institutions to ignore race when identifying prospective students for outreach and recruitment, provided that their outreach and recruitment programs do not provide targeted groups of prospective students preference in the admissions process," according to a question and answer document issued as part of the resources.
However, the departments clarified that any program that used race as a prerequisite for applying or awarded slots based on a student's race "risked triggering the strict scrutiny" standard applied in the affirmative action ruling.
The departments also clarified that the Supreme Court ruling did not make it illegal for institutions to collect demographic data on applicants, nor did it prohibit admissions officers from looking at that data—as long as they did not consider it when making admissions decisions. They encouraged institutions to take measures to ensure that didn't happen, noting the court's criticism of colleges "adjusting their admissions priorities dynamically in response to demographic data."
Colleges will have to decide whether to take that risk themselves. Anticipating the result of the Supreme Court decision, the Common App introduced a new feature in May allowing institutions to toggle an option that hides an applicant's racial identity from admissions officers.
The guidance took up the question of diversity, equity and inclusion offices, student affinity groups and cultural resource centers—which some conservative legal activists have argued are fatally undermined by the Supreme Court decision.
"A core philosophy advanced by campus Diversity, Equity, and Inclusion ideology has been rejected as unlawful," Cornell law professor William Jacobson wrote in an email to Inside Higher Ed last week. "Those in higher education who try to pigeonhole the ruling into university admissions are missing the sweep and scope of the equal protection ruling."
The Biden administration pushed back on that reading. Highlighting the importance of improving retention for underrepresented students, officials said that belonging and retention resources directed at minority students fell within the law, as long as the resources are "available to all students regardless of race."
"It is important that students—particularly those who are underrepresented—feel a sense of belonging and support once on campus," the question and answer form reads.
'The Elephant in the Room'
Colleges and universities have been awaiting federal guidance on the scope of the ruling and the legality of certain practices outside admissions for weeks. Some institutions, including Western Illinois University and the University of Kentucky, have gestured toward policy changes outside of admissions but cited the lack of federal guidance as reason to wait.
Guidance on some of these areas of concern was conspicuously absent.
There is no mention of how the Supreme Court decision might apply to hiring, which Students for Fair Admissions president Edward Blum has said is affected. Neither is there reference to its impact on race-conscious scholarships, which Missouri attorney general Andrew Bailey ordered colleges to eliminate in the wake of the ruling, and which have raised concerns at many institutions unsure how far the ruling extends.
A senior education department official said the Supreme Court decision didn't address scholarships, and the department's resources are based solely on the purview of the decision.
"We think that we are staying in the realm of what the court decided which is focused on admissions in selective colleges and universities," the official said. "We are offering states and colleges and universities clarity about what remains lawful and what tools are still available."
Blum was unable to respond to requests for comment in time for publication.
James Murphy, deputy director of higher education policy at Education Reform Now, said that even if the Biden administration does not believe scholarships should be affected, failing to mention them at all is an oversight—especially when state officials like Bailey and Wisconsin Assembly speaker Robin Vos have publicly espoused their own contradictory interpretations of the ruling.
"I'm really glad to see the Department issue some guidance on how colleges should be interpreting the SFFA decisions. But it feels like there's a big elephant in the room that they're not talking about, and that's financial aid," he said. "Leaving that in limbo will just make for a really chaotic situation."
Officials also declined to announce any specific action to accompany the guidance, which Murphy said was odd considering the quick and substantive federal action taken after other Supreme Court decisions, like student debt relief and abortion rights. He said he hopes such action is forthcoming.
"The Biden administration has been bold in many ways: they acted in response to the Dobbs decision, and got creative in figuring out how to protect women's rights. They got creative and active in trying to protect students when it comes to student loan debt," he said. "I'd love to see some more of that action and creativity on this front as well."