You have /5 articles left.
Sign up for a free account or log in.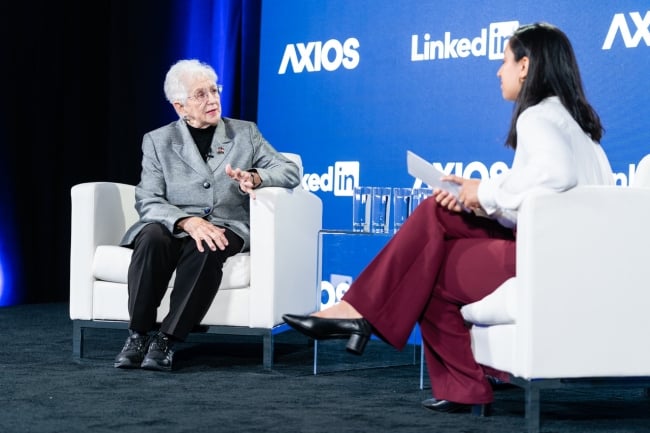 Higher education—particularly four-year institutions—needs to evolve to stay relevant in a potential future where individuals are hired based on their skills rather than their degrees, policy makers said Wednesday.
"But I think that [evolution] will happen more in community colleges, and you'll see it happening in universities, but the universities are going to see their enrollment drop, and they're going to become less relevant," said Representative Virginia Foxx, the North Carolina Republican who chairs the House education committee.
Foxx was one of four speakers, including Education Secretary Miguel Cardona, featured during Axios and LinkedIn's event about skills-based hiring. She and the other panelists, who spoke separately, acknowledged the need to emphasize skills and ensure that workers have what they need to meet workforce demands. This issue could be an opportunity for bipartisan solutions, several speakers said.
LinkedIn officials said at the event and in a new report that more employers are hiring based on a person's skills rather than their degree—a shift that the company expects to continue. In 2022, LinkedIn users added 380 million skills to their profiles—a 40 percent increase from the previous year, per the report.
The report outlines how policy makers, business leaders and workers can further accelerate skills-first hiring, which LinkedIn argues expands access to opportunity for employees and can better address the demands in the workforce.
Blake Lawit, senior vice president and general counsel for LinkedIn, called for an end to degree requirements unless they are legally mandated or essential. He also urged Congress to reauthorize the Workforce Innovation and Opportunity Act, which is aimed at helping job seekers access employment, education and training, to support skills-based training.
"Seventy percent of the jobs listed in the United States require a bachelor's degree. Thirty-seven percent of the workers have a bachelor's degree, so there's a mismatch there right off the top," Lawit said.
He also said he supports expanding the Pell Grant to cover short-term programs.
"Ultimately, a degree is just a piece of paper," he said. "Skills are what you use to do the job."
Foxx, who has often talked about the need to focus on students' skills, said employers should get more involved with discussions about what the programs and skills should be taught.
"For too long, we've allowed education to be controlled by educators," she said. "More employers need to be collaborating more with colleges, with high schools, and with all the folks out there to help skill development be based specifically on jobs that are available."
Foxx called for a new way in thinking about skills and college.
"I think we need to look at the people who have to go to college as skill-less people," she said. "The people who don't have to go to college have skills, and they can be successful without getting a baccalaureate degree."
Cardona said that colleges and universities that award bachelor's and other advanced degrees have an important role to play in a future that's focused on skills instead of academic credentials.
Those working in the plants making semiconductor chips, for example, will need architects, engineers and managers to facilitate the process.
"My message has been pretty clear: get in and evolve with the two-year schools—because two-year schools are pretty nimble—and the K-12 schools to make sure that you have a role here," he said.
Cardona said it's important to prepare students for the high-skill jobs that are coming, which is why President Biden proposed a $90 billion free community college plan in his recent budget.
Cardona added that it's also important to be honest about the types of jobs available and what they'll mean for students' finances.
"We have to share the examples of students that are finishing with these programs, working and making $85,000 … a year with zero student debt," he said. "Compare that to someone that has a degree where they now owe $150,000 and start off making $50,000. When you put it out there like that, it's much more clear and I think that's what we're trying to do."
That kind of conversation could mean more students choosing a career pathway, which Cardona said could lead to four-year colleges to think more about providing a good return on investment.
"I think that's going to help drive costs down as well," he said.