You have /5 articles left.
Sign up for a free account or log in.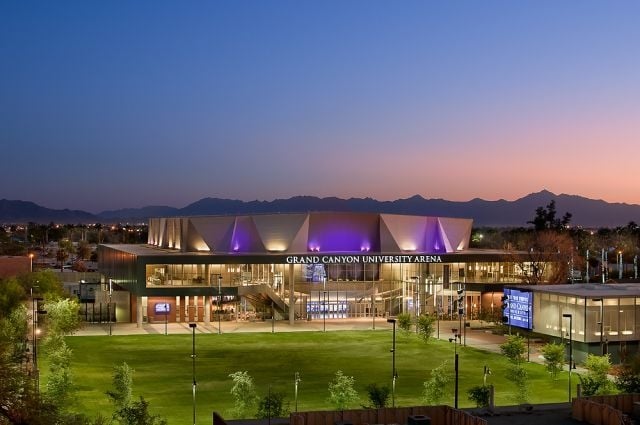 Grand Canyon University is alleging that three federal agencies have coordinated their investigations to "unjustly target" the institution for "political or ideological reasons we don't understand." It's the latest development in a years-long dispute between the university and the Education Department over its bid to become a nonprofit.
The university says it is feeling attacked on several fronts, with multiple federal agencies or oversight bodies—including the Education Department, the Federal Trade Commission and a state arm of the Department of Veterans Affairs—questioning its practices.
In a lengthy statement posted on its website Thursday and also sent to media outlets, Grand Canyon officials provided detailed responses to those investigations or findings and outlined their own allegations that the agencies are retaliating against the university for its 2021 lawsuit against the Education Department.
Grand Canyon, a Phoenix-based private Christian university with nearly 120,000 students on campus and online, sued the department after the agency rejected its application to convert from for-profit to nonprofit status. The department questioned whether Grand Canyon University had sufficiently separated from its former owner, Grand Canyon Education, a publicly traded company that continues to provide marketing, recruitment and support services to the institution. The university's president also serves as CEO of Grand Canyon Education.
A federal judge ruled late last year that the department acted lawfully. Grand Canyon has appealed that decision. In the wake of the lawsuit, Grand Canyon officials wrote that they received "broad requests for voluminous amounts of information and records about our operations" from federal agencies.
"By intentionally mis-classifying GCU as a for-profit institution for purposes of federal student aid, ED is now able to target the university as part of a coordinated effort … to 'pursue the full range of sanctions' against for-profit institutions that they frequently decry as bad actors due to the disproportionate number of Americans who attended those schools and then defaulted on federal student loans," the statement said.
Grand Canyon has spent years trying to convert from a for-profit to a nonprofit institution. The university became a for-profit in 2004 in response to financial difficulties and saw its enrollment skyrocket thanks largely to its online programs. In 2018, the university attempted to switch back to nonprofit status, in part because of the stigma associated with being a for-profit. The sector has come under additional scrutiny from federal agencies in the past decade, leading some, such as ITT Technical Institutes, to close entirely.
Grand Canyon is now recognized as a nonprofit by the Internal Revenue Service, but it can't market itself that way until the Education Department approves the conversion. Other regulators, including the university's accreditor, have approved the switch.
"People are wondering why, and it's a difficult thing to explain," said Brian Mueller, president of Grand Canyon University and CEO of Grand Canyon Education, in an interview Thursday. "We don't know why it is happening. From our standpoint, it runs its course. Faculty and staff have had it with this whole thing."
Grand Canyon wants the Education Department to recognize its nonprofit status and stop "these targeted actions," according to the statement.
"While we have taken the high road and continuously worked cooperatively and professionally with these individuals over the past five years, given their clear motivations and recent actions, we can no longer stay silent and allow their coordinated efforts to impugn the reputation of this university and the many faculty and staff who go above and beyond to ensure we provide the best possible service to our students," officials said in the statement.
A spokeswoman for the Federal Trade Commission had no comment on the statement, while a Veterans Affairs spokesperson said the agency was unable to discuss ongoing litigation. The Education Department responded with a statement late Thursday: "The U.S. Department of Education is committed to holding schools accountable for serving students' best interests. We take our oversight obligations seriously, follow the facts where they lead, and will not be dissuaded from enforcing the law and protecting students, taxpayers, and the federal student aid program.
"Regarding this school, the Department included specific terms in the program participation agreement that allows Grand Canyon to participate in federal student aid programs. Those terms are designed to protect students from what the Department determined were misrepresentations regarding the cost of some students' programs. This is the Department taking reasonable and prudent actions as a regulator."
'I Can't Put Up With This'
The move to speak out publicly is a rare one for higher education institutions, several experts and lawyers said.
"If these institutions felt like working with the department in good faith would get them anywhere, they would do that," said Michael Brickman, an adjunct fellow at the American Enterprise Institute, a conservative think tank. "The administration has clearly signaled where it's going, and the fact that it's going to treat institutions differently based on their tax status and not necessarily based on their results."
John Przypyszny, a partner and lead of the education team at the law firm Faegre Drinker Biddle & Reath, said releasing the statement reflects a degree of frustration from the institution, and the Grand Canyon officials probably feel like they have "little to lose" with the regulators.
"It's unusual," he said. "Whether this will help them in resolving these matters or whether this was really essentially just to have their side of the story told, which they are entitled to do, I don't know. I don't know if it moves the needle that much."
Mueller said he decided to make a public appeal after the Education Department told the university it was planning to issue a press release and levy a fine. According to Mueller, the department is going to say that the university misrepresented the total price of its doctoral program. (The department is also conducting a program review of how the university administers federal student aid.)
"At that point, faculty and staff had had it," he said, adding that the statement was for the university's employees, students and alumni. "I can't as the leader put up with this."
Mueller is planning to meet this week with faculty and staff, as well students and other groups on campus, to talk more about the federal scrutiny and investigations. "I want to let them know that none of this is going to impact what's happening to us," he said.
Earlier this year, the Arizona Department of Veterans' Services State Approving Agency (SAA), which handles some oversight of education programs for the federal Department of Veterans Affairs, issued a finding that two statements in the university's advertisements were "erroneous, deceptive or misleading." Grand Canyon said the statements in question were that "cybersecurity experts are in high demand" and "every company needs cybersecurity." Grand Canyon disputed that finding and says the agency didn't take further action.
"It is our belief the SAA was unduly influenced by the U.S. Department of Veterans Affairs, in conjunction with other federal agencies, to conduct and carry out a risk-based audit in this manner rather than the audits it has performed in the past in which the university has received stellar reviews," the Grand Canyon statement said.
In its investigation of Grand Canyon Education, the Federal Trade Commission is focused on the company's phone calls to prospective students. The statement From Grand Canyon didn't provide more information about what was at issue with those calls, but it defended Grand Canyon Education, saying that the company doesn't make cold calls to prospective students.
"To be frank, the substance of these claims is so frivolous that they could have easily been resolved in a 10-minute phone call had the agencies chosen to do so," the statement said. "We would have disagreed with the agencies' conclusions but believe a reasonable accommodation could have been reached in each case in a spirit of cooperation. Instead, the agencies have chosen to, quite literally, make a federal case out of what should be minor disagreements."