You have /5 articles left.
Sign up for a free account or log in.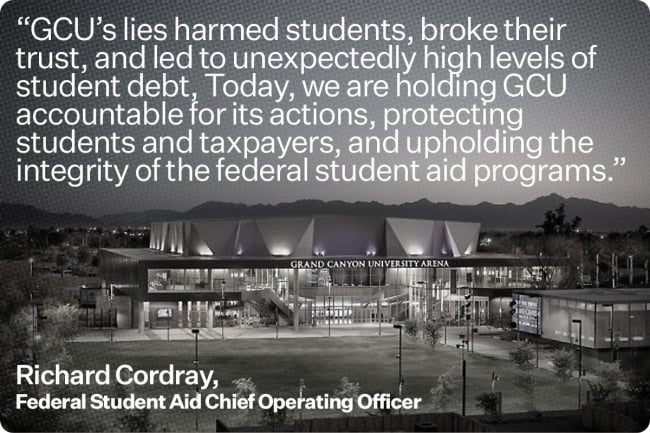 Justin Morrison/Inside Higher Ed
The Education Department is fining Grand Canyon University a record $37.7 million for misleading more than 7,500 students about the cost of doctoral degree programs and violating federal law.
"GCU's lies harmed students, broke their trust, and led to unexpectedly high levels of student debt," Richard Cordray, chief operating officer for Federal Student Aid, said in a statement. "Today, we are holding GCU accountable for its actions, protecting students and taxpayers, and upholding the integrity of the federal student aid programs."
Cordray said that Grand Canyon, one of the largest private Christian institutions in the country, with nearly 120,000 in-person and online students, repeatedly told prospective and current doctoral students starting in 2017 that their degree program would cost between $40,000 and $49,000. But that figure was based on completing a program within 60 credit hours and failed to account for continuation courses needed to complete the dissertation program. Students on average need nearly 10 continuation courses to earn their degree. Almost all the graduates—about 98 percent—needed more than 60 credit hours to complete their programs, which drove the total cost up. Some paid as much as $12,000 more in tuition.
"GCU knew or should have known that its representations bear little resemblance to reality for the vast majority of its graduates," department officials wrote in a letter to the university about the fine. "In fact, internal emails indicate that the GCU leadership has been aware since at least January 2017 that its disclosures regarding cost were incomplete or misleading. Yet, to this day, GCU's substantial misrepresentations persist."
Claims about the cost of programs appeared on the university's website, net price calculators and enrollment agreements, among other places.
Although the university did provide fine-print disclosures about the potential need for additional courses, the department said those notices didn't include cost information and were buried in dense documents. Cordray told reporters Tuesday those disclosures aren't enough to "cure the net impression that the program will be less expensive and will require fewer credits than it actually does."
For those violations, the department decided to levy the stiff fine, which a senior FSA official said is "the largest of its kind." The penalty amounts to $5,000 per violation, which totaled 7,547—the number of students who enrolled in doctoral dissertation programs from Nov. 1, 2018, to Oct. 19, 2023.
"While GCU maintains that a fine of any amount is not justified, the Department's $37.7 million penalty is grossly inappropriate when looking at recent fines they have issued," university officials wrote in a statement released after the department's announcement.
The department noted in its fine notice that it could have issued a maximum penalty of $509.7 million, because the agency can impose up to $67,544 fine per violation. The fine was lowered, the department said, because the violations involved a small slice of programs that enroll fewer than 5 percent of Grand Canyon students who receive federal financial aid. The university also generally cooperated with the investigation and took steps to update its disclosures—factors that also led to the lower fine.
"We intend to send a message about schools that engage in misconduct and deceptive practices. Our message is that they will be held responsible for any malfeasance that violates the law and harms students," Cordray said.
The fine won't pay back the students who took out loans to pay for these programs. Senior officials said affected students can seek debt relief by filing a borrower defense to repayment claim.
Grand Canyon officials "categorically" denied the department's findings in the statement, which it sent in response to Inside Higher Ed's request for comment Tuesday.
"Continuation courses are common in higher education doctoral programs in addition to the total cost of the required 60 credits," the university statement said, referring to the additional classes needed to complete the dissertation requirement. "In fact, we believe our disclosures related to continuation courses are more extensive than other universities, yet only GCU is being targeted by the department."
'Unjust Actions'
The Phoenix-based Grand Canyon has been locked in a years-long battle with the Education Department over its bid to become a nonprofit. The university converted to for-profit status in 2004 in response to financial difficulties. But in 2018, after its enrollment had skyrocketed, officials sought to switch back to nonprofit status, saying this was partly because of the "stigma" associated with being a for-profit.
The Education Department rejected that move, questioning whether the university had sufficiently separated from its for-profit owner, Grand Canyon Education, which provides marketing, recruitment and support services to the institution. Grand Canyon's president, Brian Mueller, is also CEO of Grand Canyon Education. A senior FSA official said the fine had nothing to do with the university's ongoing lawsuit challenging the department's rejection.
In recent weeks, spurred by notice that a fine was imminent, Grand Canyon officials have undertaken a public campaign alleging that the Education Department was retaliating against the institution for its lawsuit. The university detailed its defenses to the department's allegations and laid out its case in a lengthy public statement one industry expert called "unusual." Grand Canyon also launched a new website to outline its concerns and rallied supporters including the Arizona Chamber of Commerce, which wrote to Education Secretary Miguel Cardona that it was concerned about "excessive scrutiny" of the university.
To Grand Canyon officials, the fine "is further evidence of the coordinated and unjust actions the federal government is taking against the largest Christian university in the country." The Federal Trade Commission is currently investigating Grand Canyon Education's phone calls to prospective students. That investigation could lead to more fines.
One outside expert told Inside Higher Ed that he agreed with GCU. "It's interesting that regulators at the Education Department are singling out a Christian college that has previously sparred with the Department, while largely ignoring misrepresentations that other colleges, which are more ideologically aligned with the Biden administration, have made by falsifying the data they submitted to college rankings outlets," wrote Preston Cooper, a senior fellow at the Foundation for Research on Equal Opportunity, a market-friendly think tank.
Meanwhile, critics of for-profit colleges praised the department's decision. "Deceptive for-profit graduate programs are a large and growing part of America's higher education crisis," said Aaron Ament, president of the Student Defense, a legal advocacy nonprofit that assists students defrauded by colleges. "When colleges lie to students, it costs them time and money they'll never get back. We're glad to see the Department of Education take action to prevent graduate schools from misleading students about the costs of their programs, and we hope they will continue to crack down on these types of predatory schemes."
In addition to the fine, the department also added new conditions to the university's federal student aid participation agreement, including a requirement that it not make substantial misrepresentations about the cost of its doctoral programs. Grand Canyon is also required to notify all current doctoral students about how to submit a complaint to the Office of Federal Student Aid.
The record-setting fine will be imposed Nov. 20 unless the university requests a hearing or submits a written response about why the fine shouldn't be imposed, according to the department's news release.
Grand Canyon University "will take all measures necessary to defend itself from these false accusations," the university said.