You have /5 articles left.
Sign up for a free account or log in.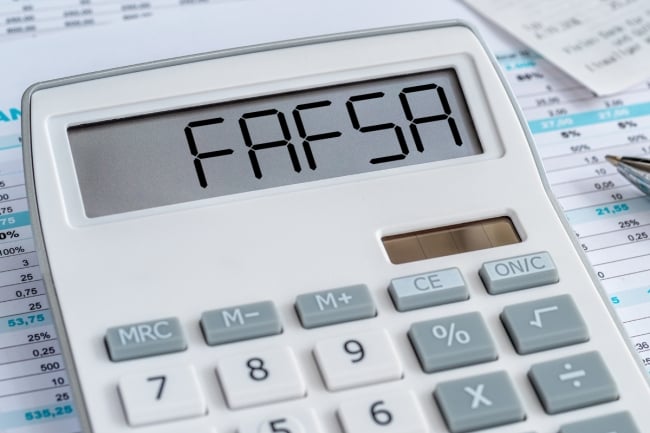 Photo illustration by Justin Morrison/Inside Higher Ed | Getty Images
The new Free Application for Federal Student Aid will launch by Dec. 31, the Education Department announced Wednesday—dashing the hopes of some that the form, already delayed by three months, would be available before the winter holidays, when students are at home and college offices are closed.
Before Wednesday, the department had only said that the FAFSA would launch at some point in December as part of its broader overhaul of the federal financial aid system. Higher education administrators and college access professionals have pushed the department to give a specific date, which they said would help in gearing up for the revamped application that's supposed to be easier for students to fill out.
But in a move that caught industry experts off guard, the department also announced Wednesday that colleges and universities won't get any student data from completed applications until the end of January. That could complicate an already complicated admissions cycle and delay when institutions send financial aid letters to students. Experts say lower-income students and those who are homeless or have other "special circumstances" such as an undocumented parent will likely feel the brunt of the delays—they'll now have less time to figure out if they can afford to go to college, or to work with institutions to addresses their individual situations.
Colleges and universities typically get students' application information—or what's called the Institutional Student Information Record (ISIR)—three to five days after they fill out the form. Receiving that data in late January means that students could receive aid offer letters in mid- to late February at the earliest. In a typical year, when the FAFSA is available in October, students start receiving aid letters before the end of the calendar year, though timelines and deadlines vary by institution.
"Every day matters, and financial aid offices cannot begin reviewing financial aid applications, modeling student eligibility, and ultimately packaging and communicating financial aid offers until applicant data is provided to them by the U.S. Department of Education," said Justin Draeger, president of the National Association of Student Financial Aid Administrators, in a statement. "Once financial aid offices receive that information, distributing financial aid offers will likely take at least several more weeks."
Draeger added that financial aid staff at institutions will work to protect students "from the adverse effects of any truncated timelines."
In addition to simplifying the actual form, Congress directed the Education Department to retool the underlying methodology that determines students' financial aid eligibility. Because of those changes, institutions likely will need more time to review students' aid applications and figure out how much money to offer them.
"We want to be able to turn around aid offers as soon as possible," said Karen McCarthy, vice president of public policy and federal relations at NASFAA. "There will be at least several weeks of a delay there before they're able to do that."
Many colleges and universities require students to commit by May 1, so this will give applicants a much smaller window than usual in which to make their college choice.
"The aid offer day is very real for people, and that's the day that you're basically communicating affordability, go or no go," said Kim Cook, director of the National College Attainment Network, a nonprofit membership organization focused on helping students prepare for and succeed in college. "Students may be getting admission notices, but most of our students have to wait until the aid offers to really consider what they can do with those offers."
Cook said she's worried that the tighter timeline will negatively impact students from lower-income backgrounds, who are more reliant on financial aid to attend college. The department also has said there will be delays in processing paper applications and corrections to the form.
"Delaying the form's release to late December and further delaying ISIRs will require us to work within an even more compressed timeline that could result in lower FAFSA completion and college enrollment rates than in previous years," Cook wrote in a blog post.
In an interview, Cook said that while implementing the new form will be a bumpy process, she's still excited about the improvements to the application and other positive developments, including the expansion of the Pell Grant to more students. More than 610,000 low-income students will have access to the Pell Grant due to the new system, a nearly 10 percent increase from the current award year, according to federal data released Wednesday. That's a far higher figure than other researchers have estimated. The department data also show that 1.5 million additional students will receive the maximum Pell Grant award.
"That's why we are putting our shoulders into this and making it work, because we realize the long-term outcomes are so important and so valuable," Cook said.
Cook said could the Education Department should help mitigate the impact of the delay by opening up its customer service center on weekends in case families need assistance. The department could also share timely data on FAFSA completion numbers following the form's launch, she said, which would provide insights into whether students are actually filling out the applications. Experts had worried that the three-month delay could cause FAFSA completion rates to drop. Nearly 60 percent of the high school Class of 2023 submitted an application, according to NCAN, which tracks FAFSA data.
Cook said if the completion rates aren't keeping pace with previous years, she and NCAN will want to talk their partners in financial aid and admissions about pushing back the May 1 deadline for students.
Jose Jimenez, director of college access for 10,000 Degrees, a California-based nonprofit focused on helping low-income students get to and through college, had hoped the department would release the form earlier in December. His organization works with many families who are "mixed status," meaning that the different members have different immigration or citizenship statuses—and that they therefore need more time to fill out the application.
In a change from previous years, parents who don't have a Social Security number will be able to sign the form electronically as long as they have an FSA ID, or the credentials to log into the system. Without that FSA ID, parents have to sign a paper copy of the form, which is then mailed in. A Social Security number is currently required to get a login, but Jimenez said parents will be able to create one once the new application launches and the change takes effect. "It's another step that mixed-status families need to work through," he said.
And now, even when the form launches, 10,000 Degrees' offices will be closed. Dec. 31 is a Sunday and a holiday weekend.
"We'll try to put some information on our website to hopefully help students and families work through that," he said. "Then when we come back to the office on Tuesday, hopefully we're able to start answering those emails, phone calls, text messages from students."