You have /5 articles left.
Sign up for a free account or log in.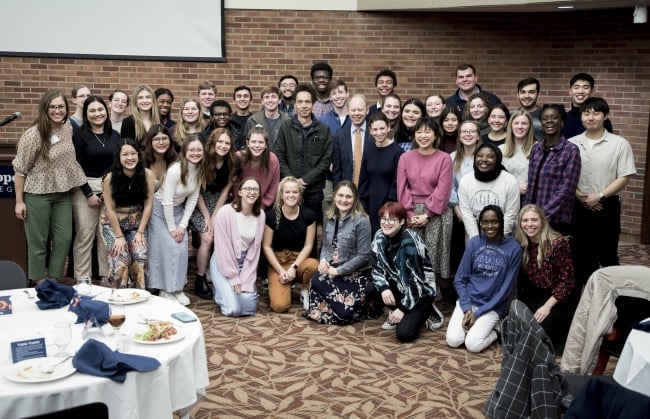 Hope College made headlines two years ago when it announced it was launching a pilot program of a tuition-free model that let a small group of students attend for free. The students only had to commit to return the favor by donating money to the institution after they graduate.
The plan came with an ambitious goal of raising $1 billion over 10 to 15 years and eventually applying the model campuswide.
Nearly three years after welcoming the first cohort of 22 students, the small Christian college in western Michigan will welcome its third cohort of 24 students in late August, a dozen fewer than the 36 admitted to the program in the 2022–23 academic year. Program officials say the decline in numbers is due to lower-than-expected fundraising, but they remain optimistic about the future of the program.
"I actually feel very encouraged about where we are at this stage of the journey," said Matthew Scogin, president of the college.
Some outside observers are less optimistic about the college's prospects of raising the money.
"Raising $1 billion is a very tall order. So I'm skeptical that they can pull this off tuition-free," said David Feldman, a professor of higher education economics at the College of William & Mary.
Hope administrators are staying on course nonetheless; they are convinced their model is the best way forward at a time when college tuition is soaring and hurting access and affordability for many students. The model also aligns with the college's values, which emphasize generosity and gratitude. Admission to the program is need-blind and based on factors such as character, humility, leadership and service instead of test scores or grades.
"The bottom line is, the math works really well once we're fully living into the pay-it-forward model," Scogin said, acknowledging the challenge of raising such a large amount of money. "But the transition from the tuition-based model to this gift-based model is very complex."
The plan was long in the making. Administrators started brainstorming in 2019 as other small, Christian, liberal arts colleges were struggling to stay afloat. A growing number of low- and moderate-income students were also less like to even consider attending. Administrators at the college knew they had to act.
The Board of Trustees selected Scogin as president and tasked him with coming up with a plan. He had a background in business and economic policy, including working as a senior adviser for domestic finance at the U.S. Department of the Treasury and as senior vice president at the corporation that operated the New York Stock Exchange. He helped college leaders quietly cultivate the idea for the program and raise $30 million in initial funds.
"We essentially spent two years immersing ourselves in what the problem is," Scogin said. "And what came out of that two-year conversation is the Hope Forward vision," which was officially announced in 2021.
The model is inspired by the Bible verse Matthew 10:8—"Freely you have received; freely give"—and doesn't require students to pay any tuition up front. (Students do pay room and board, however.) But unlike income-share agreements, students in the Hope program aren't contractually bound to pay back a certain percentage of their income. Instead, they sign a "covenant" personally committing to make annual donations of their choice.
Nicole Dunteman, the program's director, said part of her job is to ask, "How do we ensure that our students are understanding this model … and [that] then they in turn are learning virtues of generosity and gratitude?"
Changing Mind-Sets
Anna Snader, a rising sophomore in the scholarship program, said it's "hard to describe" the program's impact on students, but for her it is far more than just a financial gift.
Snader said she didn't originally intend to apply to Hope College, let alone the Hope Forward program. She was visiting nearby Calvin College when her parents encouraged her to apply to Hope.
"It's kind of a crazy model," she said. "I will be honest, I was pretty skeptical at first … I think most people are."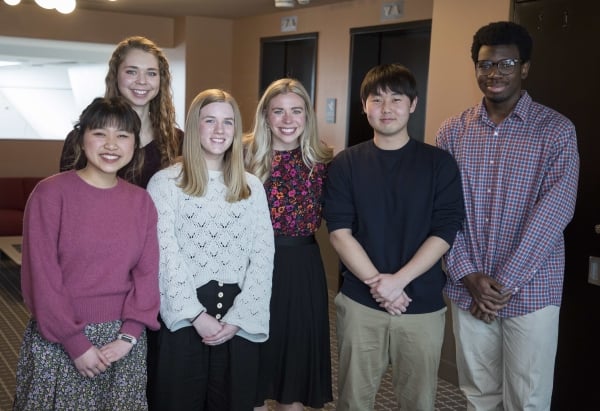 But it made sense as she learned more about the college and eventually became part of the program. The emphasis on gratitude and generosity has changed how she views and approaches life. She went from having a "scarcity mind-set" and not wanting to share what felt like limited amounts of time or money to a perspective of "care and the intentionality" where "giving is essential."
Snader, who is majoring in education, intends to promote these values after she graduates. She hopes to become a high school teacher and advocate for greater equity in the American education system.
"It's a job that's very specifically tied to giving back to other people and trying to solve those problems," she said. "I think that would be the kind of positive impact I would want to leave, even on a few students."
Dunteman, the program director, hopes all the participating students leave the college with a similar perspective. "We want them to say, 'I get to now run freely and uninhibited toward a hurting world, and I don't have this burden of debt with me.'"
Hope Forward officials are relying on a mix of quantitative and qualitative metrics on access, outcomes, mental health and students' sense of generosity and the level of impact they think they can have on the world to measure its success in reaching those goals. The results so far are overwhelmingly positive, they say.
The cohort represents 24 states and 13 countries; half are students of color, and 20 percent are first-generation students. And although there are not enough students to provide "statistically significant" data on socioeconomic distribution, Scogin believes the group represents "a much more even distribution than our overall student body." (About 3 percent of students come from families whose income level ranks in the bottom 20 percent of Americans, according to data from Opportunity Insights.) The college had its largest freshman class to date last year at 950 first-time students. Overall enrollment this fall is expected to be 3,276, slightly above last year's total of 3,251.
"I do think there's a correlation there. I think people want to be part of a place that's doing something innovative and interesting around what we believe is the broken business model of higher education … I think there's an overall recognition that something different ought to be done," Scogin said.
Hope Forward students are also experiencing positive academic outcomes. The retention rate is 100 percent, and student GPAs average around 3.4.
Critics of the no-tuition model have voiced concern that students won't take their education seriously if it's free. But Scogin said his interactions with students indicate that is not the case.
"We're actually learning that it's the opposite effect to students. This doesn't feel like a free education—rather, students feel personally invested because they know that they've committed to give … their own hard-earned money after they graduate."
"We've developed an idea that gives students the dignity of being able to fund their education again," Scogin said. "By doing so students feel invested in their education in a deeper way than students who might be on the tuition model."
A Moving Target
Although Hope College's program is unique in its goal to cover tuition for all its students, Feldman, the professor at William & Mary, said that its "dynastic" approach is very similar to that of many other private institutions, which rely on lifelong relationships with alumni to increase their endowments.
"You look at the finances of most private institutions—they spend much more on each student than they collect on average in tuition. What that means is that they are dependent upon students later in life giving back," Feldman said.
"College costs [are] a moving target both due to inflation and due to all the forces that require schools to spend more per student over time in order to deliver the quality education that the time demands … So I think the $1 billion target underestimates the cost of getting net tuition to zero for a 3,000-student body."
Bill Stanczykiewicz, director of the Fund Raising School at Indiana University's Lilly Family School of Philanthropy, declined to comment on Hope Forward's progress or if reaching $1 billion within the targeted timeline is feasible. He did note, however, that the program's transparency of communication about student recruitment and program assessment metrics are good signs.
"Donors want to find impact. Donors want to find results," he said. "All of that comes through in that prospectus that Hope College has put together. It doesn't guarantee success, but it certainly is a high-quality communication piece."
And even if Hope Forward doesn't meet its $1 billion goal, Feldman said, with so many small liberal arts colleges teetering near bankruptcy, nearly any significant increase in their endowments "is the ticket to success."
"If they get a substantial part of the way, they will have positioned themselves well for the next 30 years," he said.
Dunteman, the program director, believes Hope Forward's goal is within reach.
"Our name is Hope College," she said. "So we hope and we know we have to try to do something different if we want a different outcome."