You have /5 articles left.
Sign up for a free account or log in.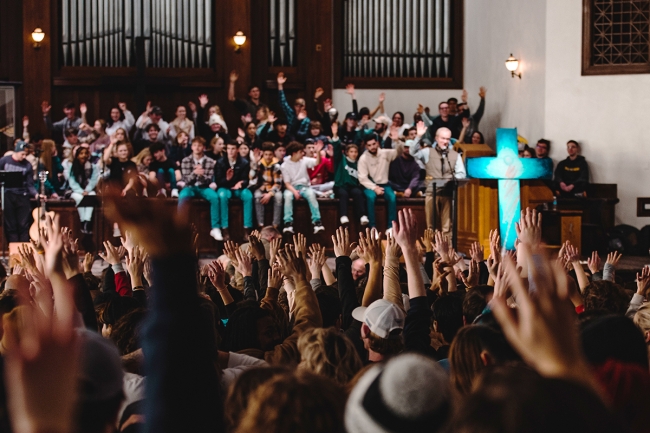 Asbury University, a small Christian institution in Kentucky, is welcoming a surge of new students this fall. Campus administrators say this semester marks the largest year-over-year enrollment increase in the university's 133-year history.
The growth comes after Asbury was thrust into the national spotlight in February when students spontaneously held a round-the-clock prayer service for two weeks straight, dubbed the "Asbury revival" or "outpouring," the theological term preferred by university leaders. An estimated 50,000 students and visitors descended on the campus to pray as the service went viral. The event left scholars and theologians philosophizing over the sudden outburst of religious fervor among students and the waves of worshippers who joined them.
Asbury has now grown significantly. Total student head count, including graduate and online students, reached about 1,939 students as of last Friday, 300 more students than the 1,639 students enrolled last fall, an unprecedented increase of nearly 20 percent. Meanwhile, the total incoming undergraduate class, including those in dual-enrollment courses, students in nondegree programs and those who stopped out and returned, is the largest the university has ever had. Students represent 32 states and 24 different countries.
Enrollment figures are still subject to change, and a more formal count will happen later in the semester, but those are "really encouraging numbers" and a welcome change after several years of decline during the pandemic, said Kevin Brown, president of the university.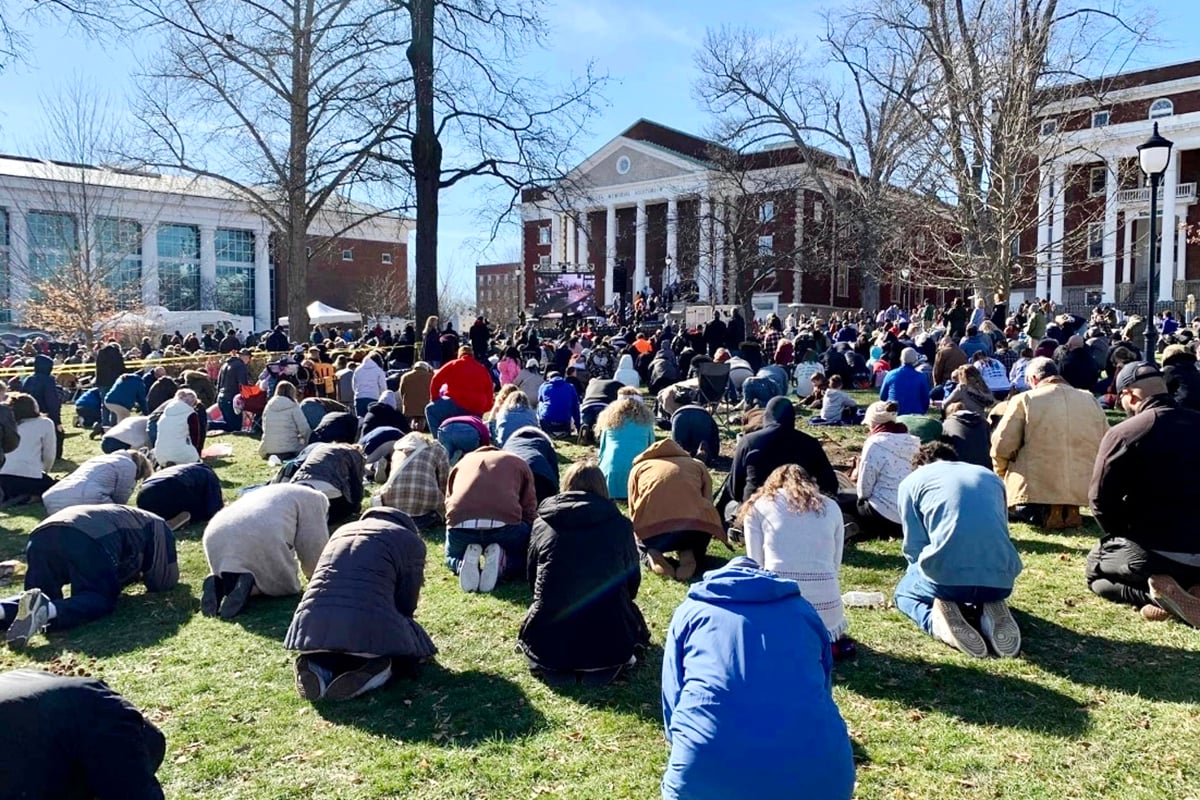 He isn't sure how much the widespread public attention from the spring revival has driven enrollment growth after looking more closely at enrollment patterns. He said enrollment has been consistently high since last fall, before the mass prayer service took place, which suggests an "outpouring effect" isn't the whole story.
But he believes it likely played some role. He's heard from professors that prospective students regularly talked about the mass gathering during visits to campus. He also emphasized that the university's ethos "as a distinctly Christian school" is a draw for many students, and the influx of believers and nonstop praying signaled that identity in a very public way.
Students want universities "to be clear on their identity and what they're offering," he said. "Institutions that do that well, whether it's secular or religious or whatnot, are going to have an advantage. I think that what happened in February was helpful for us to just reinforce to people the clarity of 'this is who we are, and this is who we desire to be.'"
Brown also attributes the growth to some initiatives undertaken over the last two years, including recent partnerships forged with several private Christian high schools to create a strong local pipeline to Asbury. Students at these schools can take dual-enrollment classes and, if they meet certain academic criteria, qualify for guaranteed scholarships. The university also streamlined "plus-one" programs that allow students to follow up a bachelor's degree with earning a master's degree in one year or less.
Amanda Staggenborg, chief communications officer at the Council for Christian Colleges & Universities, said she isn't surprised by Asbury's enrollment jump.
"There was so much media attention surrounding the revival," she said. "That revival sparked the need for Christ in the center of the lives of students right now."
An Outlier or a Signal of Broader Trends?
Asbury's enrollment growth stands in contrast to trends among some peer institutions. Four-year private university enrollments over all continue to slump slightly, falling 1.2 percent from spring 2021 to 2022 and another percentage point from 2022 to 2023, according to the latest National Student Clearinghouse Research Center data released in May. Enrollment at private colleges and universities in Kentucky in particular declined 3.7 percent between spring 2021 and 2022 and another 0.3 percent in spring 2023.
Some Christian colleges and universities, meanwhile, have faced enrollment challenges in recent years. Data from the Council for Christian Colleges & Universities shows overall enrollment at member institutions has declined since 2015. Enrollment fell 8.7 percent at these colleges and universities over that time. At least a handful of religious colleges and universities announced closure plans this year, including Iowa Wesleyan University, Finlandia University in Michigan and Cabrini University in Pennsylvania, while others, such as the King's College in New York, hang on by a thread.
Staggenborg noted that enrollments at Christian colleges and universities of Asbury's size decreased 9 percent on average between 2012 and 2021. She believes the enrollment uptick at Asbury is a hopeful indicator for other Christian institutions as they face the same headwinds as the rest of higher education, including an impending drop in the number of traditional college-age students.
"It's reversing that trend, and that's huge," she said. "That's something that is incredibly significant."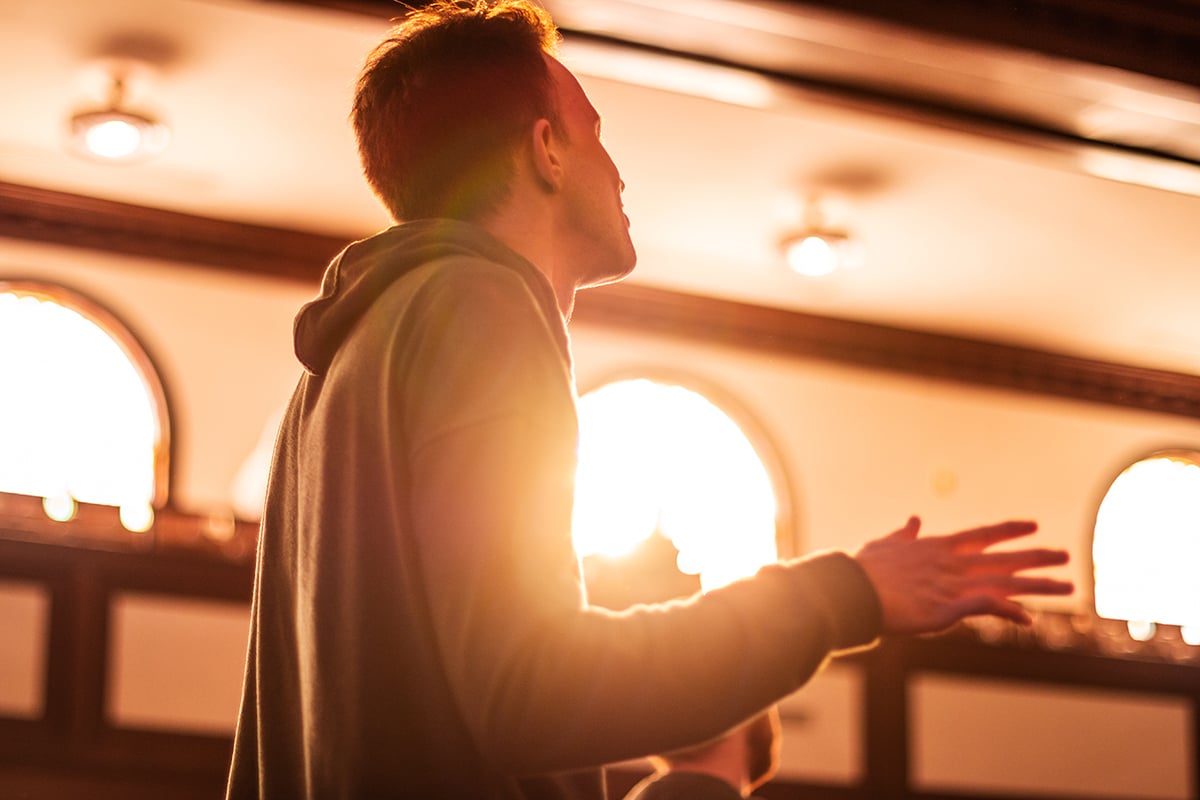 A sizable chunk of Christian colleges and universities seem to already be making a comeback from pandemic enrollment declines, said Phil Cook, president of the National Association of Christian College Admissions Personnel. Of the 211 Christian colleges and universities in the association's network, 54 percent reported meeting their enrollment goals or surpassing them in an August survey, compared to about half of campuses last year.
The "larger narrative out there" is "some schools really are struggling," Cook said. "That's also true, but our research for this year's results is encouraging."
Asbury isn't the only Christian college to announce record-breaking numbers. Cedarville University, a Christian institution in Ohio, projected another "banner year" in a recent news release, after surpassing 5,000 undergraduate, graduate and online students for the first time last year. Grand Canyon University, a Christian institution in Phoenix, announced that it expects to reach a record enrollment of at least 118,000 students, a 14 percent increase compared to last year. Mercyhurst University, a Roman Catholic institution in Pennsylvania, reported in early August that the university predicted having at least 1,000 new students in the fall compared to last year.
Cook believes Christian campus leaders have worked hard to add new programs, such as nursing, agribusiness and cybertechnology, that meet labor market needs and result in good job outcomes, which is an issue of "paramount" importance to students and families. He added that the institutions' emphasis on mentorship, spiritual and otherwise, by faculty members is also an ongoing draw, and he commended admissions professionals for building strong relationships with community colleges, public schools and Christian high schools.
"Our institutions are tuition dependent, so it is very important that we have enrollment, and strong enrollments, for institutions to continue to provide the value-based, the Christ-centered education that we're offering," Cook said.
Ricardo Azziz, principal at Strategic Partnerships in Higher Education Consulting Group, said there's a widespread perception that religiously affiliated institutions are struggling to stay afloat, but federal enrollment data show they're actually faring better than their secular counterparts over all. He recently wrote an op-ed on the topic for Higher Ed Dive.
He said institutions affiliated with some denominations are suffering while others are thriving for a variety of reasons, including their geography, individual institutions' choices about cost and programming, denominational schisms, and the average sizes of their institutions. Many Roman Catholic colleges and universities, for example, are shrinking partly because their campuses tend to be relatively small, and "the smaller you are, the more fragile you are" as the traditional-age student demographic cliff looms.
"The reality is that the devil is in the details, no pun intended," said Azziz, also director of the Center for Higher Education Mergers and Acquisitions at the Foundation for Research and Education Excellence.
He believes religiously affiliated institutions are doing better than higher ed institutions over all in part because political polarization drives more religious students to colleges where they feel more likely to find like-minded people. At the same time, many religiously affiliated colleges and universities are also able to attract students of other faiths or no faith if they're affordable and offer competitive academic programs.
"The growth of many faith-based institutions comes from individuals of their own church now seeking refuge," he said. "But more important is the ability of many of these institutions to embrace students that are not the hard-core members of their church."
Brown, Asbury's president, believes young people broadly are looking for an "anchor" or haven from a "dizzying swirl" of modern-day challenges, including social isolation caused by social media and exacerbated by the pandemic, racial injustice, economic uncertainty, and "an acrimonious political environment marked not only by incommensurable disagreement, but by hatred." As a result, they crave "authenticity" and institutions that "seek to live out their identity in a real and genuine way."
"Young adults are always in the process of cultivating a sense of self, a sense of worth and a sense of action … It is always hard to be a young adult," he said. "It is especially hard to be a young adult in 2023. This is why higher education is so important. Our students come at a time of social, intellectual, moral and spiritual vulnerability."
Brown emphasized that, while he and other campus leaders were "awestruck" and "thankful" that their university suddenly became a pilgrimage site in February, he's a little relieved to be back to business as usual. The university added some course sections to accommodate their larger-than-average incoming student body, and campus leaders are focusing their attention on continuing to recruit state residents in particular "to keep talented students in the Commonwealth," he said.
"We're not a revival school," he said. The spontaneous event was a "kind of fruit of our mission. But it's not our mission … Our direct mission is to be a Christian university that takes both of those descriptors, Christian and university, very seriously."