You have /5 articles left.
Sign up for a free account or log in.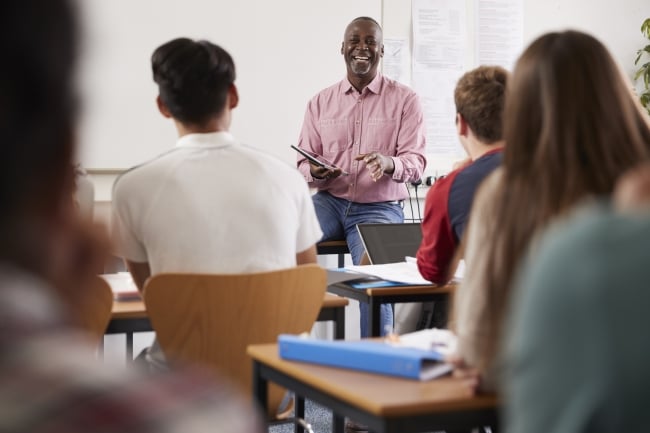 monkeybusinessimages/iStock/Getty Images Plus
The heart of student success is the learner, and professors can engage them most often where they find them: in the classroom.
Inside Higher Ed solicited stories from higher education professionals on ways they've connected or taught students in successful ways, proving that promoting success, even in small ways, is all in a day's work.
Inspire creativity.
Karen Southall Watts of Alamance Community College in North Carolina teaches World of Work in the college's Work-Based Learning program, which connects students to career-readiness skills through a curriculum prior to internship participation. In her course, Southwall Watts emphasizes how creativity is an essential aspect in a well-rounded life.
"Students in two-year colleges are often so career-focused they feel they don't have time for a rich and well-rounded life. I try to fight this trend every way I can," Southall Watts says.
One student, when home sick, created a craft, using art as an escapist opportunity.
"This student, like many others, was already creative when we met, but so much of our society squashes these impulses," Southall Watts says. "I am thrilled to know that in a tiny way I'm encouraging the artistic and innovative impulses of my students."
Explicitly teach self-care.
Student mental health remains a top concern for higher education professionals. Joyvina Evans, assistant professor at Howard University, offers her students definite ways to practice self-care to equip them for the hardships they may encounter.
Examples Evans provides are:
Getting seven hours of sleep
Drinking enough water every day
Taking time to rest
Taking social media breaks
Participating in hobbies
Journaling and practicing gratitude
Establishing boundaries
Educators can also teach self-care practices with apps like alcohol.edu, Headspace or Cognito.
Be transparent in learning outcomes.
As educators grapple with the pressures of grading and the value of extrinsic motivators in the classroom, Keith Nickolaus, a retired educator, education researcher and grant writer, argues it is the job of the educator to put learning outcomes at the forefront and make that clear to the students.
Nickolaus framed his role as providing resources and support, not as delegating grades. That placed more value on learning and content than behaviorism and compliance of earning points.
"For me, it was a 'success' when I observed that students who started convinced they were failures and refused to engage in learning showed evidence of seeing themselves differently (of being perceived differently by the grade giver) and showed evidence of a willingness to engage, as they began to trust that, in my class, it was never too late to start learning," Nickolaus says.
Seeking stories from campus leaders, faculty members and staff for our Student Success focus. Share here.