You have /5 articles left.
Sign up for a free account or log in.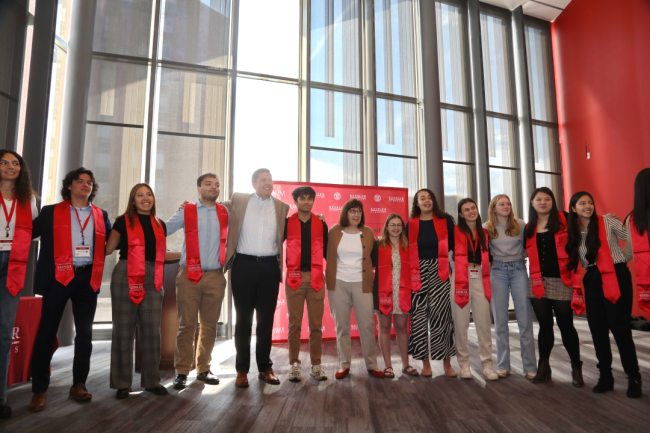 First-generation students make up a significant portion of the undergraduate population nationally, but they largely remain undersupported by colleges and universities.
A 2018 report from NASPA's Center for First-Generation Student Success found that around 27 percent of first-generation students earn a bachelor's degree within four years.
"The research has been pretty clear on this, and pretty consistent for some time. Students who are the first in their family to attend college enter in really large numbers each year … But the data again and again shows the students are not persisting and completing at the same rate," says Gail Gibson, executive director of the Kessler Scholars Collaborative.
The collaborative unifies college and universities to provide holistic services and community to low-income, first-generation students as well as to share best practices, with the hope of boosting belonging and graduate rates.
This fall, Kessler's scholars will more than double as 10 institutions welcome their first cohorts of students, providing a unique campus experience and academic support for program participants.
The need: For most first-generation students, the barriers in college are not the courses but the foreign language and structures of higher education.
Kessler flips the traditional model of making students college-ready and instead asks institutions to reflect on the value added by first-generation students and how their own models uphold barriers to success.
"We know that first-generation college students bring this wealth of resources with them: they're persistent, they've overcome adversity and, in many instances, they care about being in higher ed to give back to their families and communities," Gibson says. "The aim, then, is to think about what gaps there are, challenges that we want to close and, importantly, that looks different institution to institution."
The foundations: The program started at the University of Michigan as a traditional scholarship for low-income first-gen students, Gibson explains.
In 2016, there was a 10-point completion gap between first-generation students and their continuing-generation peers at Michigan.
Administrators began to imagine what a more supportive system for first-generation students could look like and began to develop the model that is now used by all Kessler Scholars programs across the U.S.
The collaborative: The Kessler Scholars Collaborative began in 2020 and joins 16 institutions from various locations around the U.S. of varying sizes and first-generation demographics.
After the pilot launch at the University of Michigan, Kessler expanded to Cornell University in fall 2019 and then to Syracuse University, Queens College in the City University of New York system, and Johns Hopkins University started in fall 2020. St. Francis College has offered the McGuire Scholarship since 2015, which functions similarly to Kessler and is also part of the collaborative.
Starting this fall, Kessler will have a footprint at Bates College; Brown University; Centre College; Ohio State University; St. Mary's College; the University of California, Riverside; the University of Dayton; the University of North Carolina at Chapel Hill; the University of Pittsburgh; and Washington University in St. Louis.
With the expansion, Kessler Scholars will grow from around 400 students across six institutions to more than 1,600 over the next four years, representing colleges and universities of all sizes and locations.
"One of the strengths of this network is you have schools that don't always look alike," Gibson says. "Queens College and Cornell University are not always sitting at the same table, and we think it's really important that they're there together."
The 10 expansion sites—identified in partnership with the American Talent Initiative, the Judy and Fred Wilpon Foundation, and Bloomberg Philanthropies—have been preparing for their first cohorts of students since spring 2021, Gibson says.
Beyond serving their own students, Kessler Scholars Collaborative members create a rich community of practice that focuses on the execution of the Kessler model but also broadly addresses systems of inequity in higher education.
"We've had the opportunity not only to see our six inaugural campus partners have really rolled up their sleeves to help the 10 new institutions understand the model [and] be ready to enact it well, but you're seeing this really important learning and shared experience across these campuses," Gibson adds.
While some universities are typically rivals, like Ohio State and Michigan, the ethos of Kessler is contributing to each group's success.
Program features: The Kessler Scholars Program is designed to provide "holistic, wraparound support for students who are first in their family to pursue a four-year college degree and who come from lower-income households," Gibson says.
At launch, every institution receives $1 million in grant funding to develop its Kessler Scholars Program, including hiring staff and creating programs.
While the collaborative has unified themes across its work, each institution has its own spin on the program.
Every program is cohort-based exclusively for first-generation, low-income students with cohorts of between 20 to 40 students and provides:
Peer mentoring
Workshops and activities that explore first-generation identity and professional aspirations
Dedicated staff support for one-on-one guidance and counseling
Student leadership opportunities and feedback.
Outside of these cornerstones, Kessler programs lean into their institutional contexts and cultures around first-generation students. Each college or university can be flexible within the program model to adapt it to the particular challenges on campus, Gibson says.
"It's not a cookie cutter; this is not a franchise curriculum, which makes it interesting," she shares.
At WashU, Kessler scholars will be focused on STEM fields and social justice. At John Hopkins, however, Kessler scholars pursue humanities and social sciences, and UNC Chapel Hill's program will focus on supporting rural students. The University of Dayton's programs is tied to its work with Sinclair Community College in the UD Sinclair Academy.
"We have some primary commuter campuses—Queens College, St. Francis College—they're part of the premise of, this is a space that allows students who normally aren't even necessarily on campus to have a real reason to be there, to feel a different kind of connection to the institution," Gibson says.
The impact: Across the six inaugural campuses in the collaborative, Kessler Scholars Programs achieved a first-to-second-year retention rate of 94 percent, and 92 percent of scholars rated their experience in the program as good or excellent, according to the Kessler Scholars Collaborative's most recent annual report.
While the Kessler Scholars Program is designed to improve first-generation students' graduation and persistence rates, it also creates diversity and inclusion at the partnering institutions. Of Kessler scholars in the 2021–22 cohort, 57 percent self-identified as belonging to a historically underrepresented racial or ethnic group, according to the annual report.
Surveyed scholars also reported higher levels of a sense of mattering and belonging at their institutions compared to their peers.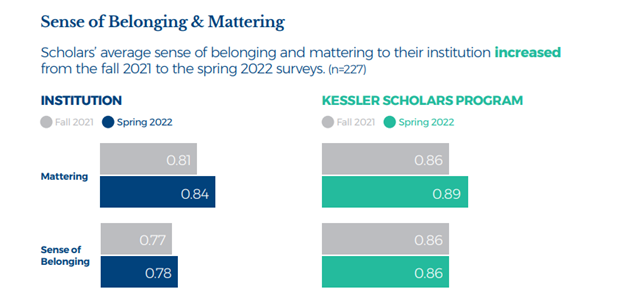 Looking ahead: In the next five years, Kessler hopes to achieve a 70 percent four-year graduation rate and an 85 percent six-year graduation rate and increase reported sense of belonging to 90 percent across scholars in the collaborative.
The organization also wants to improve high-impact experience participation rates across students, with 90 percent of scholars participating in at least one experience like study abroad, research or an internship.
To evaluate its work, the collaborative is engaging with an external evaluation group, Ithaka S+R, a co-managing partner of the American Talent Initiative. The group will provide additional data and analysis beyond self-reporting.
"We also think that, as this builds out, we see opportunity and are already hearing from partner campuses about what they might want to do further in terms of collaborating together for specific smaller scale research efforts," Gibson says.
Seeking stories from campus leaders, faculty members and staff for our Student Success focus. Share here.