You have /5 articles left.
Sign up for a free account or log in.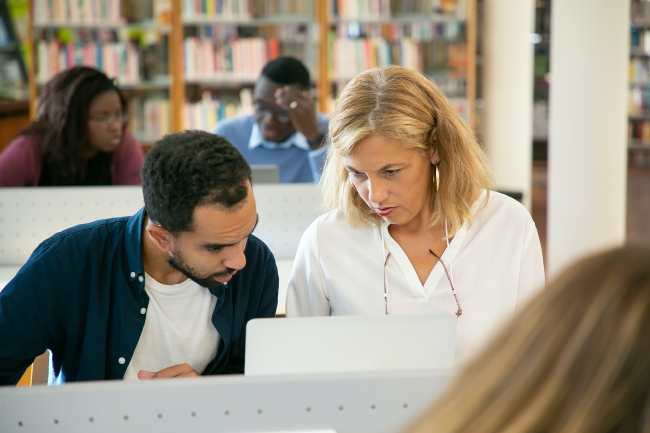 Since ChatGPT's launch in November, academics have grappled with the implications of assistive AI. Some have balked, others have used it incorrectly and a few just want to quiet the AI din. But others have leaned into its utility, comparing it to a calculator or microwave, or seeing its potential to assist neurodiverse students and faculty.
Rather than removing ChatGPT from the classroom, Pamela Bourjaily, associate professor of business communication at the University of Iowa, added the AI tool to her syllabus, instructing students how to best use the software for their own writing.
The inspiration: ChatGPT's limitations became clear quickly as users learned the chat bot can only produce as well as it is guided. In turn, some students and professors are learning to adapt their input for a more meaningful output.
In spring 2023, Bourjaily incorporated ChatGPT into some of her assignments, but she realized students weren't getting optimal output. Students are often impatient and want results in one or two clicks, Bourjaily says, but she's found that successful work with ChatGPT requires several steps and interactions.
"If students know how to frame questions and requests, they can get great results, but if they don't, they can get garbage," she adds.
To challenge students' use of ChatGPT, Bourjaily designed an assignment in identifying the weaknesses in a generic prompt output. Students edited the output either by rewriting content in their own words or by plugging a new, more specific prompt into ChatGPT.
"I want students to have the opportunity to practice using ChatGPT as a communication tool and encourage them to think critically about the output they get from it and then have the skills to know how to refine that output," Bourjaily explains.
Best practices: From the assignments, Bourjaily created a formula for achieving better results from ChatGPT:
Role. Tell ChatGPT its role, or desired role in the assignment. "Act as a college student" or "Act as a job applicant."
Task. Summarize the function you want ChatGPT to complete. "Write an essay" or "Create a cover letter."
Requirements. Include desired elements in the output. "Referencing The New York Times" or "including a job experience at McDonald's."
Context or constraints. Supply ChatGPT with the intended audience or define elements that should not be included. "For an English literature assignment," "Use 10 unique sources" or "Do not include an intro paragraph."
Goal. Establish the why of the output, meaning what the reader should be able to do or understand at the end. "What further reading would you recommend for my audience?" or "Select topics that could be discussed in small groups."
Format of output. Give ChatGPT a word or page limit or formatting specifications. "Five hundred words" or "10 pages."
Next steps: Bourjaily doesn't claim to be an expert with advice, "just encouragement," she says. But she's found that generative AI can be an ally in the classroom and builds trust between students through transparency about her own use.
In future classes, Bourjaily will assign business problems to students that they will use ChatGPT to solve. After completing the assignment, students will share how they got their answers and their prompts to refine their skills and identify bias within the output.
Do you have a tip for promoting student success with assistive AI or other technology in the classroom? Tell us about it.