You have /5 articles left.
Sign up for a free account or log in.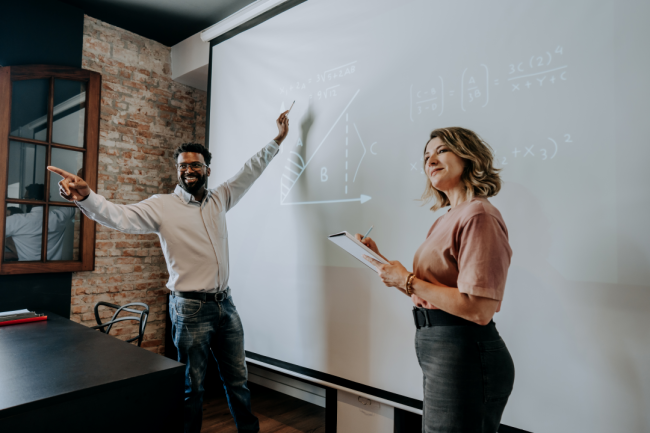 One in 10 students says their professors generally choose homogeneous instructional materials that do not reflect diverse perspectives, according to a recent Student Voice survey by Inside Higher Ed and College Pulse. Students who have the most diverse classwork study arts and humanities (51 percent), followed by social sciences (44 percent) and natural sciences (38 percent).
Instructors can diversify their course content by inviting guest speakers or by co-teaching a course with another faculty member who has different perspectives from their own.
Why team teach? In team teaching, a common practice also called collaborative teaching or co-teaching, multiple instructors divide up responsibilities for a course. Some professors split class meetings and content areas, whereas others divvy up tasks of teaching (designing activities, grading activities, delivering content, etc.).
The practice improves students' academic success by deepening their analytical abilities, bridging their understanding of disciplines, creating a greater sense of academic community, improving student-professor relationships and making classes more interesting, according to Brigham Young University's Center for Teaching and Learning. Research has also shown team teaching benefits learning outcomes, retention rates, interpersonal and communication skills, analysis, and judgement, as well as diversity.
Team teaching requires an instructor to rethink their pedagogy and the way they approach classroom work, according to a paper by Otterbein University's Kathryn Plank, director of the center for teaching and learning.
Collaborative teaching allows professors to learn from one another about their disciplinary styles and teaching personae while giving students a more enriching learning environment, wrote professors Ellen Song and Mark John Sanchez at Harvard College in an Inside Higher Ed op-ed.
Most commonly, team teaching appears in interdisciplinary learning, first-year seminars and senior capstones that encourage integration of learning. Service learning and community engagement programs may also engage in team teaching, drawing in outside perspectives from community leaders, Plank wrote.
Spotlight on Interdisciplinary Learning
Interdisciplinary learning can benefit students by bridging silos in higher education and creating a more nuanced approach to a topic or theme. Interdisciplinary courses can also aid undeclared students in finding their niche outside a traditional major. The faculty labor involved in interdisciplinary teaching, however, can be a barrier to scaling initiatives.
Graduate students can also benefit from co-teaching, receiving mentorship in curating course content and having equal responsibility and authority for the class.
Best practices: For those looking to engage in co-teaching, experts offer their advice and insight on what works best.
Reserve for special uses. Because team teaching can be challenging, it should not be common practice, Plank wrote.
Find a preferred partner. In creating a teaching team, professors should consider personality, expertise and pedagogical philosophy, according to Vanderbilt University's Center for Teaching and Learning.
Prepare to disagree. Most instructors have freedom over how and what they teach, so collaboration will take intentionality in organization and preparation for when they are not in alignment on policies, assignments or content. Faculty members should prioritize mutual respect for the other person and their expertise and the ability to communicate effectively through areas of conflict.
Create a singular vision. While professors may think splitting a course means they can be disconnected from part of the material or responsibilities, students benefit from a cohesive vision that has a unified framework. Therefore, faculty members should be able to be present and engaged in all class sessions, not just theirs, according to the Center for Teaching and Learning at the University of California, Berkeley.
Do you have an academic success tip that might help others encourage student success? Tell us about it.