You have /5 articles left.
Sign up for a free account or log in.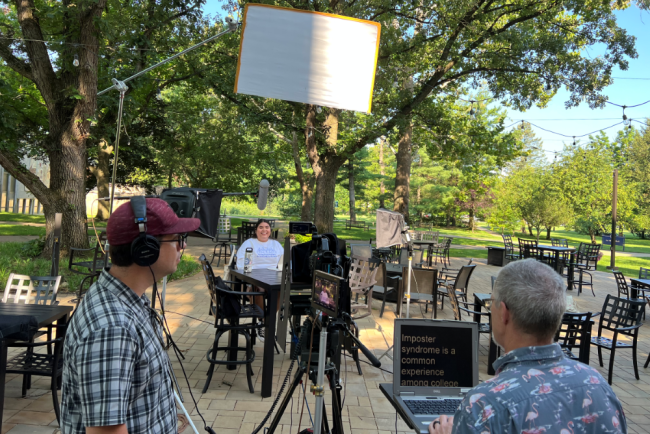 Saint Mary's College in Indiana
For many first-generation college students, understanding what they don't know is a challenging first step as they enter higher education and navigate unfamiliar structures and terminology.
Saint Mary's College in Notre Dame, Ind., welcomed its incoming class in August, among whom 28 percent were first-generation students—on par with the larger campus population. To better support students before they come to campus, the Office for Student Equity and its student employees created a video series highlighting first-generation students and their advice for how to survive college.
The five videos encourage viewers with a "you've got this!" message and discuss impostor syndrome, resources, finances, family expectations and personal care with practical advice and relevant campus services.
What's the need: Saint Mary's created the Office for Student Equity in 2021 to provide students with wraparound services, focusing on low-income and first-generation students in particular, director Christin Kloski explains. The college joined the Kessler Scholars Collaborative in 2022, as well, welcoming its first cohort of scholars this fall.
The office hosts regular, informal conversations with first-generation learners in the First Gen Fam club and First Gen Chats and learned there were more opportunities to equip students with knowledge about campus life prior to starting at the college.
Gen Z learners are known for their preference for video content and following YouTubers through their college journeys, so Kloski and her first-gen intern decided videos would be an effective way to reach their audience.
How it works: Each video is around ninety seconds to two minutes long, featuring one or two first-generation students currently enrolled at Saint Mary's College. The three women, representing the sophomore, junior and senior classes, talk candidly about their experiences and the obstacles students may experience while at college.
The video topics came organically, Kloski says. A second-year intern wrote the video scripts, referencing her own experiences as a new student, and the college's marketing team stepped in to help with filming and editing.
The first five videos published Sept. 7 and have just over 100 views between them on YouTube. Staff will show videos to current first-generation students in the upcoming first-gen week, as well.
One important theme was balancing family life and school. Because they're the first in their family to attend college, students are tasked with educating their parents on how higher education works while also managing the pressures that come with postsecondary education.
"It's a moment of becoming an adult and understanding how to balance what that's like here on campus as a student and what priorities are," Kloski says.
Most often, staff are pushing for students to stay in contact with family members, sharing what their classes are and creating open lines of communication. The videos also help serve as a resource for parents to understand their student's new lives and challenges.
Familiar faces: It was important to the team that specific offices were referenced throughout the videos so students know where to turn when they need help, Kloski says. "Putting in offices, putting in students who look familiar, a student who had the same experience as you … so before you get here, you are aware that you can go to the library for this, you can go to your RA for this."
A September report from Tyton Partners found first-generation students, though aware of available resources, were less likely to utilize them. Among services, over half (61 percent) of first-generation students were aware of mental health counseling, career advising and financial aid counseling, but a quarter or fewer would use those services (19, 23 and 25 percent, respectively).
Having current students star also breaks down misconceptions about asking for help and creates student ambassadors for the Office for Student Equity.
"The individuals who are part of it were really excited," Kloski says. The videos are featured on their personal social media accounts, and students updated their profile pictures with photos taken at the video shoot.
"It's making them feel comfortable with saying, 'I did this video; I want my friends to see it,' and making sure that our first-gen students also see it," Kloski says.
In the future, Kloski and her team plan to involve faculty and staff members who were first-generation college students to share their experiences beyond their undergraduate programs or in their personal lives.
Seeking stories from campus leaders, faculty members and staff for our Student Success focus. Share here.
This article has been updated to correct the year the Office of Student Equity was created.