You have /5 articles left.
Sign up for a free account or log in.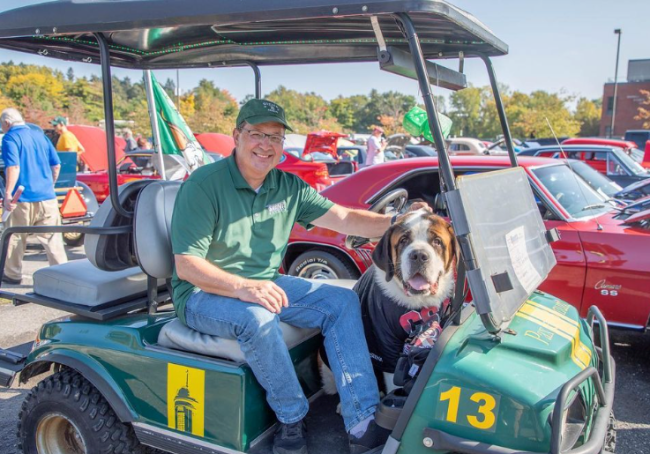 One might expect to find a college president sitting poised behind a big mahogany desk in their office, diligently working or answering calls—not zipping around campus on an electric golf cart, transporting students from the residence halls to their classes.
But, on the first day of every semester, University of Louisiana at Monroe president Ronald Berry drives a six-seat golf cart around campus, hauling students between academic buildings and wishing them luck on their first day.
Berry is one of many presidents who graces his campus in a college-colors caddie cart, greeting visitors, encouraging students or traveling between meetings. These presidents have identified a variety of reasons for making the treks and how golf cart moments benefit student life on campus.
What's the sitch: Presidents going out of their way to give students a lift aren't a new fad. In 2004, Rochester Institute of Technology's then president, Albert Simone, gave rides out on Labor Day as "an official welcome to campus" and a "unique opportunity to chat one-on-one with RIT's president," according to the university website.
At Siena College in New York, former president Friar Kevin Mullen and professor Friar Dennis Tamburello often drove around campus with students in their buggies.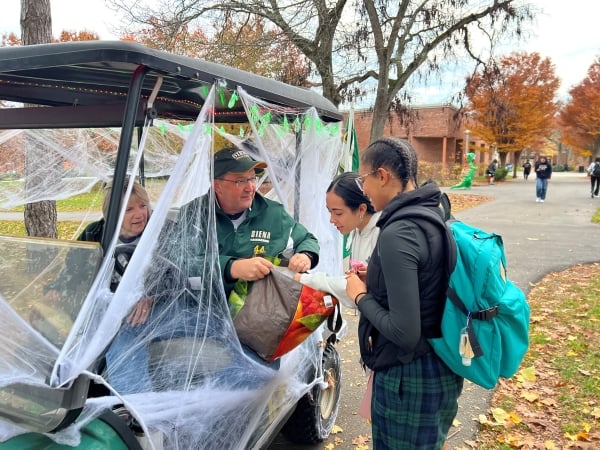 Newly minted Siena president Chuck Seifert started giving out rides after his inauguration in June, picking up students between his home on campus and his office. He also participated in a commuter-student car show, tricking out his cart with racing stripes, fuzzy dice, a flag and a big ol' speaker to play muscle car sounds.
Former University of Florida president Kent Fuchs gave free rides to his students in spring 2018 to greet them for their first day back to campus, passing out firm handshakes and welcome smiles. "I think I'm going to be an Uber driver—what do you think?" Fuchs joked in a video posted to UF's Facebook page. "Presidential Uber, half price."
Jim Tressel, president emeritus at Youngstown State University in Ohio, gave students rides because, he said, he got to meet new faces and save them time on their commute.
"When it's completely full, I scare them a bit and go fast," Tressel told the student newspaper, The Jambar, in a 2017 interview.
Auburn University president Christopher B. Roberts started off the fall 2023 semester in an orange-and-blue golf cart, towing students, a dog and Aubie the Tiger between academic buildings.
Why a golf cart? A golf cart, compared to other vehicles, is open-air, making the president identifiable as they drive by, and they are able to stop and pick up students or other community members who are heading in the same direction, explains Pepperdine University president Jim Gash.
So What?
College presidents, among other higher education stakeholders, have an important role in connecting with college students and increasing their feelings of belonging to the institution.
A recent poll by Gallup and Meta found 24 percent of the global population reported feeling very lonely or fairly lonely, and that number grows to 27 percent of young adults (aged 19 to 29). A Harvard Graduate School of Education survey of young adults found 34 percent feel lonely and 44 percent feel like they don't matter to others.
Further, a 2023 Student Voice survey from Inside Higher Ed and College Pulse found around one in three students believes their administrators have a responsibility to help students with their mental health issues.
The golf cart also addresses some common student complaints around a lack of parking or having to walk too far between buildings. Berry's campus doesn't have a parking problem, he shares, but Louisiana Monroe students appreciate not having to walk more than they have to.
Personally, Seifert finds enjoyment in using the cart and a perk of being the college president. "It's not all altruistic; this is a tough job … It's beneficial to find things that are fun to help mitigate some of the other parts of the job."
To cart or not to cart: Berry partnered with the university's student government association for his golf cart ride. Students set up a camera in the cart to record and edit his journey, which was shared later on Facebook. "It turned out to be a lot of fun," Berry says.
Not every ride is recorded, but the fall 2022 video was a hit among students because Berry ran into a sign while driving the cart.
The golf cart is Gash's vehicle of choice when he doesn't have plans to leave campus that day. Seifert gives more frequent rides whenever he has time, but not every student takes him up on it.
"I stopped next to one young lady and asked if she wanted a ride and she said, 'No thanks,'" Seifert says. "It was probably smart: don't get in golf carts with strangers."
While driving, presidents will ask students about themselves, their classes and any feedback they might have for the university. Registration at Siena College has been a pain point for students, so Seifert has more recently begun asking students how that experience is going.
"The most important part of our job is ensuring the success of our students, and what better way to do that than to truly develop a relationship with the students," Seifert says.
The impact: The experience helps students get to know Berry more on a personal level and helps introduce him to the new students on campus. For the start of fall 2023, Berry drove around with a sign that read "First Day of College" to have photo ops with first-years.
"I was one of those students—I'm an alum of ULM. I grew up in poverty, and I remember how scared I was to come to campus," Berry explains. Many of ULM's learners are from rural communities along the Louisiana bayou, and "It can still be very scary for students … I want them to be comfortable. I want them to feel like they have an ally."
As president, Gash hopes to be accessible and unguarded, he says. "A golf cart is a practical tool to facilitate meaningful connections at Pepperdine."
For other campus leaders looking to get in the driver's seat, Berry's advice is "pay attention and don't run into anything."
Seeking stories from campus leaders, faculty members and staff for our Student Success focus. Share here.