You have /5 articles left.
Sign up for a free account or log in.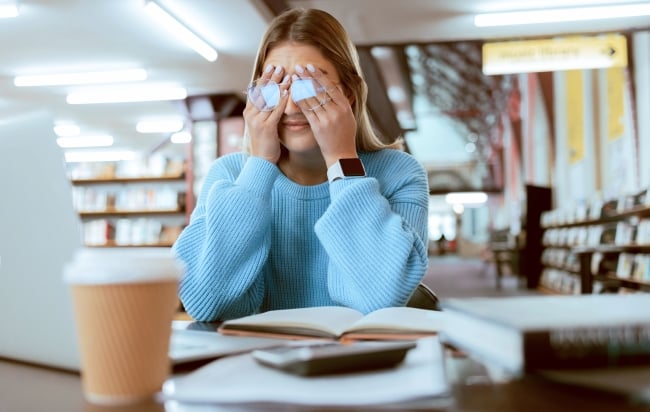 PeopleImages/iStock/Getty Images Plus
Nationally, anxiety and depression are more common among students than ever before, and a new study from Harvard's Graduate School of Education finds young adults are more likely than younger teens to feel on edge, lonely, unmoored and directionless.
Among 709 surveyed 18- to 25-year-olds, 36 percent reported anxiety and 29 percent reported depression. Financial worries (56 percent) and achievement pressures (51 percent) were among the most common negative influences on mental health, but loneliness (34 percent), feeling unimportant (44 percent) and a general "sense that things are falling apart" (45 percent) also impact students. Comparatively, 18 percent of those aged 14 to 17 had anxiety, and 15 percent experienced depression.
Higher education practitioners can support young people's mental health by encouraging them to find their life meaning, establish relationships and enjoy life outside of achievements.
Methodology
Researchers conducted focus groups and interviews with 35 teens (age 14 to 17), young adults (18 to 25) and adults who serve as caretakers of young people in 2022. The report also draws on a national survey of 396 teenagers, 709 young adults (18 to 25 years old) and 748 parents or caregivers.
Cultivate meaning and purpose. Helping young people identify a core sense of purpose that prioritizes participation in a larger-than-self mission can improve their academic, physical and mental health.
Focus group conversations revealed young people do not want solutions or for their problems to be fixed for them (around 40 percent of surveyed young adults indicated they have little faith in older adults' capacity to solve problems), but instead want to receive input on their own perspectives and experiences.
Older adults can cultivate meaningful purpose in young people by listening to and advising them. Individuals leading purpose-fostering interventions—including career, academic and therapeutic counseling—should help students identify long-term goals, agency, self-regulation and gratitude. Researchers also stress the importance of high-quality advising that provides spaces for students to reflect, evaluate their goals and improve their efforts.
Digging Deeper
To help students find their purpose, Harvard researchers suggest that educators try asking them the following questions:
What is your "ideal story," or the life that you aspire to lead?
What is your "ought story," or the life your parents expect you to lead?
What is your "almost story," or the life you haven't embarked on but are still curious about?
What is your "shame story," or the life you are afraid you will live?
What is your "existential story," or the beliefs you hold about the meaning of life?
What is your "pragmatic story," or the constraints and realities you face in your life?
By framing the different types of lives students could or want to lead, adults can help young people find their way toward the ideal story.
Develop gratifying and durable relationships. A majority of young people find meaning and purpose in their relationships, so students should be encouraged to invest in interpersonal relationships.
This summer, Surgeon General Vivek Murthy identified social connection as a national public health concern. Researchers believe that older adults should prioritize infrastructure that creates opportunities for young people to connect, educating students about loneliness and how to manage negative thoughts as well as promoting a sense of social responsibility.
Experience life beyond achievements. Achievement-related stress can overpower students' mental health, and young people can feel their lives are meaningless in a larger context.
Coming-of-age and gratitude rituals that ask students to reflect on their purpose in life beyond their individual participation can help young people root themselves. A capstone project, for example, can push students to consider what constitutes a meaningful life and what they owe to their communities and past and future generations.
Older adults can encourage awe and wonder among young people to find enjoyment outside of work as well. Subjects like the humanities, the sciences, the arts, history, anthropology and nature can frame daily experiences in the "larger life stream," according to the report.
Do you have a wellness tip that might help others encourage student success? Tell us about it.