You have /5 articles left.
Sign up for a free account or log in.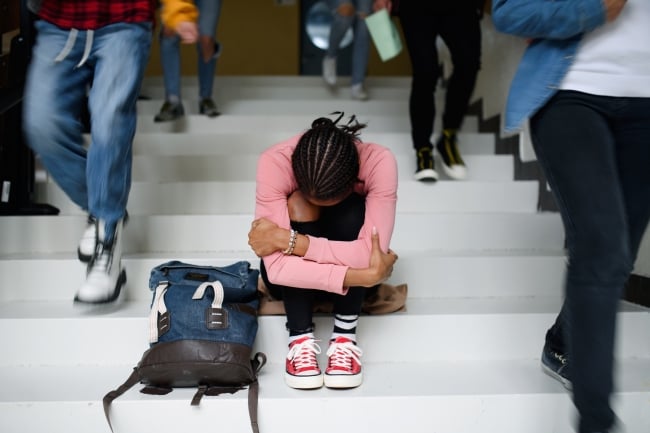 Halfpoint/iStock/Getty Images Plus
College students face a wide range of challenges in their mental health, and institutions may be compounding the problem.
A May report commissioned by the educational consultant group College Futures Foundation details the structures of higher education that can impact the mental well-being of its learners, both positively and negatively.
"While we know that higher education institutions cannot entirely remove these pressures from learners' lives, we at College Futures believe higher education institutions are responsible for supporting their students' success, and that student success is inextricably linked to student well-being," writes April Yee, senior program officer at the foundation, which is focused on degree attainment in California, in the report.
The report is designed to help institutional leaders and practitioners draw connections between their work and research findings to benefit students.
Throughout the research, marginalized students, including students of color and LGBTQ+ students, are kept in focus, as institutions can neglect or underserve diverse community members and their unique needs.
Areas of hurt: The researchers identified five areas in which colleges and universities can negatively impact students' mental well-being.
Institutions promote social isolation, especially for minority students. Students find they must become socially and academically integrated into campus to succeed, and if they fail to do so, can become socially isolated and depressed. This happens most often with minority students who cannot relate to the larger campus population. Institutions also remove students from their communities of origin, which can force students to choose between their heritage or their campus community.
Institutions sustain hostile climates. Campus climates can be hostile toward marginalized communities, like LGBTQ+ students, students of color or undocumented students. Institutions that do not acknowledge and address hostilities, like microaggressions or overt bigotry, hurt their learners.
Institutions promote individualistic, competitive attitudes. The competitive nature of college admissions is clear and can be perpetuated throughout the student experience, in grades, research, internships, graduate programs and more. Competition among college students can be tied to negative mental health outcomes like anxiety and depression and can reduce students' interest in creating relationships.
Institutions uphold high costs and promote debt. Colleges and universities can exacerbate students' financial positions, which are often precarious, due to high costs of tuition and other materials. Many students enter college underprepared to navigate the structures of higher education at all, much less to identify available financial aid opportunities. Education debt is harmful to students' mental health, particularly students of color and first-generation students.
Institutions create barriers to accessing mental health. Many colleges have complex mental health systems that make resources difficult to find and use. For minority students, feeling understood and seen by the campus counseling staff can also be a barrier, as they don't have the same background, shared experience or adequate cultural competency.
Opportunities to help: Despite some of the structures in higher education that presently impede healthy well-being among students, there are opportunities present to enhance the student experience that are unique to colleges and universities.
Teach proactive self-care. Faculty and staff can create assignments for students to promote creation and utilization of self-care strategies, like healthy sleep, diet and exercise habits as well as spirituality, mindfulness and gratitude. By leaning into already-present curriculum structures, practitioners can impact student success from within and impact their peers through mutual aid.
Foster belonging through connections. Social cohesion and belonging have been tied to lower levels of anxiety and depression. Positive connections to both the campus community, like other learners, faculty or staff members, and to a student's community of origin.
Affirm and validate students. While higher education is designed to promote and encourage student successes, creating daily or micro affirmations to recognize and validate the work of students is just as important. An essay-writing assignment around affirming a student's values, for example, can boost student confidence and persistence.
Embed diverse curriculum throughout disciplines. Ethnic studies can promote a sense of belonging and empowerment in addition to affirmation of a student's culture and belonging. Educators can incorporate culturally relevant and diverse curriculum into their courses to magnify this work.
Provide culturally relevant mental health programming. Culturally relevant interventions can expand awareness of mental health challenges, facilitate open dialogue, normalize discussion of mental health and promote strategies to help students navigate and cope with challenges. Counseling practitioners should also undergo training to provide effective and culturally relevant services for communities of color.
Seeking stories from campus leaders, faculty members and staff for our Student Success focus. Share here.