You have /5 articles left.
Sign up for a free account or log in.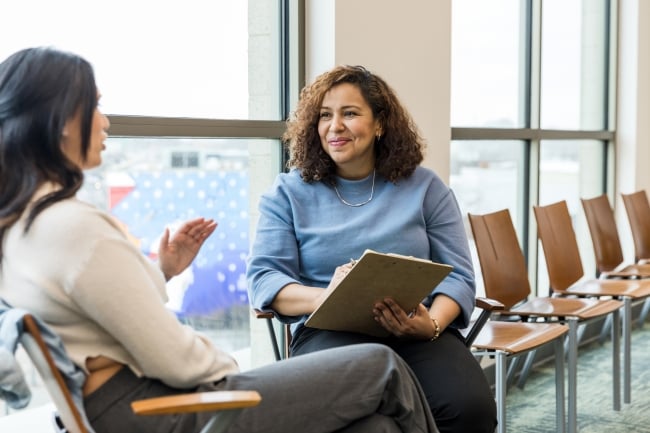 SDI Productions/E+/Getty Images
Many colleges and universities are scaling mental health services and resources for students to accommodate greater need on campus. However, a summer 2023 Student Voice survey by Inside Higher Ed and College Pulse found two-thirds of students haven't used a campus mental health resource. Among students who rate their mental health as poor, half have yet to utilize campus services.
To encourage students to participate in on-campus counseling, Cornell University established a drop-in consultation program that allows students to meet with a Cornell Health counselor outside the office. Let's Talk Cornell offers learners short visits with staff on a first-come, first-served basis to share problems, explore solutions or establish rapport for a formal counseling service.
The program has been modeled at other institutions around the country, giving students a foot in the door to counseling.
The background: Let's Talk launched in 2009 after student surveys revealed only some of Cornell's students who were experiencing mental health distress were seeking services, says David Reetz, director of Counseling and Psychological Services at Cornell Health.
CAPS saw greater utilization gaps among minority students, partly due to an unfamiliarity with services or discomfort with the process of traditional counseling.
"The goal was to create more comfortable awareness of mental health providers [and] services available and engage in early problem-solving," Reetz says.
To better reach minoritized populations, CAPS staff piloted informal drop-in consultations across campus in spaces where students already spent time to chat about present concerns learners had.
How it works: Cornell has nine staff members who lead Let's Talk conversations, according to the university website. Staff offer Let's Talk sessions every weekday in person or via Zoom (since remote instruction in 2020) for around an hour and a half at a time.
"Informal drop-in locations are determined by proximity to communities that are identified as traditionally underutilizing mental health services, both broadly and at Cornell University," Reetz says. This fall, Let's Talk locations include the Center for Student Equity, Empowerment and Belonging and International Student Services.
Each Let's Talk session lasts 20 to 25 minutes, based on availability of a provider. Students may have to wait for an appointment during busy times and may not be seen during the available hours on occasion, according to the Let's Talk website.
Undergraduate, graduate and professional students can use the service, which is best suited for four types of students, according to Cornell's FAQs:
Those who have never participated in counseling, are unsure about counseling or are curious about speaking with a counselor.
Those uninterested in ongoing counseling but who want a counselor's perspective.
Those with a specific problem who want to talk through it with another person.
Those wanting to learn more about mental health offerings at the university and how to access them.
Let's Talk is not a substitute for counseling or psychiatry and is not designed for students already in counseling or those who want to start regular counseling, CAPS cautions.
There's no limit on the number of drop-in visits a student can take, but most students are referred to other student support offices or formal CAPS services, reducing the need for a repeat visit, Reetz says.
The impact: Cornell has seen proven success with Let's Talk increasing the number of students utilizing its counseling center, particularly those from minoritized populations, adds Reetz.
Over 100 universities and colleges across the U.S. have adopted Let's Talk, including Ithaca College, Catholic University of America, Northwestern University, Auburn University, the University of Georgia and Montana State University.
DIY: For an institution looking to model Let's Talk, staff should consider the following.
Clinician time. The success of Let's Talk is a bit of a paradox, Reetz explains. To increase mental health service utilization, clinical staff must reserve time to meet students informally, which reduces their capacity for traditional counseling. To balance this, administrators should consider investing in additional clinical positions.
Available space. An ideal space is in a well-trafficked area but also conducive to a private conversation, which often require partnerships with various student service locations.
Advertising. Cornell posts times and locations of Let's Talk offerings online, at respective sites and around on campus.
If your student success program has a unique feature or twist, we'd like to know about it. Click here to submit.