You have /5 articles left.
Sign up for a free account or log in.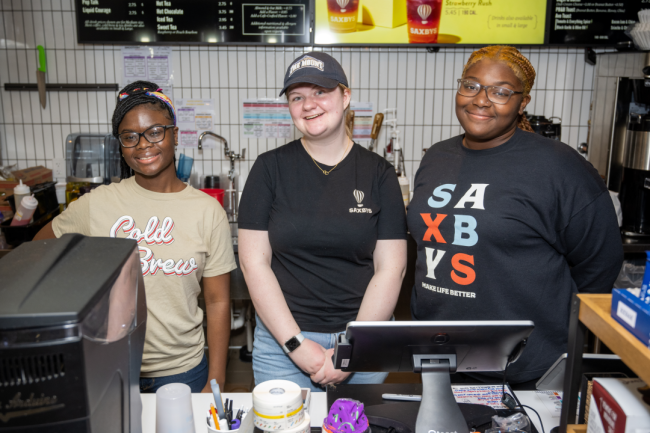 Mount St. Mary's University
For students, adding a new coffee shop to campus is always a benefit to their college experience. But Saxbys at Mount St. Mary's University isn't just an additional source of caffeine or a place to meet with friends and faculty members. It's a student-run operation with the opportunity to learn operations, sales, management—and how to brew the best chai latte.
This fall, Mount St. Mary's in Maryland reopened its renovated Knott Academic Center by adding a Saxbys Café location, creating a new opportunity for students to work and gain experiential learning.
"This is extraordinary experience … they get both tasks and functions of business and the people side, you wouldn't get that in any one typical internship or other experiential learning platform," says business professor Christina Green, who serves as faculty mentor of Saxbys at Mount St. Mary's.
Getting a caffeine fix: Internship experience has a demonstrated correlation in benefiting students after graduation, but a 2022 Student Voice survey from Inside Higher Ed and College Pulse found four in 10 students had no experiential learning or internship experience while in college. During the 2021–22 academic year, only 22 percent of undergraduates completed an internship, according to the Center for Research on College-Workforce transitions.
Increasingly, institutions are offering on-campus internships, particularly for first-generation or low-income students who may be unable to secure an internship outside their college or university.
At a Saxbys cafe, all staffing roles are held by students under the direction of a student chief executive officer (SCEO). Student employees are responsible for team development, profit and overall operational effectiveness of the coffee shop, serving coffees, teas, treats and other food items to the campus community.
Beyond paid work experience, students can earn credentials and academic credit through Saxbys' experiential learning platform.
Working mug in hand: The cafe at Mount St. Mary's is one of 15 in Saxbys' experiential learning portfolio. The group started in 2015 and has spread from Philadelphia across Pennsylvania and into Ohio and Maryland, partnering with institutional leaders looking to expand experiential learning opportunities.
The academic component of Mount St. Mary's cafe is housed in the business school, and Green serves as the faculty liaison and student CEO mentor. She meets with the SCEO weekly to discuss how the cafe is running and connect experiences to different learning outcomes.
Saxbys, on the operational side, handles the coordination and organization of the new cafe, including hiring and training staff members.
Brewing up: For most students, joining Saxbys is like getting any other job, applying through Saxbys' website and undergoing training on-site. There is no grade or major requirement to be a Saxbys team member.
While working at the cafe, part-time members can earn experiential learning badges in supply chain management, talent acquisition and training and development.
To be a SCEO, which takes place over one semester, a student must be at least a sophomore and not taking any other courses that semester. There are no formal eligibility requirements, but Green finds a successful SCEO will have strong time-management, interpersonal and management skills. Being business-minded helps, but the opportunity isn't limited to business students.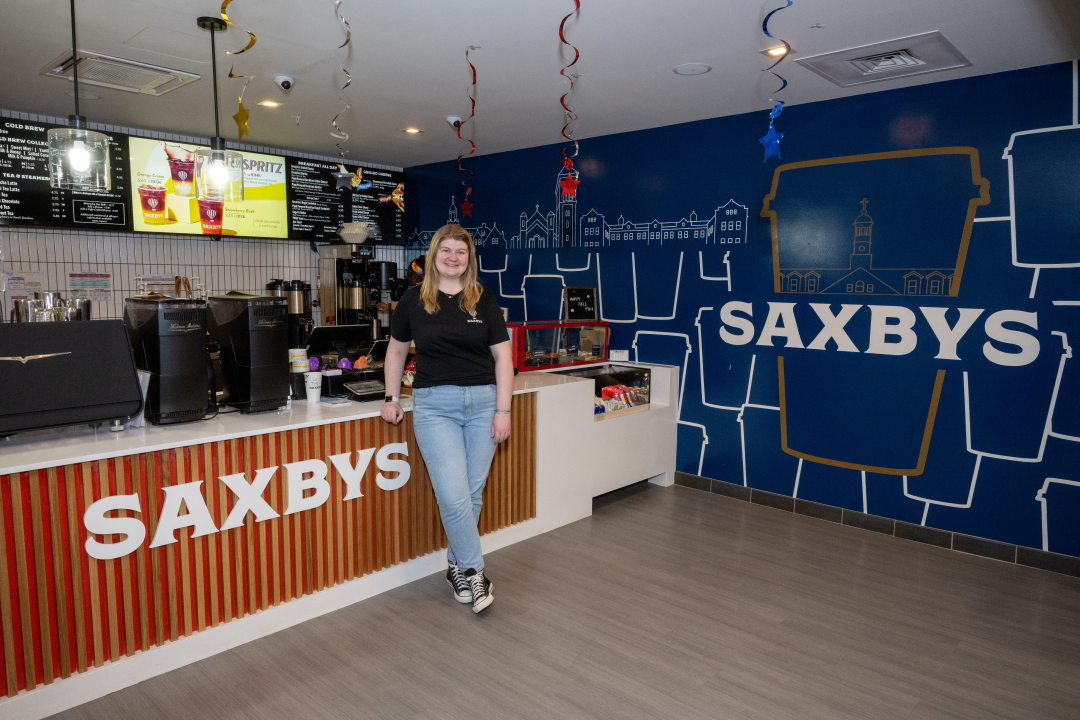 The SCEO earns nine academic credits in internship experience through their Saxbys work, around 40 to 60 hours per week, and completes a three-credit independent leadership course alongside Green. The 12-credit load allows the SCEO to focus fully on their work while maintaining full-time standing.
All of Saxbys SCEOs complete training at the organization's headquarters prior to starting their term as head of the shop.
Serving excellence: The Mount St. Mary's cafe opened in August, and it was not without its challenges, Green shares.
"It was new for our campus community; it was new for faculty and staff to see, for administration to understand how this new partnership is working," Green says. "And we're customers to the cafe, so what does this process look like? We saw some of that learning curve go through, which is to be expected."
The inaugural SCEO, Chloe Knill, gained knowledge about running a business, managing a team of 30 and about her own skill set, "what our ultimate goal was," Green says.
"This is the only experience that I have been a part of where students get to manage a team and are fully responsible and held accountable for the business," Green says. "In general, most internships, they would be assigned to a project, you learn some new task, but you're not fully responsible for an entire team and entire businesses success or failure. And with Saxbys, you get that."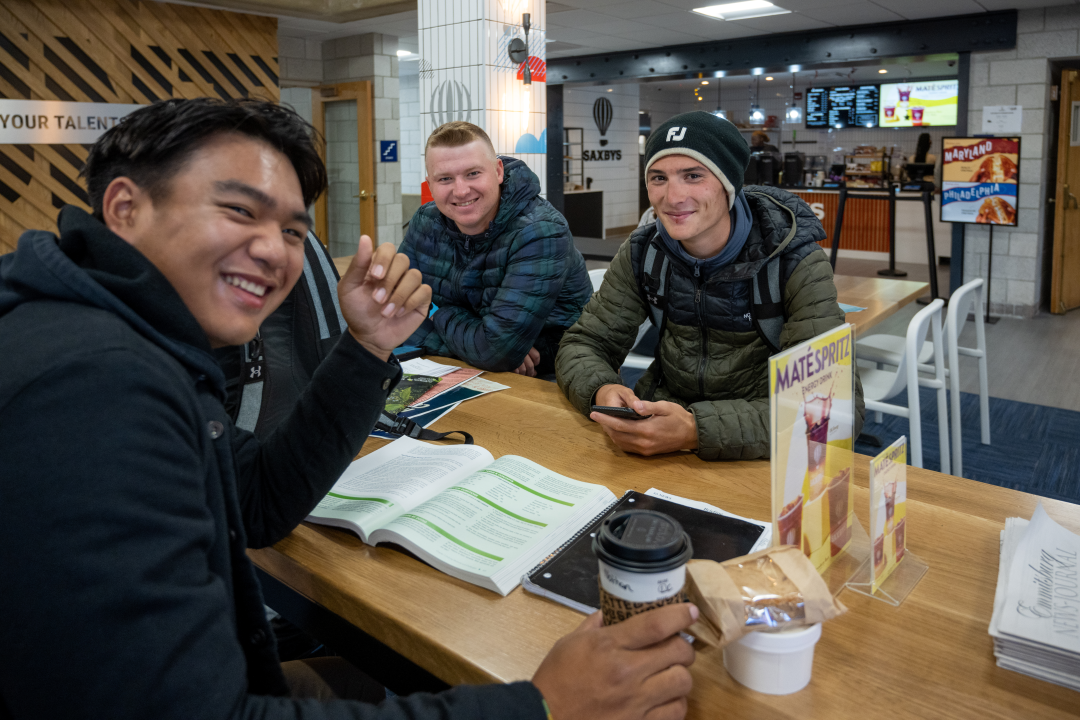 The subsequent SCEOs have started as part-time employees, creating a new challenge of transitioning out from a peer to a leader among the Saxbys team, but aiding in overall knowledge of the coffee shop and its operations.
Over all, Green sees the cafe as a success for student workers and in campus engagement.
"The addition of the cafe has just brought life to this space, on our first floor of the academic center. Just seeing students congregate there before in between after classes grabbing a coffee or grilled cheese … We've seen a lot of great benefits in terms of community for the entire university."
How does your college or university promote experiential learning for students? Share here.