You have /5 articles left.
Sign up for a free account or log in.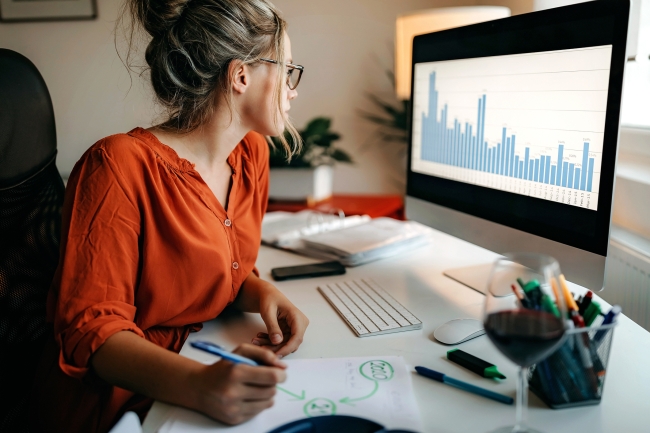 Eclipse Images/Getty Images
Higher ed administrators and researchers say collecting and analyzing labor market data has become increasingly important as big data grows, new analytics platforms emerge and external pressure for transparency intensifies.
University and college leaders across the country are increasingly looking to labor market information, or LMI, to showcase the employment outcomes of their graduates, their long-term earnings potential and the career trajectories of certain majors, among other measurements of postcollege success.
The reliance on such data comes at a time when higher ed is under growing scrutiny by students and parents, state and federal policy makers, and vocal and skeptical critics from various quarters—all questioning the high and rising cost of college and whether it provides a return on the investment.
A recent study by the Rutgers University Education and Employment Research Center found that LMI is also being used in program and curriculum reviews, recruitment and enrollment strategies, and student career advising because of "an enormous proliferation of data availability."
"These data are coming into higher ed at a point when the issues of how to help prepare students for careers have heightened in importance and interest," said Michelle Van Noy, director of the research center and co-author of two reports on the study. "Students come to higher education largely because they want to prepare for a good career … These labor market information resources are part of that trend."
Exactly how and why individual institutions choose to use these data, however, varies widely and doesn't have "a one-size-fits-all approach," Van Noy said. Experts say that for many institutions, especially four-year colleges and universities, the process of expanding LMI integration is happening slowly and not without tension.
Different Approaches
The study consisted of 10 case studies at five two-year colleges and five universities and a survey of more than 400 campus officials who mostly work on LMI. The results of the studies and survey were used to advise institutions on how to use LMI most effectively.
One of the most notable patterns that emerged from the study was that two-year institutions tended to utilize LMI more heavily, with different motivations and in a more centralized manner than four-year colleges.
For example, nearly 60 percent of two-year colleges reported using private vendors to provide LMI data. Only about half of respondents at public four-year colleges and about one-third of private institutions reported doing the same. The use of federal data (such as those from the Bureau of Labor Statistics) followed a similar pattern.
Similar differentiations between two- and four-year institutions were found among survey respondents who were asked what they sought to learn from LMI. Although nearly all two-year college respondents (96 percent) said they used the data to research the skills required for jobs, only 70 percent of those at public four-year colleges and 60 percent of respondents at private four-year colleges said they sought the same information.
Victoria Coty, a co-author on the reports and doctoral student at Rutgers, explained that some of the two-year community and technical college programs faced higher "external pressures" from funders to prove that programs were aligned with labor market needs and were more likely to have an LMI-driven approach to new program development and review. She said this likely influenced many institutions to create "dedicated roles" focused on LMI.
Tana Hicks, senior director of the Labor Market Intelligence Center at Dallas College in Texas, a community college that was one of the case studies highlighted in the report, said she gets frequent requests from program and department leaders who need data to support the value and viability of grant-funded programs.
The center serves the college's seven campuses and also provides technical support in analyzing and using the data.
"It gives our students, our faculty, our chairs, our vice provost some confidence in the decisions that they're making," Hicks said. "These quick turnaround programs that we offer are supposed to propel [students] into careers that are long lasting, good paying and essentially don't require the money and time that a bachelor's degree does. We have to be able to provide some reassurance as an institution that we're offering programs that are going to lead them into that direction."
Labor market information integration at many four-year institutions was often more "organic," less "centralized" and less "tied to the labor market," Coty explained.
For example, West Virginia University also requires LMI data for the proposal or renewal of academic programs, but the university does not have an LMI-specific department. Instead, it has about 15 individuals across the Office of Curriculum Development and Review and several colleges that are licensed to access the university's private data services and disseminate the information.
"It's easy for us to think about what happens while students are on campus and not think a lot about what happens when they go out in the job market," said Robynn Shannon, director of curriculum development at WVU. "Having these reports, it's a stimulus for people to start thinking and talking about these things."
A 'Public Clamoring'
Yet some experts say the integration of LMI has been slow and faces pushback from some higher education officials, particularly at four-year institutions.
Martin Van Der Werf, director of editorial and education policy at the Georgetown University Center on Education and the Workforce, agreed that LMI is "an increasingly important tool" but added that it's one of many important factors for colleges to consider.
"Colleges cannot just be teaching to fill current labor-market needs; they must be thinking about how the labor market is evolving and what skills employers find most valuable," Van Der Werf said.
He said four-year institutions are more focused on providing students with a well-rounded education and, as a result, the integration of LMI has been slower.
"Public demand and probably public policy is forcing them to take a little bit closer look at labor market information," Van Der Werf said. "But then there's a huge crosscurrent in those institutions that says, 'We're not here just to train people for specific jobs at the local company or factory, we're here to give a holistic education.'"
He expects the most growth in LMI at four-year institutions to occur at regional public institutions facing steep market disadvantages as the result of the shrinking population of traditional college-age students. But he believes the demand for LMI will significantly increase over time.
"You can't ignore this public clamoring," he said.
Michael Itzkowitz, founder and president of the HEA Group, a higher education consulting agency, said institutions are "just starting to understand" how LMI can be used.
"It's critical that if students are spending time and money to pursue a higher education credential that they're rewarded by doing so," said Itzkowitz, who is also the former director of the Department of Education's College Scorecard. "No students should be drowning in unmanageable debt with low earnings after they attend that institution."
"It takes time for this type of information to weed its way into institutional decision-making, but we do see a start," he said, adding that LMI presents an opportunity for colleges and universities "to get on board or be left behind."