You have /5 articles left.
Sign up for a free account or log in.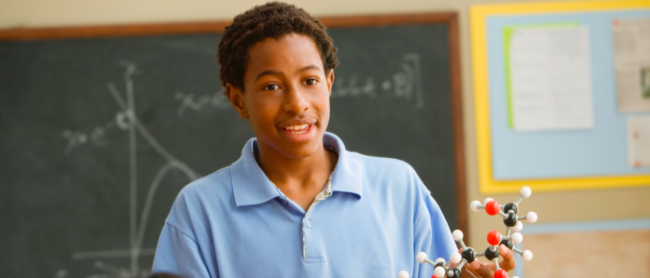 In recent years, a number of high school districts and a few states have moved to require high school students to complete much more sophisticated projects to assess their eligibility for a high school diploma, and their preparation for college and the world of work.
These "performance assessments" frequently are based on synthesis of skills, rather than showing some level of competency in particular academic subjects. And these assessments typically mix individual performance with group work.
For instance, Rhode Island has adopted a new "diploma system" that will soon require all students to demonstrate competency in critical thinking, problem solving, research, communication, decision making, interpreting information, analytic reasoning and personal or social responsibility. Each school district will have to develop a system to award "certificates of mastery" for those who complete these tests, based on portfolios for each student.
Across the country, the California Performance Assessment Collaborative is taking a similar approach. Already 40 high schools are involved, including schools in Fresno, Long Beach, Los Angeles, Oakland, Pasadena and San Francisco.
A report issued last week by the Learning Policy Institute and EducationCounsel proposes that these high school assessments could be the basis of new and improved ways to admit students to college. The institute is a research organization, and EducationCounsel is a legal organization that has played a key role in defending the use of affirmative action in college admissions.
The effort is receiving support and participation from major admissions organizations (the American Association of Collegiate Registrars and Admissions Officers and the National Association for College Admission Counseling) and leading colleges and systems (the California Community Colleges, Massachusetts Institute of Technology, Pomona College, Smith College, the University of California at Riverside, the University of Michigan, the University of Texas at Austin, and others).
Proponents of the new system are creating a series of task forces to determine how the various high school assessments could be better understood by colleges so that they could have the credibility of, say, an Advanced Placement course.
The report argues that these high school assessments, or at least some of them, could be better ways to predict college success than traditional methods of grades and test scores. While not proposing to eliminate traditional measures, the report argues that these measures could allow for better-informed decisions by admissions officers.
The report also argues that this approach would build better ties between secondary and higher education, and would help identify talent for college that might be overlooked by traditional measures.
This new approach would "improve how 'merit' is assessed in the admission process," the report says. Further, this approach would "enhance efforts to admit and retain a more diverse group of students in all institutions, including those considered elite."
Multiple Reform Efforts
The new push for using performance assessment in college admissions comes at a time when several groups are working to push for changes in college admissions. In 2015, about 80 colleges and universities announced plans for the Coalition for Access, Affordability and Success. The coalition is promoting the idea that students create digital portfolios of work throughout high school. Then in May, dozes of private high schools announced a plan to rethink the high school transcript and replace it with a "mastery transcript" that could also be the basis of college admissions decisions -- without traditional test scores and grade point averages. This group is known as the Mastery Transcript Consortium.
Some educators are involved in more than one of these three efforts -- and organizers said that they viewed these different projects as complementing and not competing with one another. The commonality, they said, is frustration with the current system of college admissions.
Scott Looney, one of the founders of the Mastery Transcript Consortium, and its board chair, said the project is moving along, has support from more than 160 private schools and has raised more than $4 million. Also, he said schools are being identified to start pilot projects to create the new transcripts.
Looney, who is head of school at the Hawken School, said that each of these efforts are "a subset of a much broader movement" to change how high school students are evaluated and admitted to college. "If we don't change what we assess and how we assess, we can't change," he said.
While his focus is on the transcript, he said he is pleased with the new effort around performance assessment. Ultimately, he said, many ideas are needed to take on the dominance of the Carnegie unit and testing as a way of measuring what goes on in high school.
What excited him about the new approach is that it is based "on having interdisciplinary and real-world" assessments of students.
A Need for Better Information
Roneeta Guha, senior researcher at the Learning Policy Institute and one of the authors of the report, said in an interview that the underlying assumption of those supporting this effort is that college admissions officers need more and better information.
The new high school assessments have students "engaged in authentic projects and performance tasks," she said.
If these assessments have more influence, such as in college admissions, they may also lead to reforms in high schools, Guha said.
The idea, she said, isn't necessarily to replace standardized tests or grades (although the report notes with apparent approval the trend of more colleges dropping admissions test requirements). The new assessments would "supplement, not replace" existing measures, she said.
Many of those involved in the new effort are advocates for more diversity in higher education. Guha said that the measures that are being promoted for college admissions are measures that may not have the same patterns as standardized tests, on which white and Asian students on average earn higher scores than do black and Latino students, and on which wealthier students score higher on average than low-income students.
"I would say that the use of performance assessments creates an opportunity to improve access and diversity," Guha said. "Students can showcase their talent and skills in multiple ways."