You have /5 articles left.
Sign up for a free account or log in.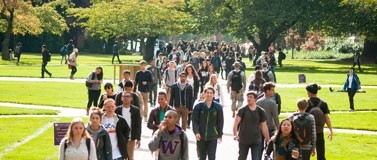 To consider the state of public higher education in this year of the coronavirus pandemic, look at the University of Florida:
Over all, Florida has 6,633 people who have paid a deposit to enroll as freshmen in the fall. That's down 1 percent from where Florida was last year at this time, but is still above its target (6,550). But Florida's entire deficit in freshmen has a single source: international students. Last year at this time, Florida had 322. This year the total is 155.
When all is said and done, Florida expects the same number of students in the fall -- 50,000, counting undergraduates, graduate and professional school students -- as it had last fall. And it's been checking in all the way along the path.
For public research universities, the admissions picture is cautiously stable. Plenty of things could still happen between now and when students actually show up. Summer melt -- those students who make a deposit and don't come -- could be far worse than in the past. But right now, the numbers are largely OK.
Regional public universities are experiencing much more of a mix, with some institutions holding steady and others losing ground. But that's the way it was last year and the year before and the year before that. Some, like California State University's 23 campuses, are doing fine (despite saying that they will be mostly online) because the population of California is growing. Others are struggling, but largely because of demographic changes in the states in parts of the country that are losing population, not the pandemic.
Of course community colleges are a key part of public higher education, but they tend to recruit throughout the summer, so Inside Higher Ed will review their enrollment strategies and successes in two months. Inside Higher Ed reviewed private colleges' performance last week -- finding that some are doing well and others not.
The picture that is emerging is not one that was predicted just a month or so ago. Survey after survey found that high numbers of freshmen -- perhaps 20 percent or more -- were planning to alter their previous plan for colleges, perhaps by going to a community college, and perhaps not going to college.
Elizabeth Johnson, chairman of SimpsonScarborough, which produced two of those surveys, said she agreed (with some hope) that the picture has changed.
"It's important to remember that we collected our data before any institutions made any announcements about opening in the fall," she said. "That was still a big open question at the time. Now, so many schools have announced they will open and the kids and families are indicating they are going to show up."
SimpsonScarborough is currently planning another survey.
What the Numbers Show
Many public institutions do not release numbers this early in the year (any year). But enough agreed to provide some inside information to get a sense of trends.
Among public research universities, the trends were positive.
North Carolina State University currently has deposits from 4,913 freshmen (on a target of 4,775) and 1,495 transfer students (on a target of 1,400).
At the University of North Carolina at Chapel Hill, more students than ever have committed to attend in the fall. The previous record was 4,355, and the campus aims to enroll 4,200.
There are many theories on summer melt this year. Some say universities will lose more than a few hundred students. Others, however, primarily where most students come from the state, say they may lose fewer than in the past, as students prefer to stay in their home states.
At the University of Washington, in Seattle, where the pandemic first hit the United States, 7,698 people have committed to enroll as freshmen in the fall, up from 7,018 on the same date last year, and well above the total goal of 7,000. Most of the increase is from U.S. nonresidents of Washington State.
At the University of Virginia, 4,000 freshmen have committed to enroll; the target is 3,748. Brian T. Coy, a spokesman, said that "more attrition than normal" was expected.
In the Midwest, the University of Minnesota-Twin Cities is expecting 6,776 freshmen in the fall (compared to 6,733 at this point last year).
And the University of Michigan has 7,298 deposits from freshmen, while the target is 7,182.
At the University of Colorado at Boulder, a spokeswoman said the institution was on target to be the same as last year: 7,113 students.
One reason public research universities are confident of reaching their totals is that, if they get more summer melt than expected, they have waiting lists (which some have already used).
A spokeswoman for the University of Texas at Austin said via email, "Based on where we are now in terms of registrations, we are cautiously optimistic about fall enrollment, though like other institutions around the country we are watching carefully to see how conditions from the pandemic could affect the situation."
The University of California system has not yet released its numbers this year, but off-the-record positive reports from campuses were confirmed by Sarah McBride, a spokeswoman, who said via email, "We do know that campuses are working diligently through their wait lists, and at most campuses both California resident and nonresident enrollment is closing in on targets similar to past years."
Pennsylvania State University says it currently has 16,744 freshmen signed up, an increase of 0.4 percent over this time last year. "However, we do want to note that we expect these numbers to fluctuate as they do every year before student arrival and even after student arrival due to a number of reasons (e.g., students do not show up; we gain more students due to rolling admissions; students leave prior to our official fall count, etc.). Of course the global COVID-19 pandemic has major implications for all aspects of higher education. So this figure is not an official count," said Lisa M. Powers, a spokeswoman.
Michael Reilly, executive director of the American Association of Collegiate Registrars and Admissions Officers, said, "Summer enrollments seemed strong across higher education, which was a bit of a surprise given students' general dislike of the virtual format. I agree that fall does not appear to be as bleak as some predicted as little as a month ago."
He said he still sees reason to worry. "Two concerns I see are whether first-time freshmen will choose to begin their studies online or delay their start, and how having more than 30 million Americans out of work will impact the ability of individuals and families to pay for college in the fall."
Regional Publics: 'All Over the Place'
At regional public universities, admissions this year is "all over the place" and there's "no consistency," said Mildred García, president of the American Association of State Colleges and Universities.
Frank Sobrino, a spokesman for the City University of New York, said, "While our fall 2020 projections need to be taken with caution, we are projecting an overall enrollment decline of approximately 4.4 percent for the fall. We are seeing similar trends for senior colleges compared to last year, but enrollment is open through the end of August and we expect these numbers to fluctuate.​​"
CUNY, of course, was hit hard, as was everyone at a New York City college, by the pandemic. But a 4.4 percent decline is notable for not being the 20 percent or more that surveys suggested.
Eastern Michigan University, like many regional publics, does not use the May 1 (or this year June 1) deadline day to reply to an admissions offer. Currently, the university is down 8.4 percent on new students for the fall, but it has two more registration dates in June to close that. The university is also offering students who want them a single room.
At the Pennsylvania State System of Higher Education, freshman deposits are down 1.7 percent across its campuses.
But the Pennsylvania system has been losing students for years.
In North Carolina, East Carolina University currently has deposits from 4,629 freshmen, with a goal of 4,454. "We continue to be hopeful that we will meet that goal as of fall census. However, like our higher education colleagues across the state and country, we are unsure how COVID-19 will ultimately affect students' decisions and these numbers," said Jeannine Manning Hutson, chief communications officer.
At Winston-Salem State University, a historically black college in North Carolina, Joel Lee, the assistant vice chancellor for enrollment management, said, "We are on pace to meet our freshman class target."
The university estimates that it needs 1,500 people making a commitment to "yield 1,000 actual enrollments," Lee said. The university is currently at 1,450, 7 percent ahead of last year, and still talking to lots of potential students.
At Longwood University, in rural Virginia, Justin Pope, chief of staff and vice president, said, "Right now we're feeling cautiously optimistic that we have avoided some of the more dire forecasts for across higher ed."
As of Thursday, total incoming freshman and transfer deposits were 1,046, which is about 77 ahead of last year (8 percent). "Considering what the world looked like in March and April, we are immensely pleased to have a meaningfully larger incoming class than a year ago," Pope said. "We think our small college-town setting and a trend of Virginia students looking for good options closer to home have helped."