You have /5 articles left.
Sign up for a free account or log in.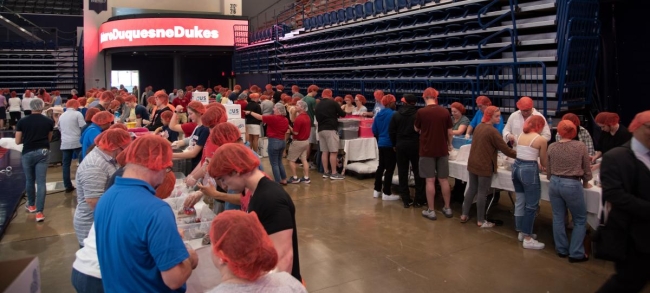 One day in April at Duquesne University, more than 500 people—wearing hairnets and in 18 assembly lines—spent about an hour each packing 75,744 meals of red lentil jambalaya for those who don't have homes or food. The event was organized on an admissions day for students who had been admitted to Duquesne but hadn't yet decided whether to enroll. They worked with U.S. Hunger, a national group that fights poverty and helps those who lack food.
Joel Bauman, senior vice president for enrollment management, said the idea was to demonstrate some of what makes Duquesne a special place. It's located in Pittsburgh and is deeply committed to helping those in the area who are low income. Duquesne is Roman Catholic and the only Spiritan college or university in the United States. "This was a cultural moment, of saying that you are part of the Duquesne community," Bauman said.
Every college, of course, depends on enrollment to fulfill its purpose of educating students. But for most colleges, enrollment of new students is also key to their financial survival. And for most colleges, May 1—the traditional date for admitted applicants to say whether they will enroll—has long ceased to be the end of the process. It is still a key date, of course, but it is one of many. So this article will not include any Ivy League colleges (or their like) or flagship public universities. It will also not include colleges that are truly in danger of not having enough students in the fall. Or community colleges, which operate on a different calendar. But it includes colleges that admit most students who apply, which the vast majority of four-year colleges do.
Rather, this article will look at good colleges with programs of pride. But these colleges don't have billion-dollar endowments or truly international reputations. All four colleges in this story say they are having a good year in admissions, but all of them are still admitting students for the fall.
And they are not alone. In early April, the National Association for College Admission Counseling published a list of colleges still accepting applications for the fall. At the time, there were more than 200 colleges on the list. As of Friday, with NACAC adding and removing colleges as they request, there were 352 colleges on the list.
Record Applications
At Duquesne, the admissions cycle started off with a record 12,913 applications—20 percent more than last year and well above the 7,500 that the university received pre-pandemic.
The college admitted about 10,000 of them, aiming for a freshman class of 1,500.
Bauman said that 1,520 students have submitted a deposit for a place in the class. That would be great—except for summer melt, the annual exodus of admitted applicants who are admitted off waiting lists at other institutions or whose circumstances change in some way.
Currently, Duquesne is projecting a summer melt rate of 10 to 12 percent, which is what it had before the pandemic.
All kinds of factors go into that projection. For instance, Duquesne has more than 25 deposits from international students. The university was down to 10 new international students during the pandemic years, so Bauman is pleased by the total. But he said he knows nothing about whether visas will be granted or how the COVID-19 pandemic may change in various countries.
Other efforts this year have tried to personalize the process. If a student asked about anything she saw on the website, the response would be prompt and would reference what the person was interested in. The university redesigned financial aid forms to make them more conversational and easier to understand. And the university adopted days for admitted students to visit it in May (pushing back a day for juniors).
Bauman thinks this year will end up being a good one for Duquesne. He anticipates being able to get enough new students to make up for those he is likely to lose. But he'll have a busy summer.
'Worried About Summer Melt'
At Montclair State University, Wendy Lin-Cook, vice president for enrollment management, has a similar story, although her New Jersey institution is public.
The university set a record for applications with more than 20,000. It has just under 4,000 spots for admitted students and just over 4,000 deposits. "We're definitely worried about summer melt," she said.
Before the pandemic, the university lost around 10 percent of students to summer melt. Pandemic summer melt grew, but Lin-Cook is expecting it to return to normal levels this year.
The competition among universities is greater than in the past, Lin-Cook said. In the wake of NACAC changing its rules on recruitment (in response to pressure from the U.S. Justice Department), every student can be "poached," she said.
"We see more students coming and asking for more money because another college gave them more money," she said. Those requests are not necessarily based on financial need, Lin-Cook said. "The well-to-do are more informed" and more likely to request more aid.
For Montclair State, that can be difficult. "We take our commitment as a state institution very seriously," she said.
What the Competition Looks Like
W. Kent Barnds, executive vice president for external relations and enrollment at Augustana College, in Illinois, offered an example of the competition: "Yesterday I lost a student to a direct competitor who deposited in December. The competitor offered the student a full tuition scholarship last week, and we couldn't afford to match it, and the student couldn't afford to pass on it."
Over all, Augustana has 649 deposits, with a goal of 650 for the year. Again but for summer melt, the college would be sitting comfortably.
But there is summer melt, and Barnds said he is especially worried about international students.
"We do not have the balance we'd hoped for between domestic and international students and recognize that there's some risk with the proportion of international students we have in our mix," he said. Currently Augustana has about 150 international students, which will be great if they all get visas and come.
"While we are in pretty good shape, I think changes in the marketplace and new behaviors among competitors would force me to include Augustana on the [NACAC] list even if we were 60 over goal," he said. "Our presence is an acknowledgment that the work continues through the summer and up to the start of classes, no matter how strong the tuition deposits are in early May."
Personal Letters
At Ohio Wesleyan University, the university is over its goal of 450 (including transfer students) with 486 students having made deposits as of last week, said Stefanie D. Niles, vice president for enrollment and communications and the next president of Cottey College.
"We actually hit our goal prior to May 1," Niles added.
She said a "very dogged" campaign led to 5,100 applications, a record. But she said that in the admissions decisions, the university wanted to admit "students who would succeed here."
Everything was very personal, she said.
While admissions decisions are sent digitally, every admitted student receives (via snail mail) a package of information about Ohio Wesleyan.
Included in the packet is a letter personally signed by Niles with a note that reflects the applicant's interests at Ohio Wesleyan.
"We get so many positive comments on the notes," Niles said.