Members only report
This report is available to Insider Members. Become a member to get unlimited access to all of our special reports.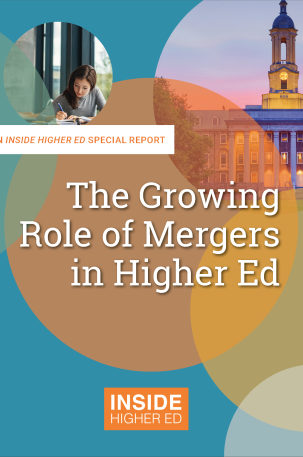 At a Glance
Demographic realities are leading more colleges to consider joining forces. Inside Higher Ed's new special report, The Growing Role of Mergers in Higher Ed, provides an in-depth and practical guide for campus leaders so they can explore such combinations and learn why they have worked for some institutions and not for others. Download a free preview of the report.
Topics Include
An in-depth look at the data and projections causing leaders to worry about the future of their institutions
A framework around which leaders can build their own merger process
A step-by-step guide for higher ed leaders and trustees on evaluating and pursuing a merger
Case studies examining colleges that have successfully merged -- and some that have tried and failed
Stumbling blocks to avoid, including how to communicate with accreditors and faculty, on the path to successful merger
Executive Summary
Colleges and universities find themselves facing an uncertain future as student populations shift, financial pressures mount and skepticism rises about the value of a higher education. In the coming years, presidents and boards of trustees may very well find themselves fighting for the survival of their institutions -- if they aren't already.
Smart leaders do more than hope to keep their heads above water. They seek strategies to navigate the coming waves, or to improve their position if they are already confident in their course.
One such strategy is merger.
Mergers and acquisitions carry a stigma in higher education, where every college professes a fierce dedication to its own unique mission and the barriers to major institutional change seem dauntingly high. Concerns about preserving mission, dealing with faculty members, pleasing alumni and overcoming a culture that has long encouraged silence about problems can make the idea of pursuing a merger seem like an insurmountable challenge.
But talking about a merger doesn't guarantee a battle between constituencies on campus. Nor does it amount to a betrayal of an institution's identity.
A well-thought-out merger process can help presidents, boards, faculty members, students and staff members understand where a college stands and where it must go in order to preserve its mission and values into the future. Such a process can be successful even if it does not result in a consummated merger. It can help leaders choose from a range of actions: perhaps a strategic partnership with another college that doesn't quite amount to a full merger, or maybe a specific plan for trimming expenses and refocusing student recruitment.
Without assuming a merger is the best strategy for every institution, this report aims to serve as a guide for considering the strategy. To address practical concerns, it sketches out a basic framework around which leaders can build their own merger process, and it includes sidebars on important stumbling blocks such as approaching accreditors and talking to faculty. To answer the question of why any college would consider merging, it explores the data and projections that cause leaders to worry about the future of their institutions. For those who want to learn from others' experience, it features several case studies examining colleges that have successfully merged -- and looking at some that have tried and failed.
The point is not that any institution should or should not merge with another. It is that colleges and universities of all types and sizes could benefit from asking the question "Should we merge?" and then answering it calmly and strategically.
Table of Contents
Executive Summary
Introduction: A Tale of Two Mergers
     At a Glance: What's in a Label?
Why Mergers Matter Today
     Grim Projections
     Who Is Merging
     At a Glance: Why Haven't We Seen More Mergers?
The 2018 Tale of Two Massachusetts Mergers
     Wheelock's Process
     Mount Ida's Process
     What the Acquirers Saw
Anatomy of a Merger
     Prepare Internally
     Find Partners
     Perform Due Diligence
     Sign a Nonbinding Memorandum of Understanding
     Sign an Agreement
     Put the Agreement Into Effect
     Key Considerations: The Faculty Role
     Key Considerations: The Legal Aspects
     Key Considerations: When to Talk to Accreditors
     Key Considerations: The Human Element
     Key Considerations: Checking With the Feds
When It Works
     Berklee College of Music and Boston Conservatory
     George Washington's Growth
     Case Study: Going the Distance
     At a Glance: What's Out West?
Things Fall Apart
     An Unfinished Deal in Upstate New York
     Fordham Folds a Women's College
     Disagreements Decades in the Making
Institution Type Matters
     How Public Mergers Are Different
     Case Study: A Public and Private Say No
     Deals With For-Profits
Weighing the Costs and the Benefits
What's the Alternative?
Additional Reading
About the Author: Rick Seltzer, special projects editor, covers business and management for Inside Higher Ed. He joined the publication in 2016 after working as a money and general-assignment reporter for The Baltimore Business Journal. Previously, he was a business reporter for The Bloomington Herald-Times, and he covered small business and health care for the Central New York Business Journal. Rick, a native of south central Pennsylvania, started his career as a local beat reporter for The Harrisburg Patriot-News. He graduated from Syracuse University in 2008 after interning at the Patriot-News and The Syracuse Post-Standard.

Number of Pages: 87 (9.5MB PDF)

Date Released: June 21, 2018

Group Orders: For information on purchasing multiple copies at a bulk discount, please email store@insidehighered.com.
Special reports are intended for use solely by the purchaser and are watermarked accordingly.
​
Support: Please email store@insidehighered.com with questions regarding the report or your order.