You have /5 articles left.
Sign up for a free account or log in.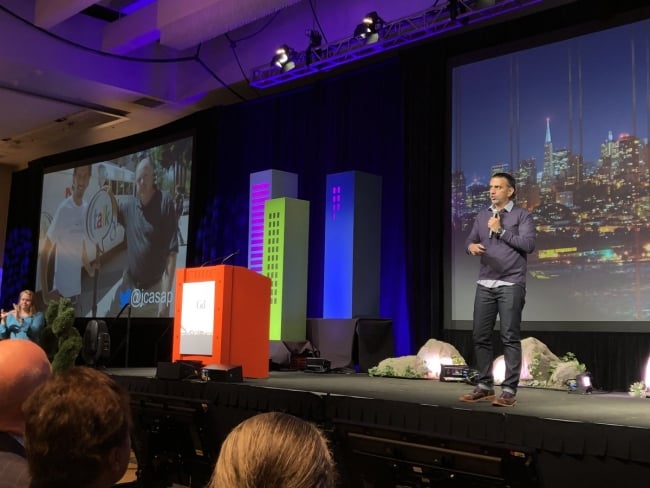 SAN FRANCISCO -- The hundreds of college trustees and presidents in the audience here Sunday might have been forgiven if they flinched a bit when Jaime Casap started speaking about his background as Google's primary advocate for "trying to bring technology into the education space."
Normally, when Silicon Valley types with titles like "education evangelist" lecture them, the themes tend to be about how slowly higher education is changing, how unprepared their colleges and universities are for the digital natives preparing to flood into them, and how alternatives like coding boot camps are poised to displace them.
Casap was different. Sure, he had some cautionary words for the attendees of the National Conference on Trusteeship, the annual meeting of the Association of Governing Boards of Universities and Colleges. Today's 10-year-olds have grown up in an era in which they think the only place without wireless internet is a cave, and if they have older siblings who went to college during the recession, "they watched their brothers and sisters go to college with the promise of a degree and come home to live in the basement," Casap said during his keynote speech.
That normally would be an opening for the kind of college bashing that many tech entrepreneurs in the Silicon Valley engage in, questioning whether the higher education ecosystem is up to the task of educating today's (and tomorrow's) students.
But Casap, whose personal story involved using education as a pathway out of New York's Hell's Kitchen (not today's trendy version, he was quick to say), noted that while today's young people believe that going to college is too expensive, they continue to believe that getting a higher education is important and, generally, is worth the money.
What they don't understand, he said, is "why they have to be business majors to take entrepreneurship classes," for instance, and they are less interested in the question "What do you want to be?" than "What problem do you want to solve?"
For all the talk about how different the students of Generation Z are, the same things tend to matter to them -- purpose, autonomy and mastery -- that have mattered to past generations. And the skills they need, he said, citing work by the Economist Group, are much the same ones that the American liberal education tradition has sought to foster: problem solving, critical thinking, teamwork and communication.
Casap wouldn't have earned his stripes as a Googler if he didn't underscore the role of technology, which is "wrapped into everything we do" and demands that many more people at least grasp the basics of computer science, so they can "understand the language of the economy we're moving into."
But unlike some of his fellow technology enthusiasts, he does not buy the view that "robots are going to replace all our jobs." Yes, supermarket cashiers are going to disappear (even more than they already have), but smart supermarkets will replace them with dietitians who wander the aisles helping customers interested in eating a better-balanced diet and leading them to demo stations to try easy recipes.
Changing Role for Colleges
In a world such as this, where information is a commodity that students can find themselves on their phones or tablets, postsecondary learning absolutely needs to change, Casap said. If students are thinking about what problem they want to solve, "the question you guys need to ask them is: What do you need to know to solve that problem?"
Education will require (and need to encourage) constant and consistent iteration, which requires critical thinking, Casap said. He teaches communication to 10th graders at the Phoenix Coding Academy he helped found, and he said he finds no value in asking students to memorize the first four presidents of the U.S. "I ask them what the first four presidents agreed on, disagreed about, and how did it shape our country?" he said. "We need to be thinking about how can we help students convert information into real intelligence they can use?"
Interaction is key, too. "We have education set up as an individual sport, but the digitalized world requires collaboration -- it's a team-based sport," he said. (He asked the crowd to picture a scenario in which he went to his bosses and told them that he had developed Google's 2019 education plan -- "all by myself." "Did you involve team members?" "No, they didn't know I did this." "Other stakeholders?" "No. Just me." The audience got the picture.)
Casap seemed to recognize that many in the audience are used to being told they should be afraid of the disruption (and economic pain) a digital future might bring, and sought to paint scenarios of opportunity.
He related asking another of his bosses, President Michael Crow of Arizona State University, why his institution had "abandoned" his 25-year-old daughter. (Casap is an adjunct at Arizona State.)
"OK, I'll bite," he recalled Crow saying.
"She hasn't heard from you two and a half years after graduation," Casap said, noting an exception, of course, for fund-raising letters from the alumni association.
The younger Casap is working in video production in New York City. "Why isn't ASU in touch with her, saying, 'We scanned your transcript and saw that you took a lot of video production classes. A lot has changed in those classes since then. Want to take an updated course?'"
She is working at a media company. "'We see you never took a journalism class. Would you like to?'"
"Why isn't she going to the ASU portal for everything that she wants to learn for the rest of her life?" he asked. "We're at the beginning of this. We can create what we want these models to look like."
If there was one overriding message from Casap, it was that these are early days. For all the talk about how higher education may not be changing fast enough to keep up with the trends, he offered up the example of Thomas Edison's early experiments with electricity, when some of the first companies to try it "weren't getting good results."
It turned out that just plugging electricity into their existing business models (pun intended) didn't bring about the transformation they were hoping for. "The businesses had to change their models, to change what they could get from the new technology," Casap said. "If we just put this technology on top of our current systems, we're going to get a lot of what Thomas Edison got." It's going to take time -- "we're at the very beginning of this."
And college leaders shouldn't panic that they are behind today's students (and tomorrow's). Casap said it's not so.
"Eighty-two percent of elementary school kids can't tell the difference between a sponsored website and a real news website," he said. They may know the tools better than the grown-ups do, but they have a lot to learn.
"We're wiser than they are. We don't need to be scared of them."