Outrage Over University's $999 Online Textbook
An online textbook priced at almost $1,000 has infuriated students trying to navigate an already confusing textbook marketplace, but Louisiana-Lafayette officials insist they had "good intentions."
When Maddy Meaux, a sophomore at the University of Louisiana at Lafayette, signed up for an introductory accounting course, she noticed something extraordinary. The online textbook for the course was listed at $999.
She took to Facebook and posted a screenshot on the "UL Ragin Cajuns Book Swap" group.
"Can anyone explain why the WileyPlus online code for ACCT 202 is $1000?" she asked.
Meaux's fellow students were quick to react. They took to Twitter to voice their outrage, and soon after students and observers were accusing UL-Lafayette of scamming students.
"As a university, y'all should be absolutely ashamed," said one tweeter. "Do you not understand that we are already drowning in debt from student loans to pay the high tuition?"
The textbook, Financial and Managerial Accounting, 3rd Edition, was customized by publisher Wiley for the Accounting 201 and 202 courses at UL-Lafayette and is a new addition to the courses this academic year.
The $999 pricing was not a glitch.
According to a statement from the university provost, faculty members in the accounting department wanted their students to have print textbooks so they could easily work through exercises in class without the use of laptops or tablets.
While students generally prefer using print textbooks to digital ones, digital textbooks are often a cheaper option for students struggling to make ends meet. Rather than simply not offering an online-only option, Wiley and the accounting department at UL-Lafayette worked together to discourage students from buying the ebook -- setting the price astronomically high and making the print option seem like a relatively good value.
Though the university and publisher argue that the $999 price was just a "placeholder" that no one would actually pay, the incident has caused uncertainty and anger among students who are just trying to purchase the correct items at the best price. The textbook marketplace can already be incredibly confusing due to its plethora of vendors, subtly different textbook editions, disliked single-use access codes and disparate rental programs.
While the online-only version of the textbook was priced at $999 in the Wiley marketplace, a bundled print and online textbook was available for $253.25 from the college bookstore. Both options include an access code for the WileyPlus online teaching and learning platform.
On Twitter, students theorized that the UL-Lafayette accounting department might have a financial arrangement with Wiley that means they make more money from college bookstore sales. The university did not respond to request for comment on this question.
Meaux purchased the cheaper print option from the college store. But she still found it expensive. In addition to purchasing the $253.25 textbook, she had to buy a homework packet costing $59.75.
"Books should not be this expensive when you are already paying a ton for tuition," said Meaux. She added that while some professors at UL-Lafayette sympathize and let students share books or use less expensive past editions, "that doesn't happen very often."
The instructor for the course did not respond to requests for comment.
Responding to criticism on social media last week, the university posted an explanation on its Twitter account saying the $999 price tag was set with "good intentions" but adding, "We realize now we needed to explain the rationale behind it better."
In a statement sent to Inside Higher Ed, Jaimie Hebert, the university's provost, said that the $999 price tag was set to "discourage students" from choosing the online-only version of the textbook.
Hebert said that faculty members had worked with Wiley to set the price of the online-only textbook at nearly $1,000 as "they believed it was best for the students to use a printed textbook since many of the materials in the book are needed for homework and classroom instruction."
Tim McFarland, director of UL-Lafayette's bookstore, the Ragin Cajuns Store, said that he had "no knowledge" of the $999 price set by Wiley and faculty members in the UL-Lafayette accounting department. "That price was not set by us," he said.
Both Hebert and a Wiley spokesperson said they were not aware of any students who had purchased the $999 option. Hebert said in the statement that if any students did get the more expensive course materials, they should contact the College of Business Administration, "which will work with them to rectify the situation."
"Again, let me stress, this is a misunderstanding," Hebert said. "The university wants students enrolled in the course to spend only $313, and I am grateful for the chance to encourage them to do so."
The Wiley spokesperson said that the price of the $999 online-only textbook was changed Friday to match the price of the print option offered by the college bookstore. Usually, an online-only textbook is cheaper than a print textbook.
A salesperson at WileyPlus, contacted through the customer service help line, said that noncustomized versions of the Financial and Managerial Accounting textbook are usually priced around $160 for an online-only copy. On Amazon, print copies of the textbook sell for around $200.
The Wiley spokesperson added that the publisher has been working with UL-Lafayette to lower book costs for the Accounting 201 and 202 courses. Previously the courses required two textbooks, each costing around $250. Now the consecutive 201 and 202 courses require only one textbook.
"Wiley understands the financial burden felt by students and works hard to save students money and ensure they feel the full value of our offerings," said the spokesperson. "This custom textbook offering is evidence of that."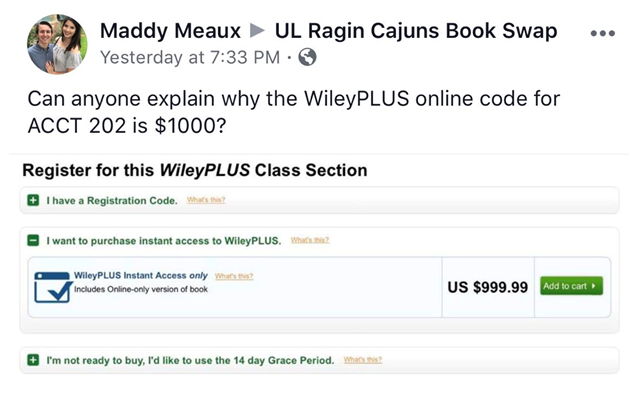 When students sign-up for the Accounting 201 or 202 course, they are sent a link from their instructor to register with WileyPlus. This link directs students to a Wiley ecommerce page where the price for the online-only textbook is listed -- as can be seen in Meaux's screenshot. What was not shown in the screenshot is a pop-up telling students not to purchase the online textbook from Wiley, but to make their purchase from the college bookstore, said the Wiley spokesperson.
Asked whether she had seen such a pop-up, Meaux said, "Nope. Didn't see that at all!"
She's not buying the university's claim of acting with good intentions.
"The university knew that the online book is usually cheaper than the hard copy. UL knew that most students would buy the online copy and just print it out so that we wouldn't have to spend crazy money on a book from their bookstore. So they made the online version a ridiculous amount so that us students had no other option."
Nicole Allen, director of open education at SPARC, an advocacy group that promotes the use of free and open educational resources, said that this incident was a "classic example of how the traditional textbook marketplace is designed with students as an afterthought."
"The price set for the original material is bad enough, and it's just wrong to manipulate prices to limit student choices," said Allen. "Case in point why so many faculty are moving to OER to provide more flexibility and let students freely choose which formats best suit their need."
Bobby Batyko, a spokesman for the National Association of College Stores, said the situation was "certainly unusual."
"While we can't speculate on what motivated that pricing strategy, it clearly has caused significant confusion," said Batyko. He added that NACS has "consistently emphasized the importance of transparency in the marketplace and cost-effective solutions that preserve student format choices that meet their learning styles."
You may also be interested in...
Today's News from Inside Higher Ed
Inside Higher Ed's Quick Takes