A Romney-Obama Debate (By Proxy)
Advisers to the president and his Republican challenger debate student loans, Pell Grants and regulation at a financial aid conference.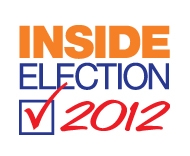 CHICAGO -- Education advisers to presumed Republican nominee Mitt Romney and President Obama drew contrasts between the candidates' views on higher education at a debate before the National Association of Student Financial Aid Administrators' annual conference here Sunday. But the campaigns skirted some of the most contentious issues, including student lending and regulating for-profit colleges.
James Kvaal, policy director of the Obama campaign and a former Education Department deputy under secretary, focused on higher education proposals the president put forward in the State of the Union, as well as past achievements on Pell Grants and student loans. But for Scott Fleming, a Romney education adviser and president of the Madison Education Group, the debate was the most extensive outline of the campaign's proposed higher education policies since a white paper in May called for returning to bank-based student lending and repealing rules on vocational programs.
Neither topic was raised at Sunday's forum. If the candidates themselves view higher education issues in the same way as their advisers portrayed them here, it could signal a shift away from the tone of the Republican primaries, when Romney's rival Rick Santorum criticized Obama's goal of getting college degrees into the hands of more Americans and kicked off a debate about "college for all."
At the conference Sunday, Fleming criticized the administration instead for not making progress on its higher education goal quickly enough, given the amount of federal money spent on higher education.
"Nobody is saying we shouldn't have an emphasis on college access, on college success," Fleming said, estimating that the campaigns agree on "80 percent" of higher education issues. "Nobody is saying that we shouldn't find a way to get more students through the door. Those are principles we all agree on."
And while the primaries featured calls (although none from Romney) to shutter the U.S. Education Department, Fleming said the federal government should play a role in overseeing colleges -- although he added that the role should be pared back from its expansion in recent years.
"The role needs to be less focused on checking boxes and implementing regulations, and more on the core of improving access and affordability," said Fleming, whose criticism of increased regulation under the Obama administration drew applause from the audience of financial aid administrators.
Kvaal said the administration has tried to reduce regulations where possible, mentioning recent negotiated rulemaking on teacher-training grants that tried to reduce the amount of information that colleges must submit to the government.
No matter who wins in November, campus-based aid programs could face big changes in the next four years. Both Kvaal and Fleming singled out those programs, which include Perkins loans, work study and the Supplemental Educational Opportunity Grant, as candidates for overhaul by the next administration.
Kvaal reiterated a plan Obama first put forward during the State of the Union in January, which would expand campus-based aid but direct more money to campuses that meet yet-unspecified goals for quality and affordability. Fleming cited the programs as part of an unnecessarily confusing maze of federal assistance programs for students, and said some campus-based programs could be cut and others changed to simplify student aid.
"We're spending more, and students are borrowing more, but we seem to be getting less out of that investment," Fleming said. He suggested a "reevaluation" of federal financial aid programs, ending some and directing the savings into Pell Grants.
"We've seen the president's commitment to the Pell Grant Program, and the difficult choices he's made to keep that maximum up," Kvaal countered. He warned that Rep. Paul Ryan's budget plan -- which Romney supports, and which would enact deep cuts in discretionary spending -- would cut the maximum Pell Grant by at least $1,000.
But what was most striking about the debate, perhaps, was what subject went almost unmentioned: for-profit colleges, a key target of the Obama administration's new regulations and a point of contention between the campaigns. The words "gainful employment" -- the rule that is a major point of contention for Republicans and Democrats in Congress -- were never spoken.
Kvaal mentioned identifying poorly performing programs while discussing what the administration has done about student debt, promising that such efforts would continue -- but he didn't name for-profit colleges specifically as a focus of those regulations. And while Fleming promised to pare back regulations over all and praised the role of "disruptors" in higher education, he singled out online classes like MITx for praise -- not innovations in online learning at for-profit colleges.
"If it feels like higher education is at a crossroads right now, it is because it is at a crossroads," Fleming said.
You may also be interested in...
Today's News from Inside Higher Ed
Inside Higher Ed's Quick Takes