You have /5 articles left.
Sign up for a free account or log in.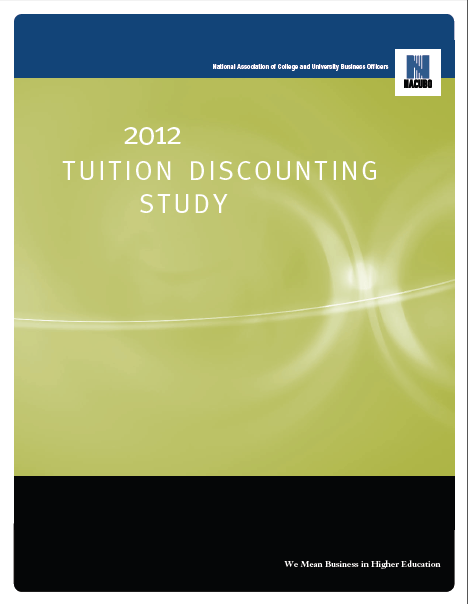 The tuition price you see is getting further from the price you pay, at least at private colleges and universities.
The average tuition discount rate – institutional grant dollars as a share of gross tuition and fee revenue – for full-time freshmen enrolled at private colleges and universities grew for the sixth consecutive year in 2012, reaching a new high of 45 percent, according to an annual survey of private colleges and universities by the National Association of College and University Officers.
The overall discount rate for all undergraduate students at the institutions surveyed also grew in 2012 to a new high of almost 40 percent.
According to the survey, 86.9 percent of first-time, full-time freshmen in 2012 received some form of institutional aid, with the average award amount equal to 53.1 percent of the sticker price. Those numbers dropped slightly as students progressed through school. Students at small institutions were more likely to receive awards than were their peers at other institutions, but students at research universities were more likely to receive larger awards.
The rising discount rate, coupled with enrollment declines at several of the institutions surveyed, is a reflection of the myriad forces that are making it harder for colleges to get students and their families to pay top dollar for a college education. Those forces include a decline in the number of traditional-aged college students, increased competition for students with the ability to pay, decreased household incomes, increased scrutiny of tuition hikes, and more questioning of the value of a college degree.
"We are finding that our decision to increase tuition is less elastic than in previous years," wrote one survey respondent, whose response was kept anonymous. "More and more families are 'setting' the amount of tuition that they are willing to pay, making it more difficult to increase net tuition revenue by increasing our sticker price."
Survey Details:
Electronic survey sent to all four-year private institutions that were members of NACUBO as of September 2012. Sent to a total of 1,070 members. Of those, 383 institutions, or roughly 36 percent, responded.
Weakening pricing power presents a real challenge for the majority of private institutions that rely on tuition revenue to fund their operations. While some wealthy institutions can fund much of their institutional aid through endowments and annual giving, many less-wealthy colleges simply forgo tuition revenue in an effort to enroll students. Without that money they must either find new sources of revenue or make cuts to services to maintain operations.
"These trends are nothing new -- we've been seeing them for some time," said Harold V. Hartley III, senior vice president at the Council of Independent Colleges, which represents about 600 small private colleges. "On the one hand, it is worrisome that institutions have to commit more and more of their funds to making college affordable to students. The flipside of that is that these institutions are making a commitment to make higher education affordable, and that demonstrates a real sacrifice, given that their costs continue to go up."
In last year's survey, the rising discount rate actually outpaced the growth of tuition price, meaning colleges on average brought in less money than the year before. That scenario did not recur this year, though net tuition revenue -- the tuition revenue taken in after institutional aid is factored in -- grew only 2.34 percent, a much slower rate than the roughly 5 percent average growth rate colleges experienced over much of the past decade.
This year's survey allowed each respondent to anonymously explain his or her institution's strategy with regard to pricing. The responses indicate that several colleges and universities are trying to raise net tuition revenue and are running into market forces that are making that difficult.
"We deliberately reduced the [2012] discount rate by 2 percentage points," one respondent wrote. "However enrollment declined significantly in [the 2012 fiscal year] resulting in less net tuition revenue. We increased the discount rate in [2013]."
A prominent finding of the survey is the growing difference between institutions with strong demand (which tend to already have more resources) and those with weak demand. Those with strong demand are better able to recruit students with both the willingness and ability to pay full price. They can also offer less in aid and still secure enrollments.
Institutions that accepted more than 50 percent of the students who applied tended to have a higher percentage of freshmen receiving institutional aid than those accepting fewer than 50 percent, according to the survey.
The survey also found an inverse relationship between yield rate (the proportion of a college's admitted students who agreed to enroll) and net price -- as the net price went down, the yield increased. That means that on average, the institutions that gave out the most aid had the greatest success in enrolling students.
The survey found a number of institutions struggling with enrollment. According to the survey, slightly more than half of the survey respondents said they saw a decline in enrollment or no growth.
While many institutions are content to maintain their size, a decline is rarely part of institutional strategy. In recent years Saint Benedict College, a women's college in Minnesota, has intentionally decreased its enrollment in order to increase overall tuition revenue. But that strategy was newsworthy because it was both intentional and successful.
About 50 percent of survey respondents who reported a drop in enrollment attributed it to "price sensitivity" -- the degree to which the price or cost changes the consumer behavior/demand for the product. Other major factors included "changing demographics," decreased yield and a decline in the number of 18- to 20-year-olds.
The question of whether the revenue problems facing colleges and universities are a result of a fundamental shift in the country's attitude toward paying for college – the so called "college bubble" – or whether it's simply the result of several years of weak economic growth will only be answered if families begin to experience the kind of economic growth they were accustomed to prior to the recession.
Hartley said he sees signs that the economy is beginning to turn around and that when it does, colleges will begin to see revenue growth. "Can the discount rate keep going up at these rates without affecting the long-term sustainability of these institutions? Probably not. But I think what colleges have done is they've seen these shorter-term market forces that are responsible for the downturn in the economy and they've invested in keeping college affordable."