You have /5 articles left.
Sign up for a free account or log in.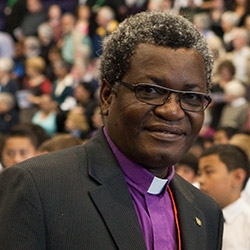 Dartmouth College's new president on Wednesday rescinded a job offer to an African bishop who was to have been dean of the institution's Tucker Foundation, which promotes ethical leadership, spiritual development and social justice at the college. The appointment of James Tengatenga, a bishop of the Anglican church in Malawi, as dean set off a debate on campus and beyond because of his past anti-gay statements.
Philip J. Hanlon, the president, met with Tengatenga and announced that the college was taking back the job offer. In a statement, Hanlon said that there was much to praise in Tengatenga's "inspiring life of service."
Hanlon added: "However, following much reflection and consultation with senior leaders at Dartmouth, it has become clear to me that Dr. Tengatenga's past comments about homosexuality and the uncertainty and controversy they created have compromised his ability to serve effectively as dean of Tucker. The foundation and Dartmouth's commitment to inclusion are too important to be mired in discord over this appointment. Consequently, we have decided not to move forward with the appointment of Dr. Tengatenga as dean of the Tucker Foundation."
Almost immediately after Tengatenga's appointment was announced last month, reports started to circulate online about his statements and actions as leader of a church that has taken strong anti-gay positions. The church under his leadership had, for example, urged the government of Malawi to continue to enforce laws that punish gay sexual acts with long prison terms. (A compilation of some of the statements and actions cited by critics of the appointment may be found here.)
Just days after the appointment, the college released a statement from Tengatenga in which he distanced himself from his past comments. "Let me state unequivocally and categorically that I consider all people equal regardless of their sexual orientation. The dignity of all should be honored and respected. As is the case with many people, my ideas about homosexuality have evolved over time. I'm not ashamed to say that, but I also think I'm not alone, and I think it's important to have some historical context," he said. Tengatenga also wrote that his role in the church in Malawi required that he "mediate and hold the church together," and that he had to work with various factions with differing views about gay people.
"Mediators, however, often find themselves in the crossfire. I have tried very hard to represent Africa to the West, especially to the Episcopal Church, and the West to my African colleagues," he added.
Tengatenga has not commented on the withdrawal of his job offer.
Some associates of Tengatenga have said that, in the context of his church, he was a supporter of more moderate policies toward gay people. One Anglican priest told The Boston Globe: "You are asking the impossible of someone coming out of that African situation.... Just rescinding that [appointment] is to show a lamentable lack of understanding of circumstances that are outside the confines of privileged North America."
But many at Dartmouth said that the key question for the college was whether a position seen as providing moral and ethical leadership at the college should go to someone who had advocated anti-gay policies. A draft letter circulated on campus by the Dartmouth NAACP said: "The LGBTQ community at Dartmouth is a historically subordinated one, and it is disturbing and reprehensible that the leader of Dartmouth's premier spiritual and social justice organization might harbor discriminatory thoughts about those who might look to him and the Tucker Foundation for guidance."
The final version of that latter said that the clarifying statements from Tengatenga had not eliminated the concerns. "Merely stating support for equality is insufficient. Dartmouth's new spiritual spokesman must be a vigorous advocate for the rights of all members of the Dartmouth community -- in word and deed."